This page forms part of a series of pages dedicated to the many artists who painted in Dieppe. A full list of all the artists with a link to their works can be found at the bottom of this page.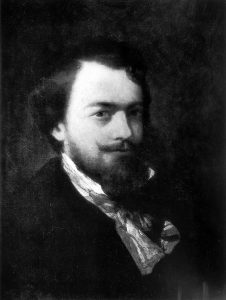 Movement(s): –
Charles Hoguet (1821 – 1870), although born and died in Berlin, Germany, as a Huguenot, belonged to the French colony in Berlin and is considered a French painter.
At the age of eighteen he went to Paris for further training and was a student of Eugene Isabey and Eugene Ciceri . It is recognized that he acquired great craftsmanship in France and developed a brilliant technique.
Artistically he was decisively influenced by Isabey's marine painting. Hoguet was also able to exhibit his early work in Paris and had his first successes. However, this caused some critics in Berlin to attribute him to the French school.
He regularly participated in the Paris Salon from 1842 to 1853, and received a gold medal there in 1848. He then joined Berlin and entered the Academy.
After a few trips through Western Europe, Hoguet finally settled in Berlin in 1848. He lived and worked there until his death and, according to his own records, created a total of 423 oil paintings during this time; Sea coasts and the sea, navies, Normandy or Heligoland and still lifes were among his preferred depictions right up to the end.
Not much else is know about this artist.
NOTE: Click on any image below for a bigger version (no new window will open).
Charles Hoguet painted mostly in Germany and Paris, but he did travel a bit in Normandy (we could not find any other places in France where he painted). Here are some of the places he painted in (a link "⇠" to his works will appear below when published):
Dieppe in Normandy was a popular place for artists to come and apply their art. Here is a list, non exhaustive, of the artists that painted in Dieppe.
A link ("⇠") to the artist's works will appear when published (a "*" indicates that the artist did not work directly in Dieppe, instead worked in nearby villages):
NOTE: You can subscribe to our new articles by entering your email address in the box on the right column (or at the very bottom of this article) and clicking on the button "Subscribe".

You will need to check your incoming emails and validate your subscription. If you can't see an email from us, check your Spam folder. Without validating your email address, you will not get notifications from us. WE WILL NEVER GIVE YOUR EMAIL ADDRESSES TO ANYONE!
Related Posts