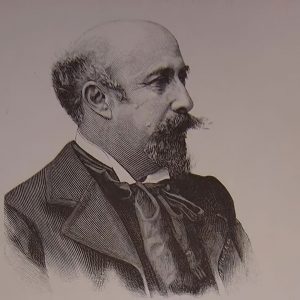 Movement(s): –
Luigi Loir (1845 – 1916) was a French painter, illustrator and lithographer born in Goritz, Austria.
He was the son of Tancrede Loir François and Therese Leban, his wife, respectively valet and housekeeper of the French royal family in exile in Austria. Installed in the duchy of Parma in 1847, Luigi Loir studied at the school of Fine Arts of Parma in 1853.
He was not only an accomplished painter, but also a professional lithographer, a talent he used to illustrate one of Jules Verne's books.
He became known for his ceiling paintings and worked with Jean Pastelot (1820–1870). He was known for his paintings of Paris and its surroundings. He was associated with the Pont-Aven School of painters and was influenced by the works of Paul Cézanne and Vincent van Gogh. Loir's style is characterized by thick impasto brushwork, vibrant colors, and bold compositions.
He realized some drawings for the biscuits brand LU and participated in the battles of Le Bourget during the Franco-Prussian War.
Loir was made a chevalier of the Legion d'honneur in 1898. He died in Paris in 1916.
Click here to read more of Luigi Loir on Wikipedia.
Loir also painted in other places in France (a link "⇠" to his works in those cities will appear below when published):
Bourgogne-Franche-Comte (Burgundy)

Besancon
Nuit-Saint-Georges

Brittany
Hauts-de-France
Normandy
Related Posts
10000

Luigi Loir, a French painter and lithographer, born in Austria. He amongst other illustrated one of Jules Verne's book. Here are two of his works dealing with Le Havre.

97

Claude-Joseph Vernet (1714 – 1789) was a French painter. His son, Antoine Charles Horace Vernet, was also a painter.

97

Alfred Montague (1832 - 1883) was a British painter born in London. Not much, if anything, is known about this British artist.