This page forms part of a series of pages dedicated to the many artists who painted in Dieppe. A full list of all the artists with a link to their works can be found at the bottom of this page.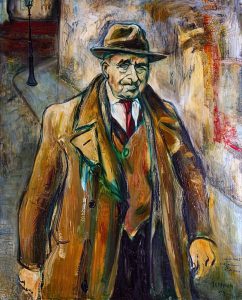 Movement(s): Impressionism
Jules Emile Elisee Maclet (1881–1962) was a French Impressionist painter, particularly known for his views of Montmartre.
Maclet was born the son of a gardener and a laundress at Lihons in the Santerre region in Picardy. His family was poor and he began work very young as an assistant to his father. Picardy is renowned for its roses, and Maclet used to say that he was born among cabbages and roses. His artistic talent became evident very early. The parish priest, Father Delval, was also an amateur painter, and often on fine Sundays he took the boy out to sketch and paint in the countryside.
In spite of paternal opposition, a few years later Maclet gave up gardening for art and moved to Montmartre, where while painting he supported himself with a variety of casual work (varnishing iron bedsteads, decorating the floats for the gala nights at the Moulin Rouge, washed dishes or opening oysters in restaurants). For several months he served as a cook on board a ship sailing from Marseilles to Indochina. When he finally returned to Paris, he painted dolls in crinolines and exhibited them at the Salon des Humoristes. But in spite of all these occupations, he found time to paint.
When war broke out in 1914, Maclet served as a medical attendant in a temporary hospital run by the Little Sisters of the Poor. That allowed him to spend his periods of leave back in Montmartre, where he stayed at the Lapin Agile thanks to the hospitality of his friend Pere Frede. Maclet slept in the cabaret hall and paid for his food by washing dishes and polishing the copper pots.
When the war ended in 1918, Maclet returned to Montmartre. Francis Carco, feeling that the painter needed to widen his horizons, sent him to stay in Dieppe, and the sea coast soon featured in Maclet's paintings.
He died in the Lariboisiere Hospital in Paris on 23 April 1962 and is buried in the cemetery at Lihons next to his parents.
Click here to read his very full and detailed bio on Wikipedia.
NOTE: Click on any image below for a bigger version (no new window will open).
NOTE: Le Pollet is the fishermen district of Dieppe.
Maclet's passion was painting in Paris, but he did paint a lot in other places in France (notably Dieppe). Here are the places he painted in (a link "⇠" to his works for these places will appear when published):
Brittany

Saint-Michel-en-Greves
Saint-Pol-de-Leon

Centre-Val de Loire
Corsica
Grand Est
Hauts-de-France

Boulogne-sur-Mer
Dunkerque
Saint-Valery-sur-Somme

Normandy
Occitanie
Provence-Alpes-Cote d'Azur

Avignon
Biot
Cassis
Menton
Villefranche-sur-Mer
Dieppe in Normandy was a popular place for artists to come and apply their art. Here is a list, non exhaustive, of the artists that painted in Dieppe.
A link ("⇠") to the artist's works will appear when published (a "*" indicates that the artist did not work directly in Dieppe, instead worked in nearby villages):
NOTE: You can subscribe to our new articles by entering your email address in the box on the right column (or at the very bottom of this article) and clicking on the button "Subscribe".

You will need to check your incoming emails and validate your subscription. If you can't see an email from us, check your Spam folder. Without validating your email address, you will not get notifications from us. WE WILL NEVER GIVE YOUR EMAIL ADDRESSES TO ANYONE!
Related Posts
96

Claude Monet is without any doubt the most famous impressionist painter. He started the movement, and he was the master of it. Although he was born in Paris, France (and died in Giverny, Normandy, France), his heart was Normandy, particularly the Normandy coastline. His family moved to Le Havre in…

96

Eva Gonzales (1849 – 1883) was a French Impressionist painter. She was born in Paris and became introduced to sophisticated literary and art circles at an early age by her father, writer Emmanuel Gonzales. Here are her works for the city of Dieppe, Normandy.

95

Pierre-Auguste Renoir (1841 – 1919) was a French artist who was a leading painter in the development of the Impressionist style. Here are his works for Dieppe and its surroundings in Normandy.