This page forms part of a series of pages dedicated to the many artists who painted in Dieppe. A full list of all the artists with a link to their works can be found at the bottom of this page.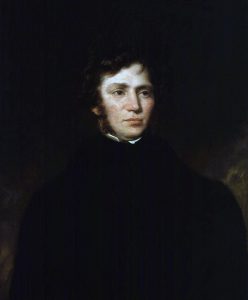 Clarkson Frederick Stanfield (1793 – 1867) was a prominent English painter (often inaccurately credited as William Clarkson Stanfield) who was best known for his large-scale paintings of dramatic marine subjects and landscapes. He was the father of the painter George Clarkson Stanfield and the composer Francis Stanfield.
Stanfield was born in Sunderland, the son of James Field Stanfield (1749–1824) an Irish-born author, actor and former seaman, and Mary Hoad, an artist and actress. Stanfield was likely to have inherited artistic talent from his mother, who is said to have been an accomplished artist, but died in 1801. His father remarried, to Maria Kell, a year later. Stanfield was named after Thomas Clarkson, the slave trade abolitionist, whom his father knew, and this was the only forename he used, although there is reason to believe Frederick was a second one.
He was briefly apprenticed to a coach decorator in 1806, but left owing to the drunkenness of his master's wife and joined a South Shields collier to become a sailor. In 1808 he was pressed into the Royal Navy, serving in the guardship HMS Namur at Sheerness. Discharged on health grounds in 1814, he then made a voyage to China in 1815 on the East Indiaman Warley and returned with many sketches.
In August 1816 Stanfield was engaged as a decorator and scene-painter at the Royalty Theatre in Wellclose Square, London. Along with David Roberts he was afterwards employed at the Coburg theatre, Lambeth, and in 1823 he became a resident scene-painter at the Theatre Royal, Drury Lane, where he rose rapidly to fame through the huge quantity of spectacular scenery and (moving) dioramas which he produced for that house until 1834.
Until his death he contributed a long series of powerful and highly popular works to the Academy, both of marine subjects and landscapes from his travels at home and in France, the Netherlands, Germany, Italy, Spain, and Ireland.
Click here to read Clarkson Frederick Stanfield's full bio on Wikipedia.
NOTE: Click on any image below for a bigger version (no new window will open).
NOTE: A black box like this one, means that there is an explanation text about today's situation of the painting above it.
NOTE: Click on this photo icon
anywhere below a painting to see a photo of what the area looks like today.
NOTE: A blue box like this one, means there is an explanation or a note.
TODAY: You can clearly see the Dieppe castle on the cliffs. The castle still exists today and can be visited. Click here to read more about it.
Clarkson Frederick Stanfield made his paintings in many places in France. Here are some of the cities he painted in Normandy (a link "⇠" to his works will appear below when published):
Brittany
Grand Est
Hauts de France
Nouvelle-Aquitaine
Occitanie
Pays de la Loire
Dieppe in Normandy was a popular place for artists to come and apply their art. Here is a list, non exhaustive, of the artists that painted in Dieppe.
A link ("⇠") to the artist's works will appear when published (a "*" indicates that the artist did not work directly in Dieppe, instead worked in nearby villages):
NOTE: You can subscribe to our new articles by entering your email address in the box on the right column (or at the very bottom of this article) and clicking on the button "Subscribe".

You will need to check your incoming emails and validate your subscription. If you can't see an email from us, check your Spam folder. Without validating your email address, you will not get notifications from us. WE WILL NEVER GIVE YOUR EMAIL ADDRESSES TO ANYONE!
Related Posts