This page forms part of a series of pages dedicated to the many artists who painted in Dieppe. A full list of all the artists with a link to their works can be found at the bottom of this page.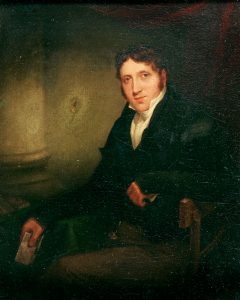 Movement(s): –
John Sell Cotman (1782 – 1842) was a British artist and watercolorist, known for his contributions to the English Romantic movement.
Born in Norwich, the son of a silk merchant and lace dealer, Cotman was educated at the Norwich Grammar School. He showed an early talent for art. It was intended that he followed his father into the family business but, intent on a career in art, he moved to London in 1798, where he met artists such as J. M. W. Turner, Peter de Wint and Thomas Girtin, whose sketching club he joined, and whom he travelled with to Wales and Surrey.
Cotman was trained as an architect but eventually became known for his watercolors and etchings, which captured the rugged beauty of the British countryside.
Cotman's watercolors are characterized by their loose, spontaneous brushwork and their ability to convey a sense of atmosphere and mood. He was particularly interested in the interplay between light and shadow, and his paintings often feature dramatic contrasts between dark and light areas. He was also a skilled etcher, and his etchings of landscapes and architectural subjects are highly regarded for their technical virtuosity and atmospheric qualities.
In addition to his work as an artist, Cotman was also an influential teacher and writer on art. He wrote several books on watercolor technique, including "An Account of the Architecture, Paintings and other Curiosities in Norfolk and Suffolk" (1819) and "An Essay on the Principles of Landscape Painting in Watercolours" (1824). He taught watercolor painting at the Royal Academy of Arts in London and had a significant impact on the development of watercolor as a medium in Britain.
Cotman's work is considered to be among the finest examples of English Romantic landscape painting, and his legacy has continued to inspire artists and art lovers alike. Today, his works can be found in major collections around the world, including the British Museum and the Victoria and Albert Museum in London.
In 1834 his eldest son Miles Edmund remained in Norwich to work as an art teacher, when the rest of the Cotman family moved to London upon the appointment of John Sell Cotman as a Professor of Drawing at King's College. A year after his move to London, Mile Edmund himself moved to London, becoming his father's assistant after his brother John Joseph moved back to Norwich. His sons Miles Edmund and John Joseph Cotman later became painters of note. Miles Edmund succeeded his father as drawing master at King's College in 1843.
Click here to read Cotman's full bio on Wikipedia.
NOTE: Click on any image below for a bigger version (no new window will open).
NOTE: A black box like this one, means that there is an explanation text about today's situation of the painting above it.
NOTE: Click on this photo icon
anywhere below a painting to see a photo of what the area looks like today.
NOTE: A blue box like this one, means there is an explanation or a note.
TODAY: The Dieppe Castle is the most visible building in Dieppe since it is perched up high on the cliffs overlooking the city.
TODAY: The Saint-Jacques church, built in the 12th century, still exists and can be visited.
Aumale
Aumale is a small town East of Dieppe.
John Cotman painted in several places in France (a link "⇠" to his works in a specific city will appear below when published) :
Hauts-de-France
Normandy

Domfront
Evreux
Falaise
Fecamp ⇠
Les Andelys
Lisieux ⇠
Le Havre (and surroundings) ⇠
Mortain-Bocage
Pont-de-l'Arche
Saint Lo
Saint-Martin-de-Boscherville
Dieppe in Normandy was a popular place for artists to come and apply their art. Here is a list, non exhaustive, of the artists that painted in Dieppe.
A link ("⇠") to the artist's works will appear when published (a "*" indicates that the artist did not work directly in Dieppe, instead worked in nearby villages):
NOTE: You can subscribe to our new articles by entering your email address in the box on the right column (or at the very bottom of this article) and clicking on the button "Subscribe".

You will need to check your incoming emails and validate your subscription. If you can't see an email from us, check your Spam folder. Without validating your email address, you will not get notifications from us. WE WILL NEVER GIVE YOUR EMAIL ADDRESSES TO ANYONE!
Related Posts