This page forms part of a series of pages dedicated to the many artists who worked in Dieppe. A full list of all the artists with a link to their works can be found at the bottom of this page.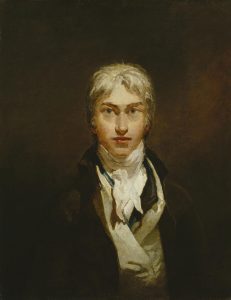 Joseph Mallord William Turner (1775 – 1851) known as William Turner, was an English artist of the Romantic movement. He was a painter, printmaker and a watercolourist. He is known for his expressive colourisations, imaginative landscapes and turbulent, often violent marine paintings.
As a child prodigy he went to art school in London at the age of 14. Although he lived all his live in London, he travelled extensively in Europe, particularly the Normandy area.
Intensely private, eccentric and reclusive, Turner was a controversial figure throughout his career. He did not marry, but fathered two daughters, Eveline (1801–1874) and Georgiana (1811–1843), by his housekeeper Sarah Danby. He became more pessimistic and morose as he got older, especially after the death of his father, after which his outlook deteriorated, his gallery fell into disrepair and neglect, and his art intensified. In 1841 Turner rowed a boat into the Thames so he could not be counted as present at any property.
He lived in squalor and poor health from 1845, and died in London in 1851 aged 76. Turner is buried in Saint Paul's Cathedral, London.
Click here to read Turner's full bio on Wikipedia.
NOTE: Click on any image below for a bigger version (no new window will open).
NOTE: A black box like this one, means that there is an explanation text about today's situation of the painting above it.
NOTE: Click on this photo icon
anywhere below a painting to see a photo of what the area looks like today.
NOTE: A blue box like this one, means there is an explanation or a note.
TODAY: The Grand Rue is now mostly a pedestrian street, where every Saturday morning, you will find a part of the very big open-air market.
TODAY: The Quai Henri-IV still exists and is the main quai of the pleasure boats harbour. It is also the place where you will find many restaurants.
TODAY: The Dieppe castle still stands, perched high on the cliffs, dominating over the city. It can be visited. (click here to read more about it).
TODAY: The lighthouse has been changed for a more modern one.
Arques-la-Bataille
The town of Arques-la-Bataille (population: 2,700) is located close to Dieppe towards the South (inland). It's a town dominated by the ruins of a major castle.
William Turner painted in the following other places in France (but mostly in Normandy), which will be featured eventually on this site. A link "⇠" to those cities will appear below when published.
Auvergne-Rhone-Alpes
Bourgogne-Franche-Comte (Burgundy)
Centre-Val de Loire
Grand Est
Hauts-de-France
Normandy
Pays de la Loire
Provence-Alpes-Cote d'Azur
Dieppe in Normandy was a popular place for artists to come and apply their art. Here is a list, non exhaustive, of the artists that painted in Dieppe.
A link ("⇠") to the artist's works will appear when published (a "*" indicates that the artist did not work directly in Dieppe, instead worked in nearby villages):
NOTE: You can subscribe to our new articles by entering your email address in the box on the right column (or at the very bottom of this article) and clicking on the button "Subscribe".

You will need to check your incoming emails and validate your subscription. If you can't see an email from us, check your Spam folder. Without validating your email address, you will not get notifications from us. WE WILL NEVER GIVE YOUR EMAIL ADDRESSES TO ANYONE!
Related Posts