This page forms part of a series of pages dedicated to the many artists who painted in Dieppe. A full list of all the artists with a link to their works can be found at the bottom of this page.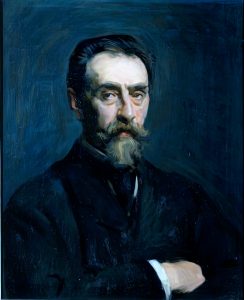 William Edward Norton (1843 – 1912) was an American painter, born to a family of Bostonian shipbuilders. Norton became a noted marine painter, stirred by his youth when he sailed on family-owned ships. After his sea service as a young man, he enrolled at both Harvard Medical School and the Lowell Institute. At Lowell, Norton developed a strong interest in art and began studying with George Inness, whose own poetic style deeply influenced the young artist. He then established a studio in Boston.
In the early 1870s, he went to Paris and became a student with Chevreuse and A. Vollon, and then he settled in London where he exhibited throughout the last quarter of the 19th century. His reputation there was based on his scenes of the Thames River, and ocean and coastal views.
In 1901, he and his wife returned to the United States and settled in New York City. He also painted at Monhegan Island, Maine, where a treacherous ledge on the southern side of the island is named "Norton's Ledge" for him.
He was a member of the Boston Art Club with whom he exhibited from 1873 to 1909. He also exhibited with the Pennsylvania Academy, the Royal Academy in London, the Paris Salon, the 1893 Chicago Exposition, and the Art Institute of Chicago.
Not much else is known about this artist.
NOTE: Click on any image below for a bigger version (no new window will open).
NOTE: A black box like this one, means that there is an explanation text about today's situation of the painting above it.
NOTE: Click on this photo icon
anywhere below a painting to see a photo of what the area looks like today.
NOTE: A blue box like this one, means there is an explanation or a note.
TODAY: The lighthouse is still at the end of the pier, but has changed over the years.
William Norton painted mostly in the USA, but did manage to travel a bit in Europe. Here are the places he painted in Normandy (a link "⇠" to his works will appear below when published):
Dieppe in Normandy was a popular place for artists to come and apply their art. Here is a list, non exhaustive, of the artists that painted in Dieppe.
A link ("⇠") to the artist's works will appear when published (a "*" indicates that the artist did not work directly in Dieppe, instead worked in nearby villages):
NOTE: You can subscribe to our new articles by entering your email address in the box on the right column (or at the very bottom of this article) and clicking on the button "Subscribe".

You will need to check your incoming emails and validate your subscription. If you can't see an email from us, check your Spam folder. Without validating your email address, you will not get notifications from us. WE WILL NEVER GIVE YOUR EMAIL ADDRESSES TO ANYONE!
Related Posts
98

William Callow was an English landscape painter, engraver and water colourist. He travelled extensively in France, the Netherlands, Belgium, Germany, Switzerland and Italy, had a large number of pupils, and enjoyed favour with the royal family. Here are his paintings he made in Dieppe, Normandy.

96

James Kay was a Scottish artist notable for his paintings of the landscapes and shipping. Born on the Isle of Arran, Kay spent much of his working life with a studio in Glasgow and living at Portincaple on Loch Long in Argyll and Bute. He was elected to the Royal…

96

William Lee Hankey was a British painter and book illustrator. He specialised in landscapes, character studies and portraits of pastoral life, particularly in studies of mothers with young children. He spent quite some time painting in Normandy and Brittany. Here are many of his paintings he made in Dieppe, Normandy.

96

Antoine Vollon (1833 – 1900) was a French realist artist, best known as a painter of still lifes, landscapes, and figures. During his lifetime, Vollon was a successful celebrity, enjoyed an excellent reputation, and was called a "painter's painter". Here are his paintings he made in Dieppe, Normandy.