This page forms part of a series of pages dedicated to the many artists who painted in Dieppe. A full list of all the artists with a link to their works can be found at the bottom of this page.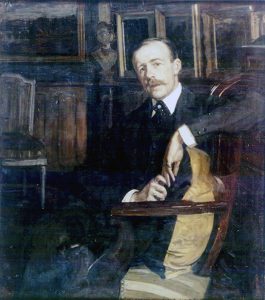 Movement(s): –
Jacques-Emile Blanche (1861 – 1942) was a French artist, largely self-taught, who became a successful portrait painter, working in London and Paris.
Blanche was born in Paris. His father, whose name he shared, was a successful psychiatrist who ran a fashionable clinic, and he was brought up in the rich Parisian neighborhood of Passy in a house that had belonged to the Princesse de Lamballe.
Although Blanche received some instruction in painting from Henri Gervex, he may be regarded as self-taught. He became a very successful portrait painter, with a style derived from 18th-century English painters such as Thomas Gainsborough as well as Edouard Manet and John Singer Sargent. He worked in London, where he spent time from 1870 on, as well as Paris, where he exhibited at the Salon and the Société Nationale des Beaux-Arts. One of his closest friends was Marcel Proust, who helped edit several of Blanche's publications.
Blanche died at his home in Offranville-en-Caux, Normandy (a suburb of Dieppe) on 30 September 1942.
Click here to read Blanche's full bio on Wikipedia.
NOTE: Click on any image below for a bigger version (no new window will open).
NOTE: A black box like this one, means that there is an explanation text about today's situation of the painting above it.
NOTE: Click on this photo icon
anywhere below a painting to see a photo of what the area looks like today.
NOTE: A blue box like this one, means there is an explanation or a note.
TODAY: The beach at Dieppe is a very popular place for bathing, despite the pebble beach. In the summer it gets quite busy, especially when there are festivals (see popup above for the international Kite festival)
NOTE: Poilu is an informal term for a late 18th century–early 20th century French infantryman, meaning, literally, hairy one. It is still widely used as a term of endearment for the French infantry of World War I. The word carries the sense of the infantryman's typically rustic, agricultural background. Bushy moustaches were often worn. The poilu was particularly known for his love of pinard, his ration of cheap wine.
TODAY: This building still stands, and is one of the last one that of the older buildings. The rest are modern concrete ones.
TODAY: The promenade has become wider and longer.
TODAY: The pier is still extensively visited, often to fish.
TODAY: The month of August is always the busiest month (not just in Dieppe but in all of France).
TODAY: There still is a casino in Dieppe, but the building pictured above was destroyed during WWII and replaced by a modern building.
TODAY: Rue de la Barre still exists today, but it's no longer the main shopping street.
TODAY: The sea front looks more or less like the painting above; a row of houses, a road, grass fields and then the beach.
TODAY: The restaurant visible still stands and is an important meeting place.
TODAY: The only passenger ships entering and leaving Dieppe port are the ferries to the UK.
Offranville
Offranville is a small town that lies to the South of Dieppe
Blanche mostly painted in Paris and London, and only painted in Dieppe when he went to Normandy.
Dieppe in Normandy was a popular place for artists to come and apply their art. Here is a list, non exhaustive, of the artists that painted in Dieppe.
A link ("⇠") to the artist's works will appear when published (a "*" indicates that the artist did not work directly in Dieppe, instead worked in nearby villages):
NOTE: You can subscribe to our new articles by entering your email address in the box on the right column (or at the very bottom of this article) and clicking on the button "Subscribe".

You will need to check your incoming emails and validate your subscription. If you can't see an email from us, check your Spam folder. Without validating your email address, you will not get notifications from us. WE WILL NEVER GIVE YOUR EMAIL ADDRESSES TO ANYONE!
Related Posts