This page forms part of a series of pages dedicated to the many artists who painted in Dieppe. A full list of all the artists with a link to their works can be found at the bottom of this page.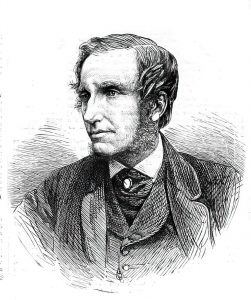 Movement(s): –
Edward William Cooke (1811 – 1880) was an English landscape and marine painter, and gardener. Cooke was born in London, the son of well-known line engraver George Cooke; his uncle, William Bernard Cooke (1778–1855), was also a line engraver of note, and Edward was raised in the company of artists (like Thomas Boys who was an apprentice of his father).
He was a precocious draughtsman and a skilled engraver from an early age, displayed an equal preference for marine subjects (in special in sailing ships) and published his "Shipping and Craft" – a series of accomplished engravings – when he was 18, in 1829.
He went on to travel and paint with great industry at home and abroad, indulging his love of the 17th-century Dutch marine artists with a visit to the Netherlands in 1837. He returned regularly over the next 23 years, studying the effects of the coastal landscape and light, as well as the works of the country's Old Masters, resulting in highly successful paintings.
He went on to travel in Scandinavia, Spain, North Africa and, above all, to Venice. He also travelled extensively in Normandy.
Click here to read Cooke's full bio on Wikipedia.
NOTE: Click on the image below for a bigger version (no new window will open).
He painted several other places in France (a link "⇠" will be made to his works in those cities below when they are put online):
Hauts-de-France
Normandy
Provence-Alpes-Cote d'Azur
Dieppe in Normandy was a popular place for artists to come and apply their art. Here is a list, non exhaustive, of the artists that painted in Dieppe.
A link ("⇠") to the artist's works will appear when published (a "*" indicates that the artist did not work directly in Dieppe, instead worked in nearby villages):
NOTE: You can subscribe to our new articles by entering your email address in the box on the right column (or at the very bottom of this article) and clicking on the button "Subscribe".

You will need to check your incoming emails and validate your subscription. If you can't see an email from us, check your Spam folder. Without validating your email address, you will not get notifications from us. WE WILL NEVER GIVE YOUR EMAIL ADDRESSES TO ANYONE!
Related Posts