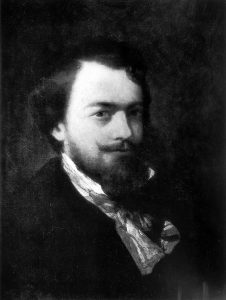 Movement(s): –
Charles Hoguet (1821 – 1870), although born and died in Berlin, Germany, as a Huguenot, belonged to the French colony in Berlin and is considered a French painter.
At the age of eighteen he went to Paris for further training and was a student of Eugene Isabey and Eugene Ciceri . It is recognized that he acquired great craftsmanship in France and developed a brilliant technique.
Artistically he was decisively influenced by Isabey's marine painting. Hoguet was also able to exhibit his early work in Paris and had his first successes. However, this caused some critics in Berlin to attribute him to the French school.
He regularly participated in the Paris Salon from 1842 to 1853, and received a gold medal there in 1848. He then joined Berlin and entered the Academy.
After a few trips through Western Europe, Hoguet finally settled in Berlin in 1848. He lived and worked there until his death and, according to his own records, created a total of 423 oil paintings during this time; Sea coasts and the sea, navies, Normandy or Heligoland and still lifes were among his preferred depictions right up to the end.
Not much else is know about this artist.
Charles Hoguet painted mostly in Germany and Paris, but he did travel a bit in Normandy (we could not find any other places in France where he painted). Here are some of the places he painted in (a link "⇠" to his works will appear below when published):
Related Posts
95

Fernand-Fortune Truffault was a French painter. He was born in Trouville-sur-Mer. He studied art in Rouen, but not much is known about this artist.

95

Theodore Alexander Weber (1838 - 1907) was born in Leipzig, Germany and died in Paris, France. He was a German painter who took the French nationality in 1878.

95

Claude-Joseph Vernet (1714 – 1789) was a French painter. His son, Antoine Charles Horace Vernet, was also a painter.

95

Alfred Montague (1832 - 1883) was a British painter born in London. Not much, if anything, is known about this British artist.