This page forms part of a series of pages dedicated to the many artists who painted in Dieppe. A full list of all the artists with a link to their works can be found at the bottom of this page.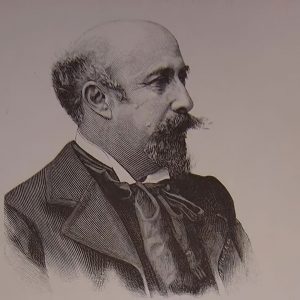 Movement(s): –
Luigi Loir (1845 – 1916) was a French painter, illustrator and lithographer born in Goritz, Austria.
He was the son of Tancrede Loir François and Therese Leban, his wife, respectively valet and housekeeper of the French royal family in exile in Austria. Installed in the duchy of Parma in 1847, Luigi Loir studied at the school of Fine Arts of Parma in 1853.
He was not only an accomplished painter, but also a professional lithographer, a talent he used to illustrate one of Jules Verne's books.
He became known for his ceiling paintings and worked with Jean Pastelot (1820–1870). He was known for his paintings of Paris and its surroundings. He was associated with the Pont-Aven School of painters and was influenced by the works of Paul Cézanne and Vincent van Gogh. Loir's style is characterized by thick impasto brushwork, vibrant colors, and bold compositions.
He realized some drawings for the biscuits brand LU and participated in the battles of Le Bourget during the Franco-Prussian War.
Loir was made a chevalier of the Legion d'honneur in 1898. He died in Paris in 1916.
Click here to read more of Luigi Loir on Wikipedia.
NOTE: Click on the image below for a bigger version (no new window will open).
NOTE: A black box like this one, means that there is an explanation text about today's situation of the painting above it.
NOTE: Click on this photo icon
anywhere below a painting to see a photo of what the area looks like today.
NOTE: A blue box like this one, means there is an explanation or a note.
TODAY: The Casino has been replaced by a modern one.
Loir also painted in other places in France (a link "⇠" to his works in those cities will appear below when published):
Bourgogne-Franche-Comte (Burgundy)

Besancon
Nuit-Saint-Georges

Brittany
Hauts-de-France
Normandy
Dieppe in Normandy was a popular place for artists to come and apply their art. Here is a list, non exhaustive, of the artists that painted in Dieppe.
A link ("⇠") to the artist's works will appear when published (a "*" indicates that the artist did not work directly in Dieppe, instead worked in nearby villages):
NOTE: You can subscribe to our new articles by entering your email address in the box on the right column (or at the very bottom of this article) and clicking on the button "Subscribe".

You will need to check your incoming emails and validate your subscription. If you can't see an email from us, check your Spam folder. Without validating your email address, you will not get notifications from us. WE WILL NEVER GIVE YOUR EMAIL ADDRESSES TO ANYONE!
Related Posts