This page forms part of a series of pages dedicated to the many artists who painted in Dieppe. A full list of all the artists with a link to their works can be found at the bottom of this page.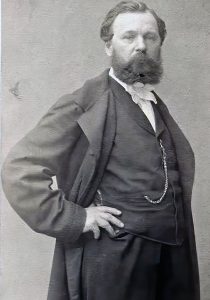 Movements: –
Jules Achille Noel, born Louis Assez Noel (1815-1881) was a French landscape and maritime painter who worked primarily in Brittany and Normandy.
His family originally came from Lorraine. Some sources say that he was born there in 1810. His father was a draftsman working on the canal being built from Nantes to Brest and gave him his first drawing lessons.
Jules Noel later studied at the "Academie de Peinture et de Dessin" (Academie Charioux) in Brest. Afterwards, he went to Paris to seek his fortune and came under the influence of his fellow Breton painter Pierre-Julien Gilbert.
After four years of struggling to earn his living, he returned to Brittany to teach drawing in Saint-Pol-de-Leon, Lorient and Nantes.
Eventually, his work attracted the attention of Prince Louis, Duke of Nemours, who obtained him a position as a Professor of Design at the Lycee Henri-IV, where he would teach from 1847 until his retirement in 1879. Albert Lynch and Felix Buhot were among his best-known students there.
During school vacations he would return to paint in Brittany. He was in ill-health at the time of his retirement, so he went to live with his daughter and her husband in Algeria and died there.
His style was compared to Eugene Isabey and he won the praise of Baudelaire.
Click here to read his full bio on Wikipedia.
NOTE: Click on any image below for a bigger version (no new window will open).
Jules Noel painted in many other places in France, which will be featured eventually on this site. A link "⇠" to those cities will appear below when published.
Brittany

Brest
Douarnenez
Morbihan
Morlaix
Port Louis

Grand Est
Hauts de France

Abbeville
Calais
Givenchy-en-Gohelle

Normandy
Pays de la Loire
Dieppe in Normandy was a popular place for artists to come and apply their art. Here is a list, non exhaustive, of the artists that painted in Dieppe.
A link ("⇠") to the artist's works will appear when published (a "*" indicates that the artist did not work directly in Dieppe, instead worked in nearby villages):
NOTE: You can subscribe to our new articles by entering your email address in the box on the right column (or at the very bottom of this article) and clicking on the button "Subscribe".

You will need to check your incoming emails and validate your subscription. If you can't see an email from us, check your Spam folder. Without validating your email address, you will not get notifications from us. WE WILL NEVER GIVE YOUR EMAIL ADDRESSES TO ANYONE!
Related Posts