This page forms part of a series of pages dedicated to the many artists who painted in Dieppe. A full list of all the artists with a link to their works can be found at the bottom of this page.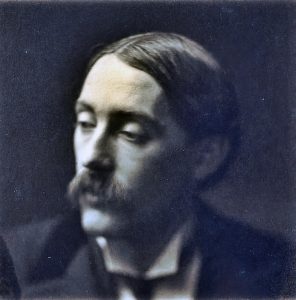 Movement(s): –
Charles Edward Conder (1868 – 1909) was an English-born painter, lithographer and designer. He emigrated to Australia and was a key figure in the Heidelberg School, arguably the beginning of a distinctively Australian tradition in Western art.
He spent several years as a young child in India until the death of his mother (aged 31 years) on 14 May 1873 in Bombay, when Charles was four; he was then sent back to England and attended a number of schools including a boarding school at Eastbourne, which he attended from 1877.
He left school at 15, and his very religious, non-artistic father, against Charles's natural artistic inclinations, decided that he should follow in his footsteps as a civil engineer.
In 1884, at the age of 16, he was sent to Sydney, Australia, where he worked for his uncle, a land surveyor for the New South Wales government. However he disliked the work, much preferring to draw the landscape rather than survey it. In 1886, he left the job and became an artist for the "Illustrated Sydney News", where he was in the company of other artists such as Albert Henry Fullwood, Frank Mahony and Benjamin Edwin Minns.
In 1888, Conder moved to Melbourne where he met other Australian artists including Arthur Streeton, and shared a studio with Tom Roberts, whom he had previously met in Sydney. Short of cash, the attractive Conder apparently paid off his landlady by sexual means, catching syphilis in the process, which was to plague the later years of his life.
In 1890, he moved to Paris and studied at the Academie Julian, where he befriended several avant-garde artists. He spent the rest of his life in Europe, mainly Britain, but visiting France on many occasions. His art was better received in Britain than in Paris. In 1892, Henri de Toulouse-Lautrec painted his portrait, this sketch is owned by the Aberdeen Art Gallery.
In 1895, Conder came to Dieppe, attempting to socialise among the artistic community and the English families with their attractive daughters, as described by Simona Pakenham in her study of the English people there in the century before World War I. His friends remembered him as " a sick man, unable to face reality". In spite of drunken spells and disreputable company, Conder's powers as an artist were then at their height. He made a specialty of painting on silk, relatively easy on silk fans, but he excelled on one occasion when he painted a series of white silk gowns worn by Alexandra Thaulow, wife of Norwegian painter Frits Thaulow, while she stood on a table, the gowns becoming "coloured like a field of flowers".
He spent the last year of his life in a sanatorium, and died in Holloway Sanatorium of "general paresis of the insane", in modern terms tertiary syphilis. In death, Conder's work was rated highly by many notable artists, such as Pissarro and Degas.
Click here to read Conder's full bio on Wikipedia.
NOTE: Click on any image below for a bigger version (no new window will open).
Pourville-sur-Mer
The town of Pourville (population: 1,200) lies against Dieppe on the East. They share a coastline.
Arques-la-Bataille
The town of Arques-la-Bataille (population: 2,700) is located close to Dieppe towards the South (inland). It's a town dominated by the ruins of a major castle.
Charles Condor did not paint much in France despite having lived there. He painted in the following places (a link "⇠" to his works will appear below when published):
Dieppe in Normandy was a popular place for artists to come and apply their art. Here is a list, non exhaustive, of the artists that painted in Dieppe.
A link ("⇠") to the artist's works will appear when published (a "*" indicates that the artist did not work directly in Dieppe, instead worked in nearby villages):
NOTE: You can subscribe to our new articles by entering your email address in the box on the right column (or at the very bottom of this article) and clicking on the button "Subscribe".

You will need to check your incoming emails and validate your subscription. If you can't see an email from us, check your Spam folder. Without validating your email address, you will not get notifications from us. WE WILL NEVER GIVE YOUR EMAIL ADDRESSES TO ANYONE!
Related Posts
98

Charles Ernest Cundall, (1890 – 1971), was an English painter of topographical subjects and townscapes, best known for his large panoramic canvases. Whilst serving with the Royal Fusiliers in World War I, he was wounded in the right arm and had to learn to paint with his left arm before…

98

William Callow was an English landscape painter, engraver and water colourist. He travelled extensively in France, the Netherlands, Belgium, Germany, Switzerland and Italy, had a large number of pupils, and enjoyed favour with the royal family. Here are his paintings he made in Dieppe, Normandy.

97

Henry E. Burel is the artist's signature of Henri Armand Emile Burel, French painter, poet and illustrator born and died in Fecamp (1883 - 1967). He was at the same time active in Fecamp in the field of drying , packaging and trading of cod. Here are his paintings he…

97

Antoine Vollon (1833 – 1900) was a French realist artist, best known as a painter of still lifes, landscapes, and figures. During his lifetime, Vollon was a successful celebrity, enjoyed an excellent reputation, and was called a "painter's painter". Here are his paintings he made in Dieppe, Normandy.