This page forms part of a series of pages dedicated to the many artists who worked in Etretat. A full list of all the artists with a link to their works can be found at the bottom of this page.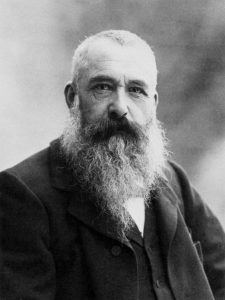 Claude Monet (1840-1926) is without any doubt the most famous impressionist painter. He started the movement, and he was the master of it.
Monet was a founder of French Impressionist painting and the most consistent and prolific practitioner of the movement's philosophy of expressing one's perceptions before nature, especially as applied to plein air landscape painting.
The term "Impressionism" is derived from the title of his painting Impression, soleil levant (Impression, Sunrise), which was exhibited in 1874 in the first of the independent exhibitions mounted by Monet and his associates as an alternative to the Salon de Paris.
Impression, Sunrise was painted in 1872, depicting a Le Havre port landscape. From the painting's title the art critic Louis Leroy, in his review, "L'Exposition des Impressionnistes," which appeared in Le Charivari, coined the term "Impressionism". It was intended as disparagement but the Impressionists appropriated the term for themselves.
He was the second son of Claude Adolphe Monet and Louise Justine Aubrée Monet, both of them second-generation Parisians. On 20 May 1841, he was baptized in the local parish church, Notre-Dame-de-Lorette. Despite being baptized Catholic, Monet later became an atheist.
In 1845, his family moved to Le Havre in Normandy. His father wanted him to go into the family's ship-chandling and grocery business, but Monet wanted to become an artist. His mother was a singer, and supported Monet's desire for a career in art.
On the beaches of Normandy around 1856 he met fellow artist Eugene Boudin, who became his mentor and taught him to use oil paints. Boudin taught Monet "en plein air" (outdoor) techniques for painting. Both were influenced by Johan Barthold Jongkind.
After drawing a low ballot number in March 1861, Monet was drafted into the First Regiment of African Light Cavalry (Chasseurs d'Afrique) in Algeria for a seven-year period of military service. His prosperous father could have purchased Monet's exemption from conscription but declined to do so when his son refused to give up painting. While in Algeria, Monet did only a few sketches of casbah scenes, a single landscape, and several portraits of officers, all of which have been lost. In a Le Temps interview of 1900 however he commented that the light and vivid colours of North Africa "contained the germ of my future researches". After about a year of garrison duty in Algiers, Monet contracted typhoid fever and briefly went absent without leave.
Following convalescence, Monet's aunt intervened to remove him from the army if he agreed to complete a course at an art school. It is possible that the Dutch painter Johan Barthold Jongkind, whom Monet knew, may have prompted his aunt on this matter.
In 1876, Camille Monet became ill with tuberculosis. Their second son, Michel, was born on 17 March 1878. This second child weakened her already fading health. In the summer of that year, the family moved to the village of Vétheuil where they shared a house with the family of Ernest Hoschede, a wealthy department store owner and patron of the arts. In 1878, Camille Monet was diagnosed with uterine cancer. She died on 5 September 1879 at the age of thirty-two.
After several difficult months following the death of Camille, Monet began to create some of his best paintings of the 19th century. During the early 1880s, Monet painted several groups of landscapes and seascapes in what he considered to be campaigns to document the French countryside. These began to evolve into series of pictures in which he documented the same scene many times in order to capture the changing of light and the passing of the seasons.
At the beginning of May 1883 Monet and his large family rented a house and gardens in Giverny from a local landowner. The house was situated near the main road between the towns of Vernon and Gasny at Giverny. There was a barn that doubled as a painting studio, orchards and a small garden. The house was close enough to the local schools for the children to attend, and the surrounding landscape offered many suitable motifs for Monet's work.
Monet purchased additional land with a water meadow. In 1893 he began a vast landscaping project which included lily ponds that would become the subjects of his best-known works. White water lilies local to France were planted along with imported cultivars from South America and Egypt, resulting in a range of colours including yellow, blue and white lilies that turned pink with age.
In 1899 he began painting the water lilies, first in vertical views with a Japanese bridge as a central feature, and later in the series of large-scale paintings that was to occupy him continuously for the next 20 years of his life. This scenery, with its alternating light and mirror-like reflections, became an integral part of his work.
Monet died of lung cancer on 5 December 1926 at the age of 86 and is buried in the Giverny church cemetery. Monet had insisted that the occasion be simple; thus only about fifty people attended the ceremony. At his funeral, his long-time friend Georges Clemenceau removed the black cloth draped over the coffin, stating, "No black for Monet!" and replaced it with a flower-patterned cloth.
Monet did not leave a will and so his son Michel inherited his entire estate. Monet's home, garden, and waterlily pond were bequeathed by Michel to the French Academy of Fine Arts (part of the Institut de France) in 1966. Through the Fondation Claude Monet, the house and gardens were opened for visits in 1980, following restoration.
In addition to souvenirs of Monet and other objects of his life, the house contains his collection of Japanese woodcut prints. The house and garden, along with the Museum of Impressionism, are major attractions in Giverny, which hosts tourists from all over the world.
Click here to read Monet's full bio on Wikipedia.
NOTE: Click on any image below for a bigger version (no new window will open).
NOTE: A black box like this one, means that there is an explanation text about today's situation of the painting above it.
NOTE: Click on this photo icon
anywhere below a painting to see a photo of what the area looks like today.
NOTE: A blue box like this one, means there is an explanation or a note.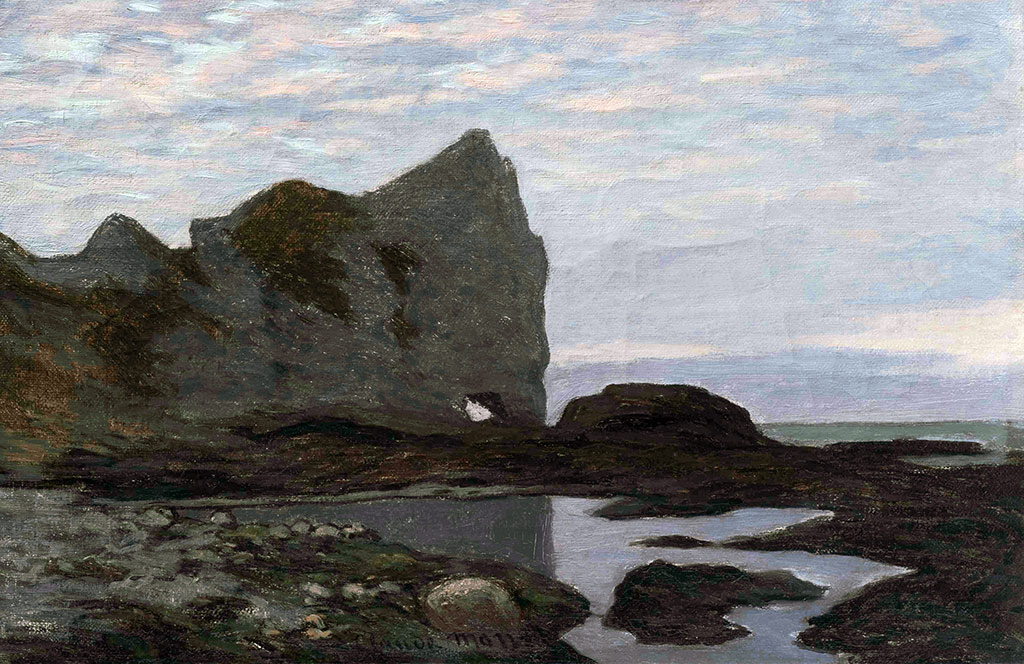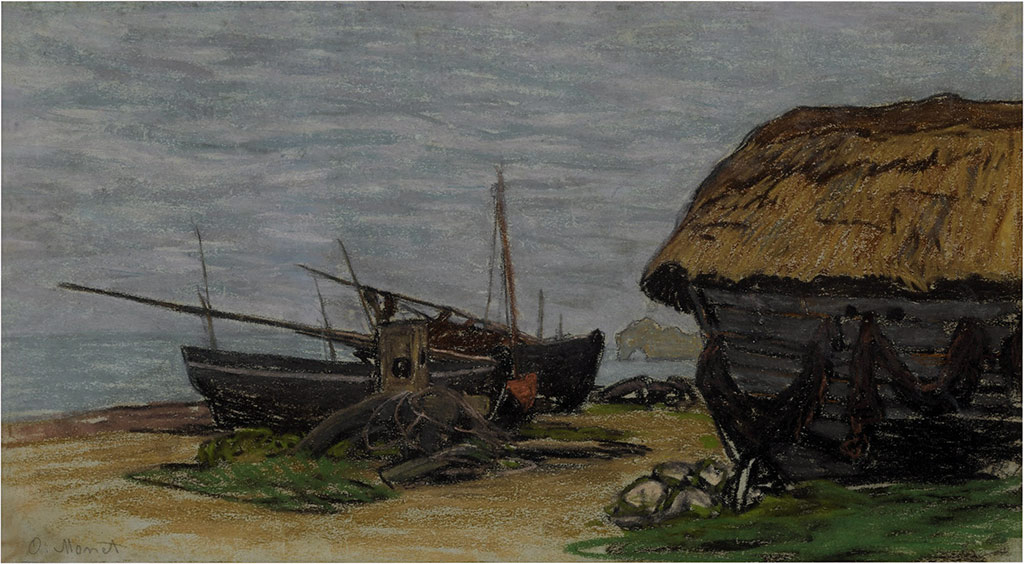 NOTE: The Perrey is the area where you can walk alongside the sea, nowadays a concrete promenade.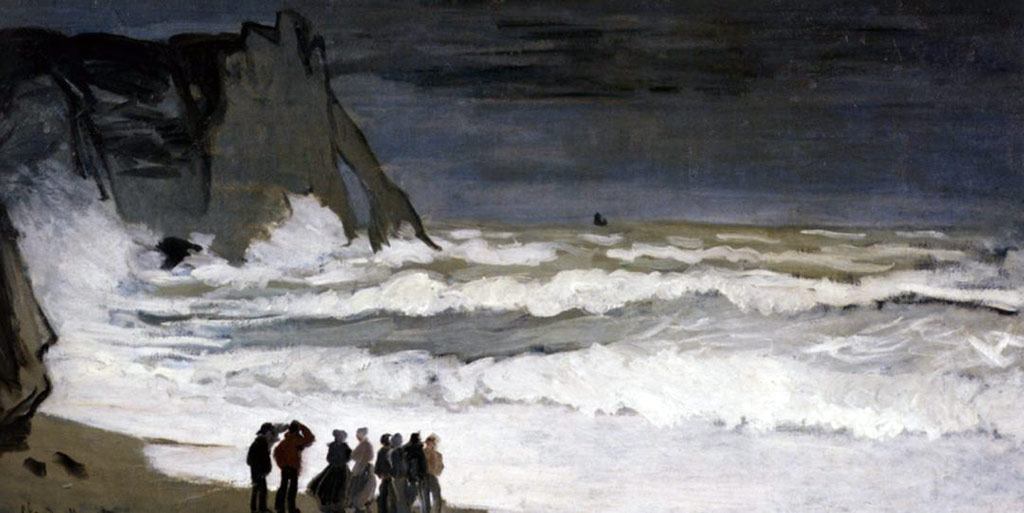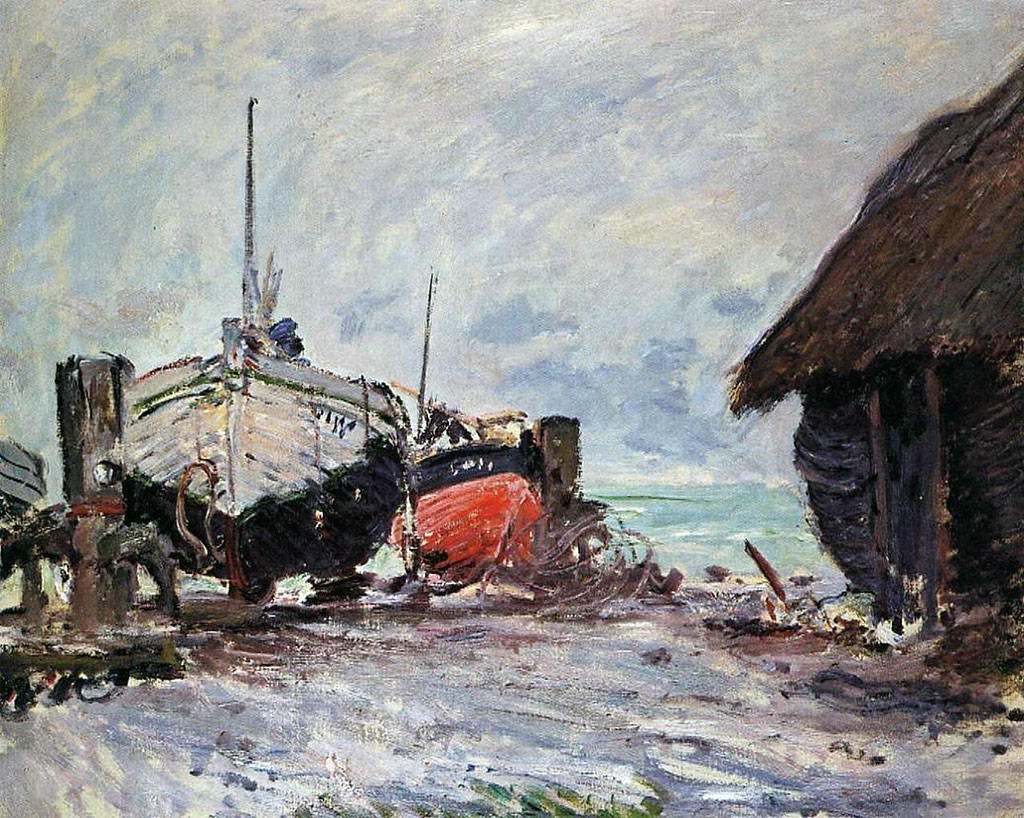 NOTE: Etretat does not have an harbor but has fishing boats. They are dragged onto the beach when not in use.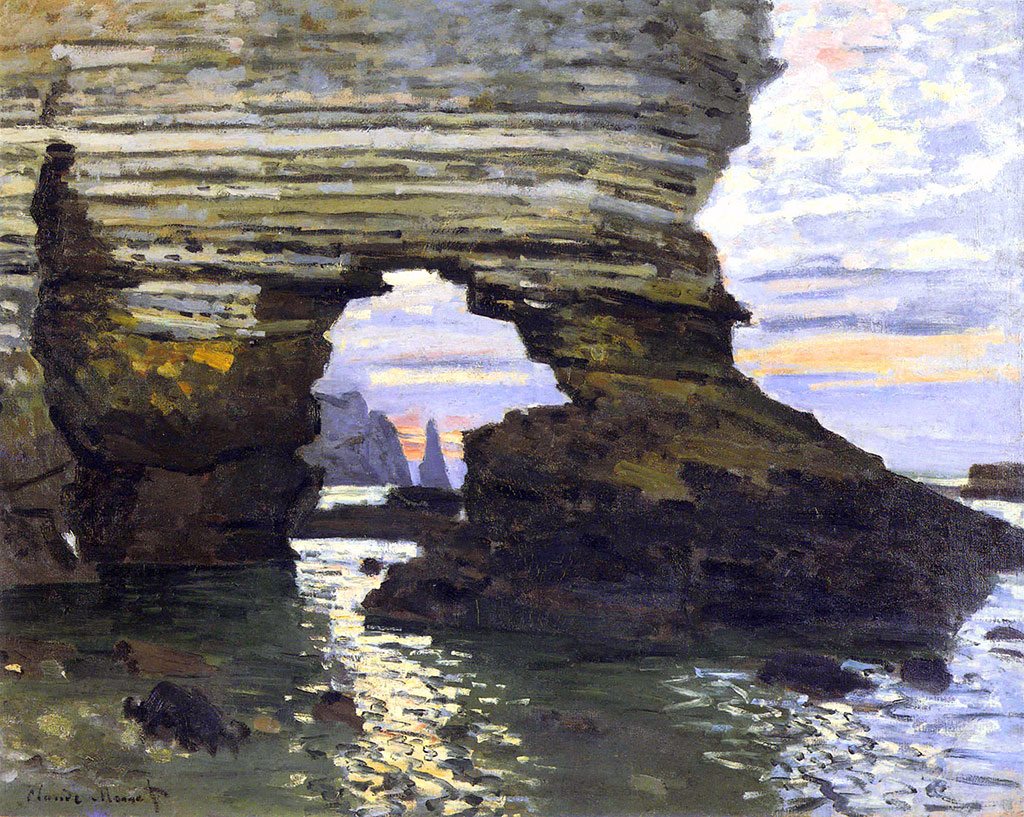 NOTE: The Porte d'Amont is a sea arch that lies to the right of the beach of Etretat.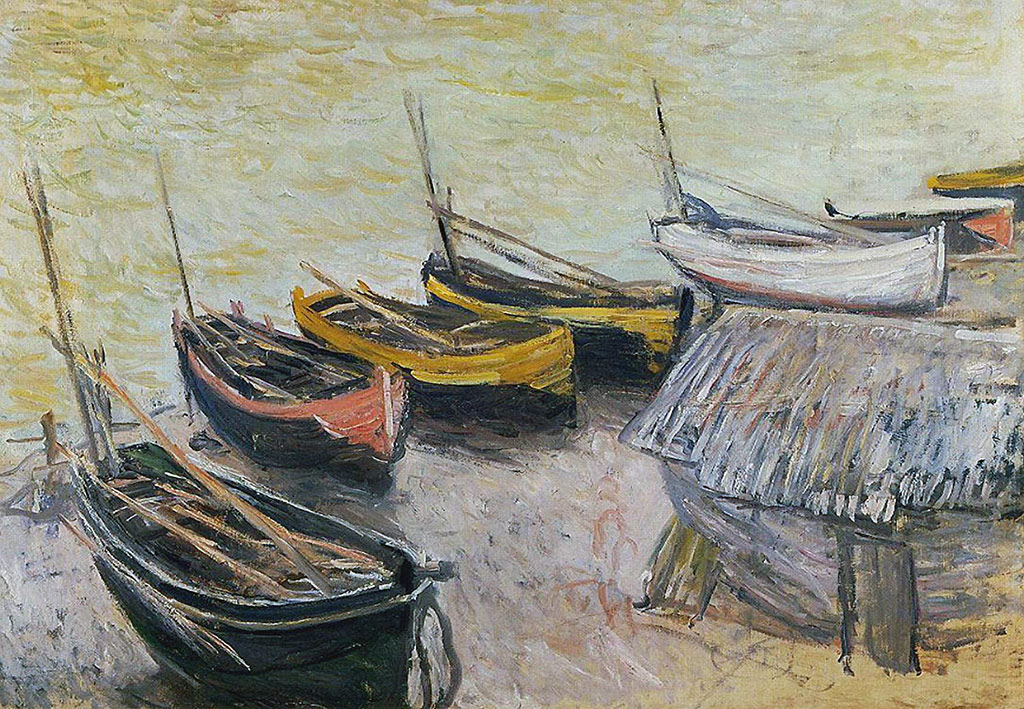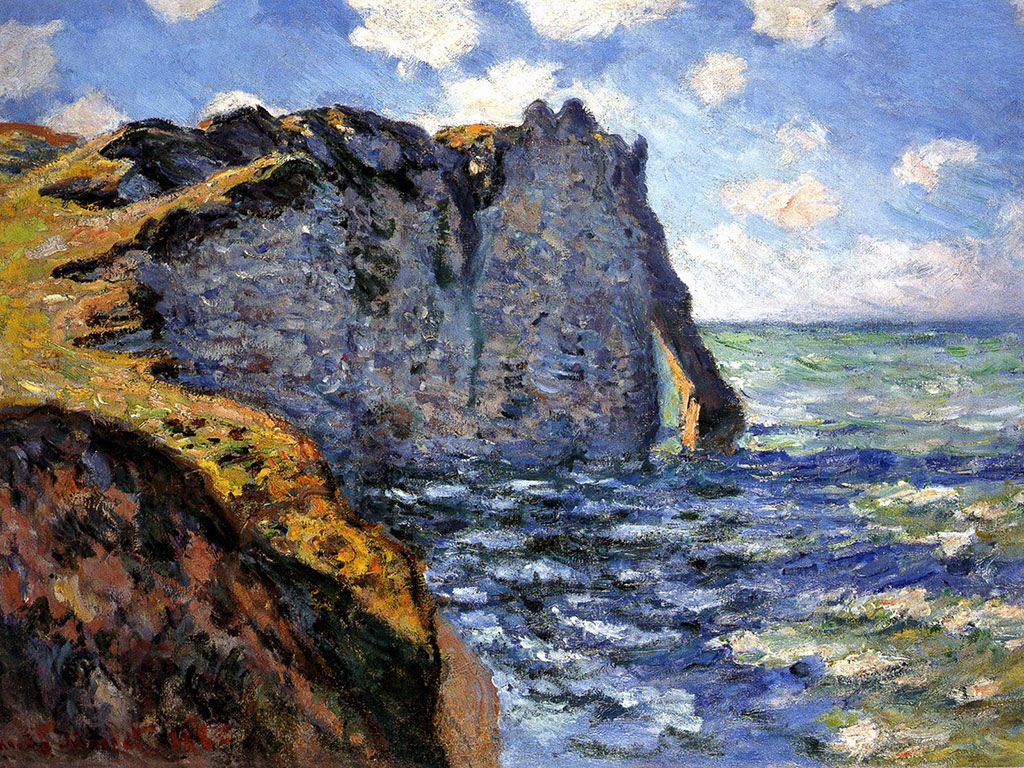 NOTE: The Manneport sea arch lies to the left (South/East) of the Porte d'Aval sea arch. It is Etretat's third sea arch.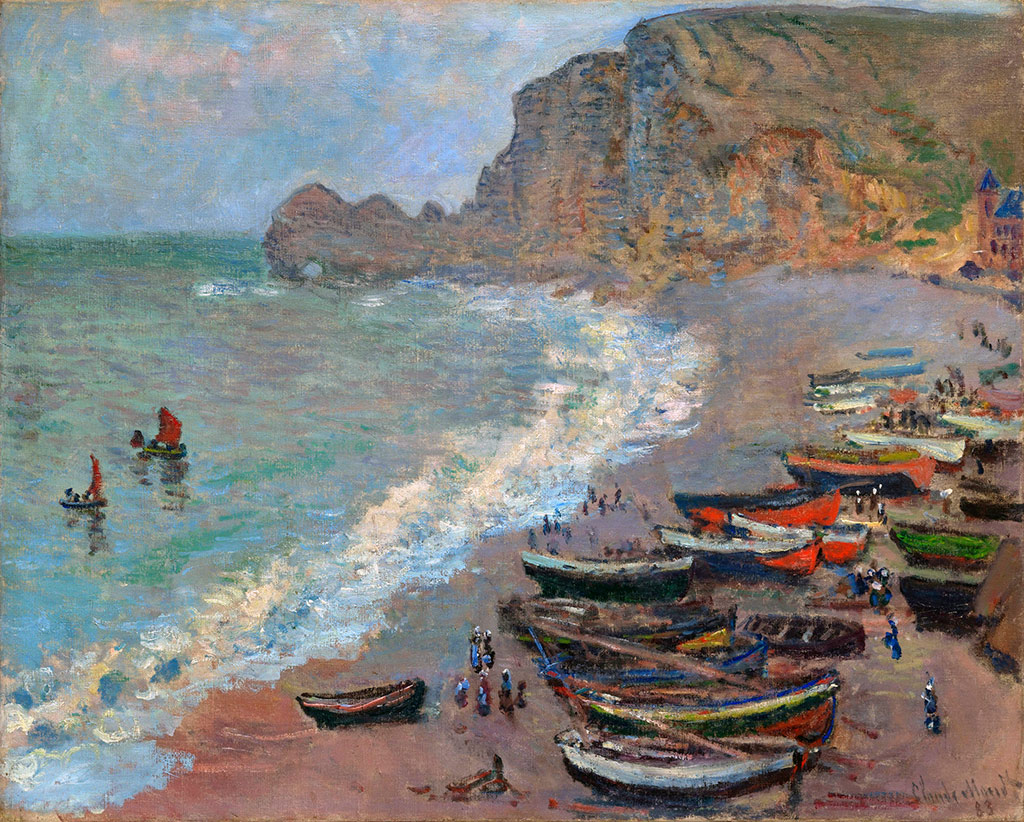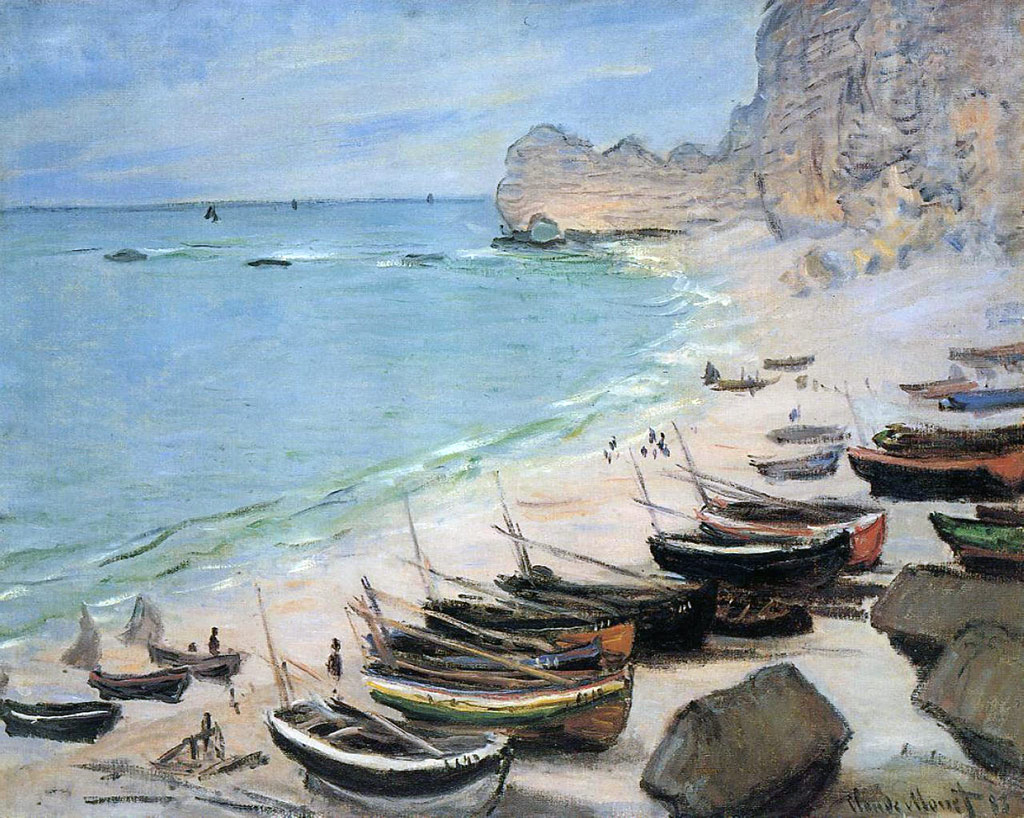 NOTE: You can see the Porte d'Amont sea arch in the distance.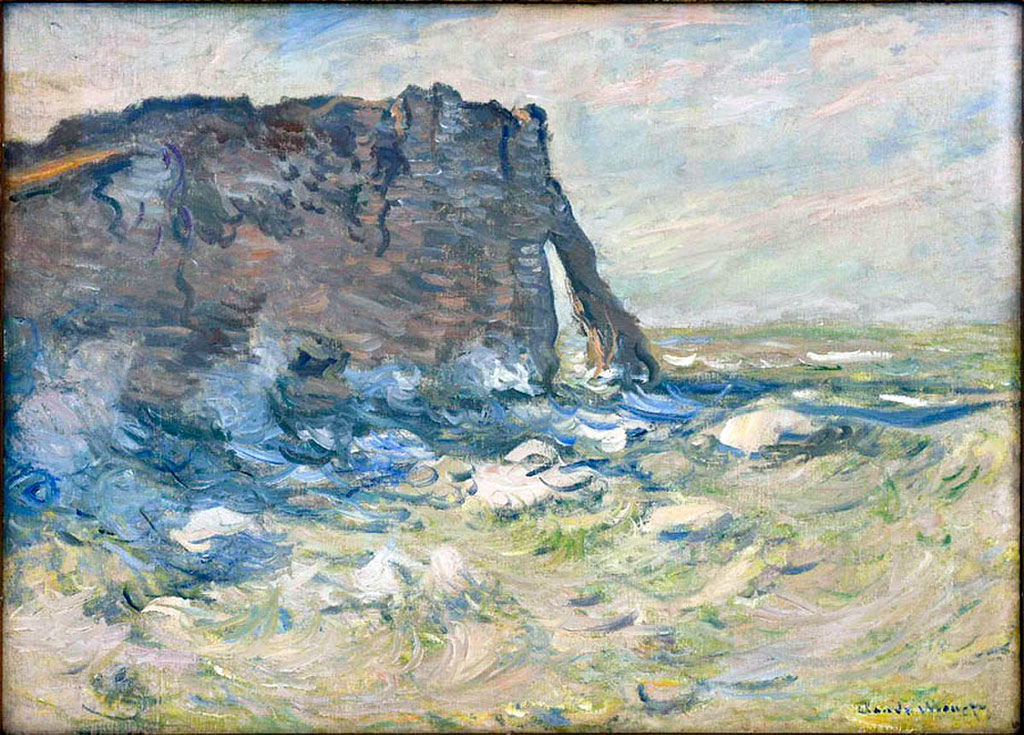 TODAY: The Porte d'Aval is the most visible of three sea arches at Etretat. It lies to the left of the Etretat beach.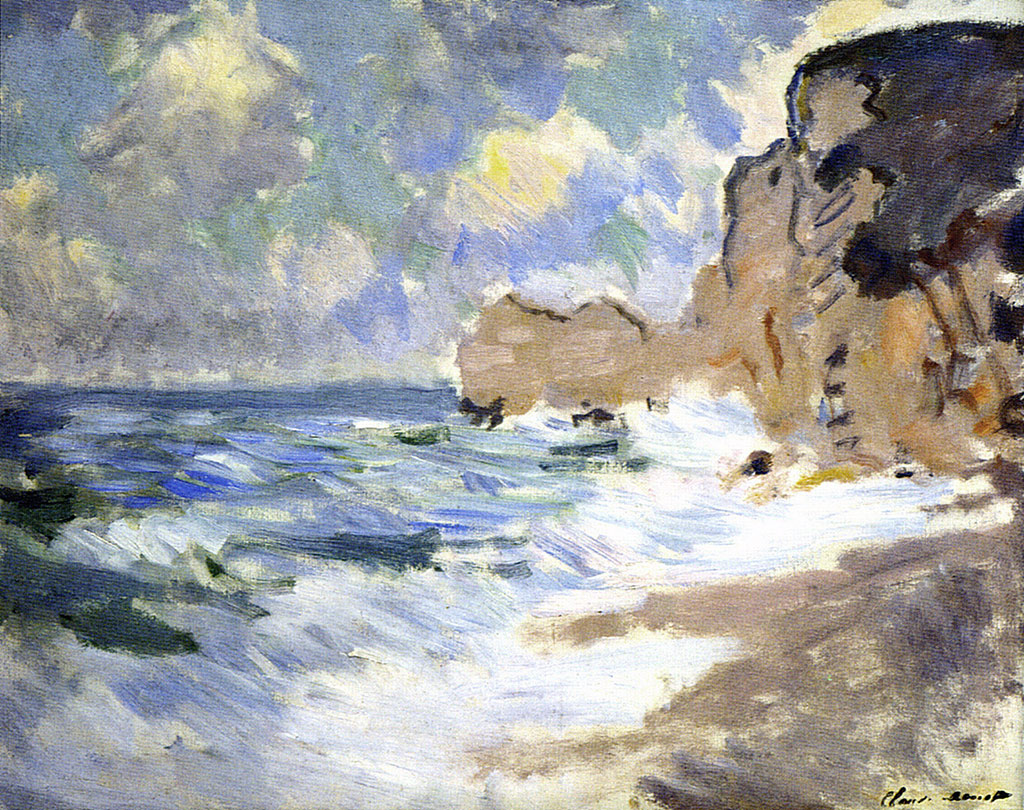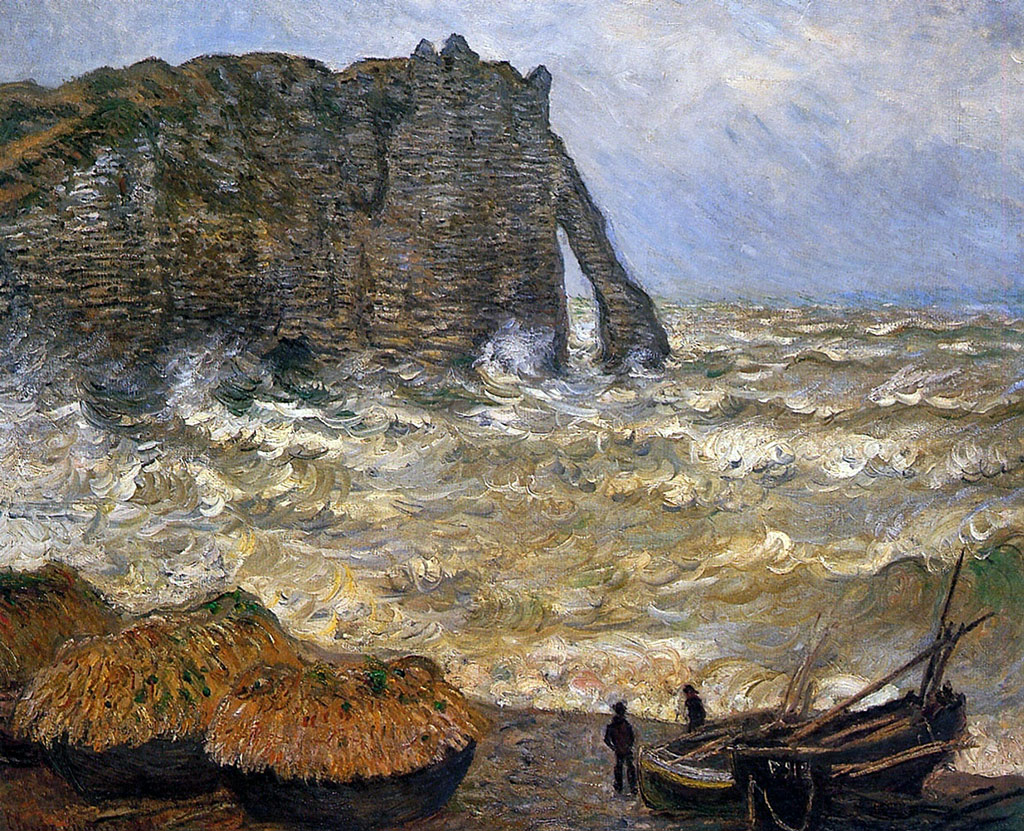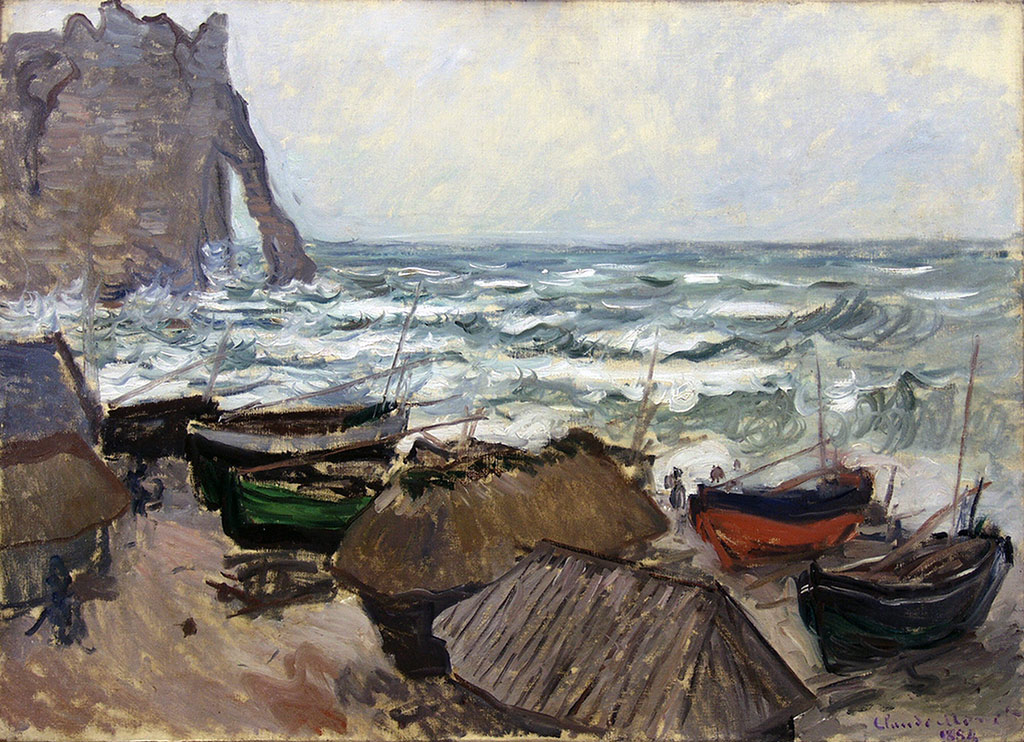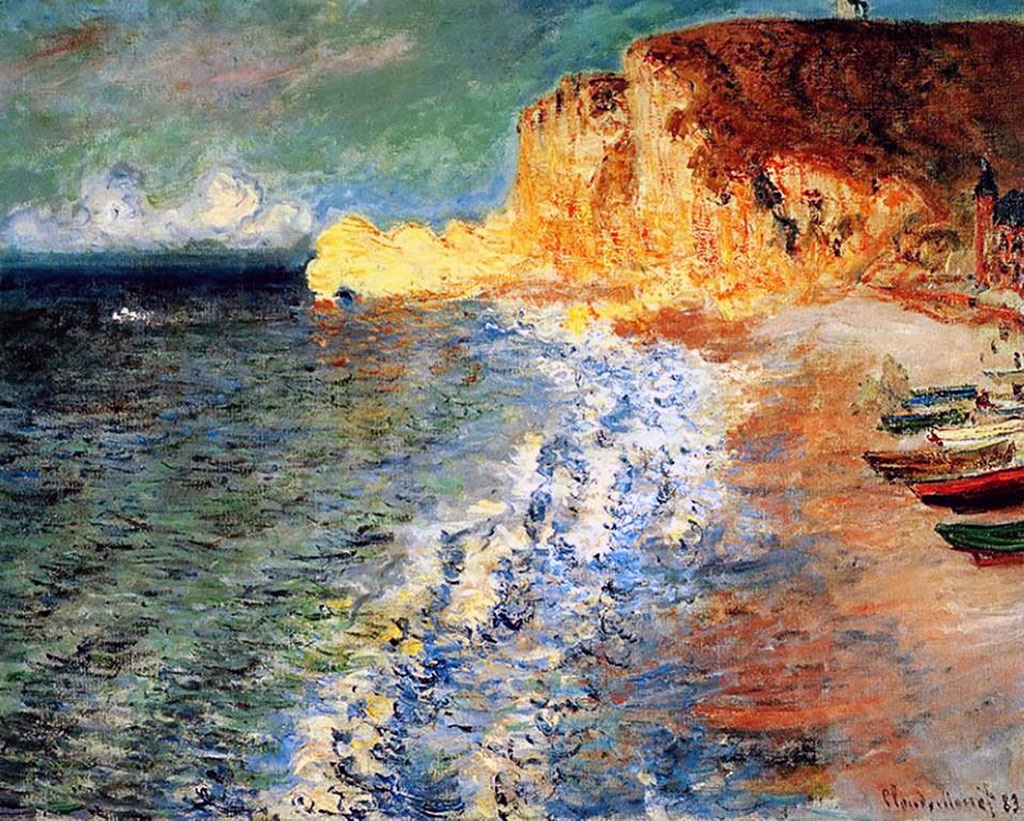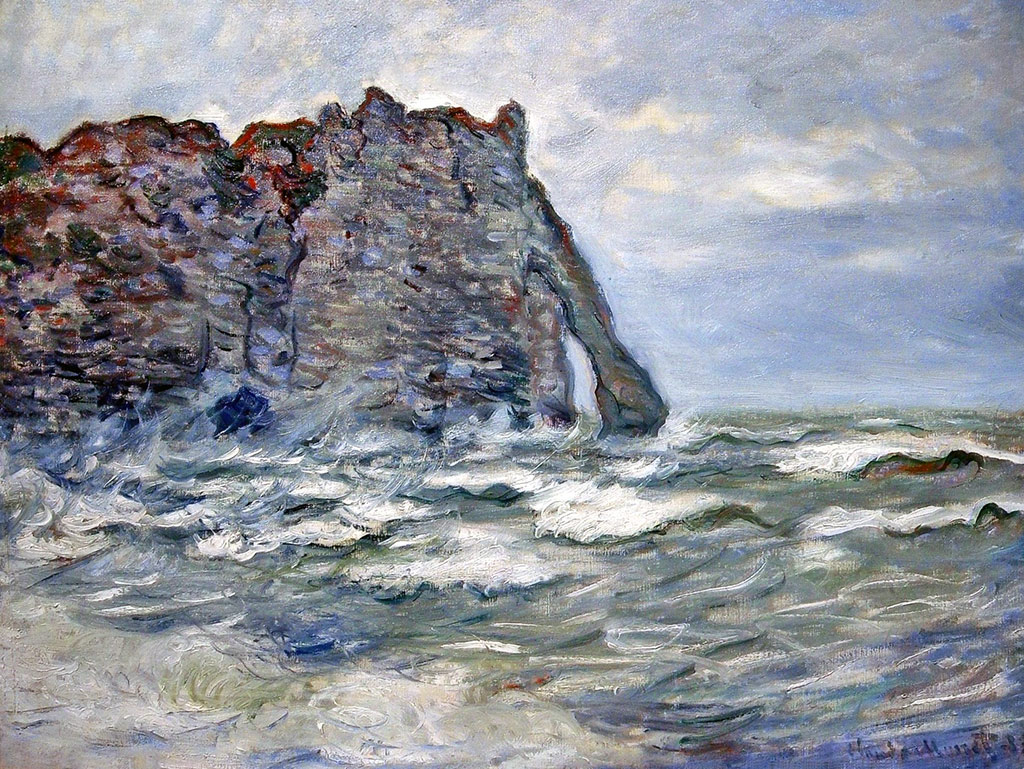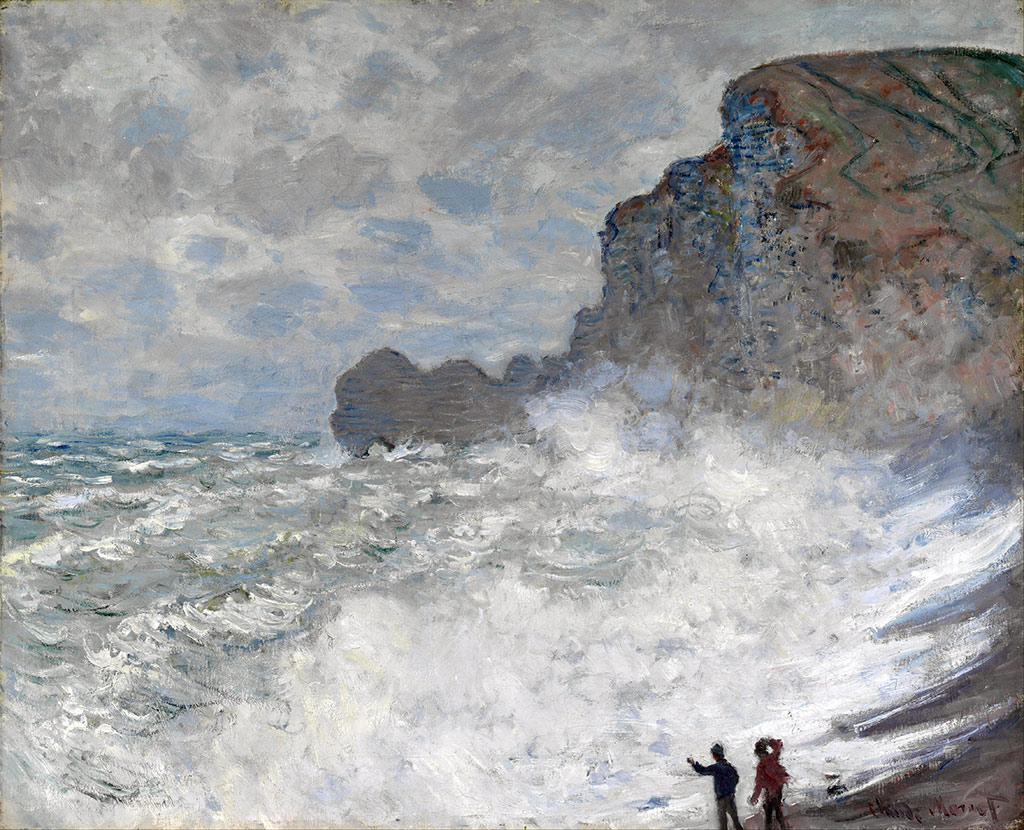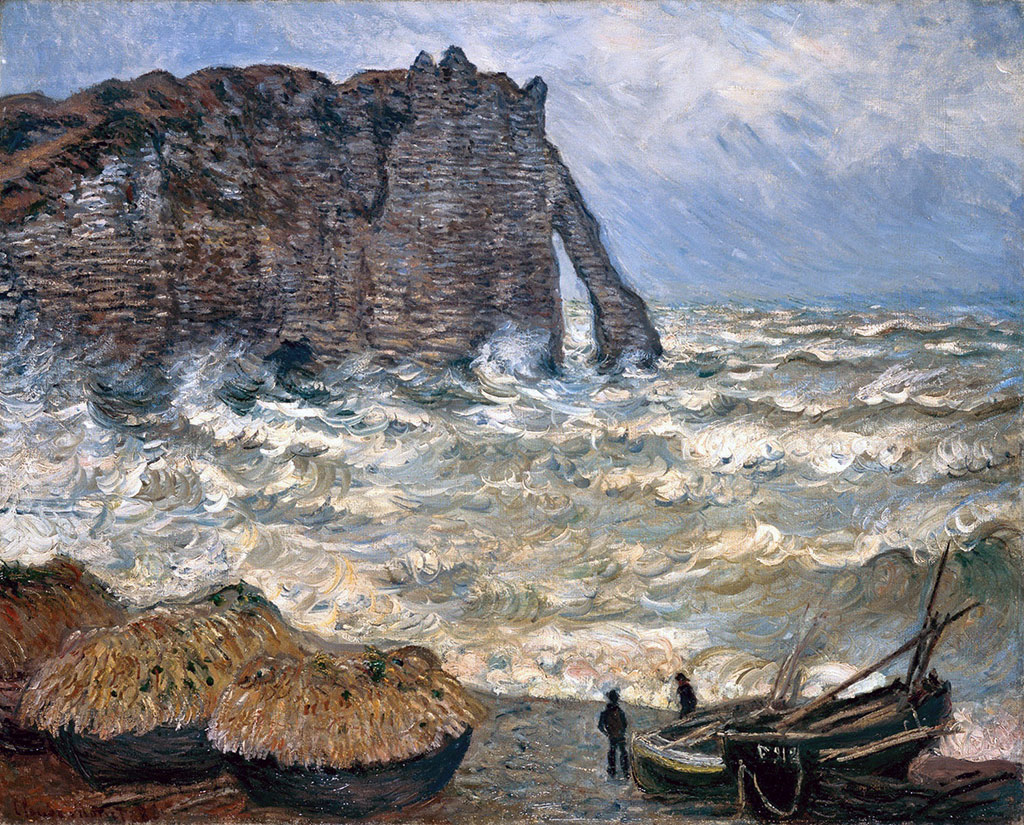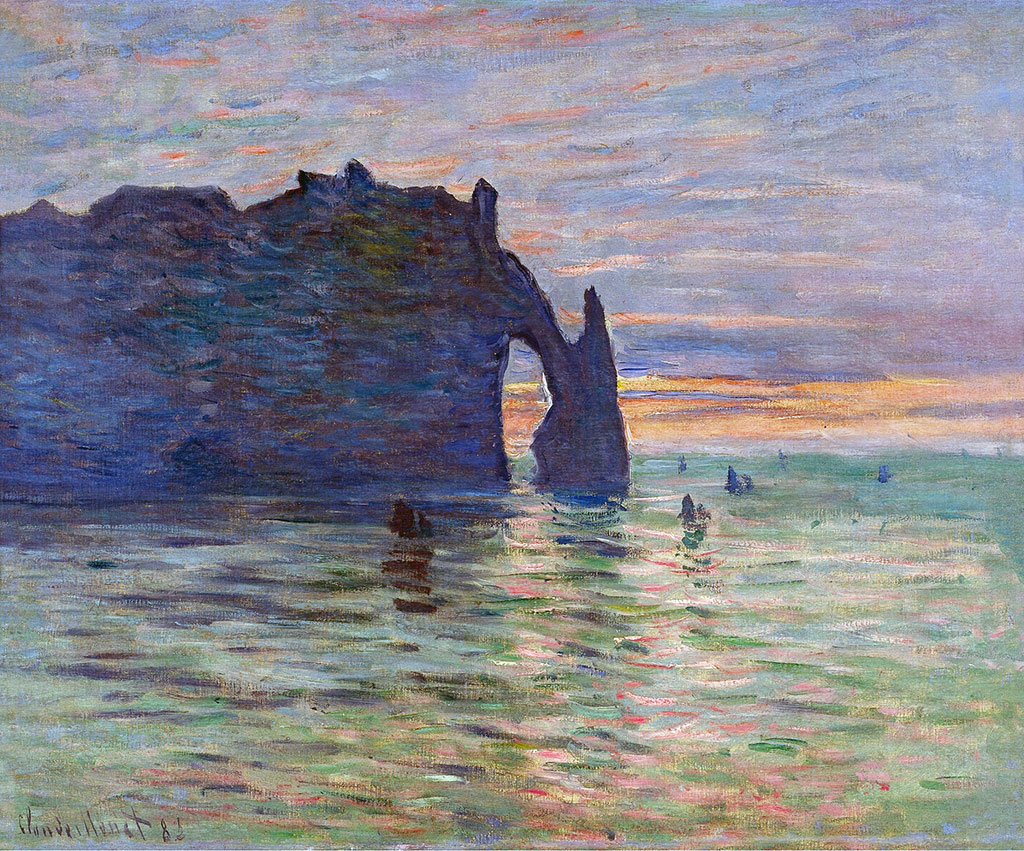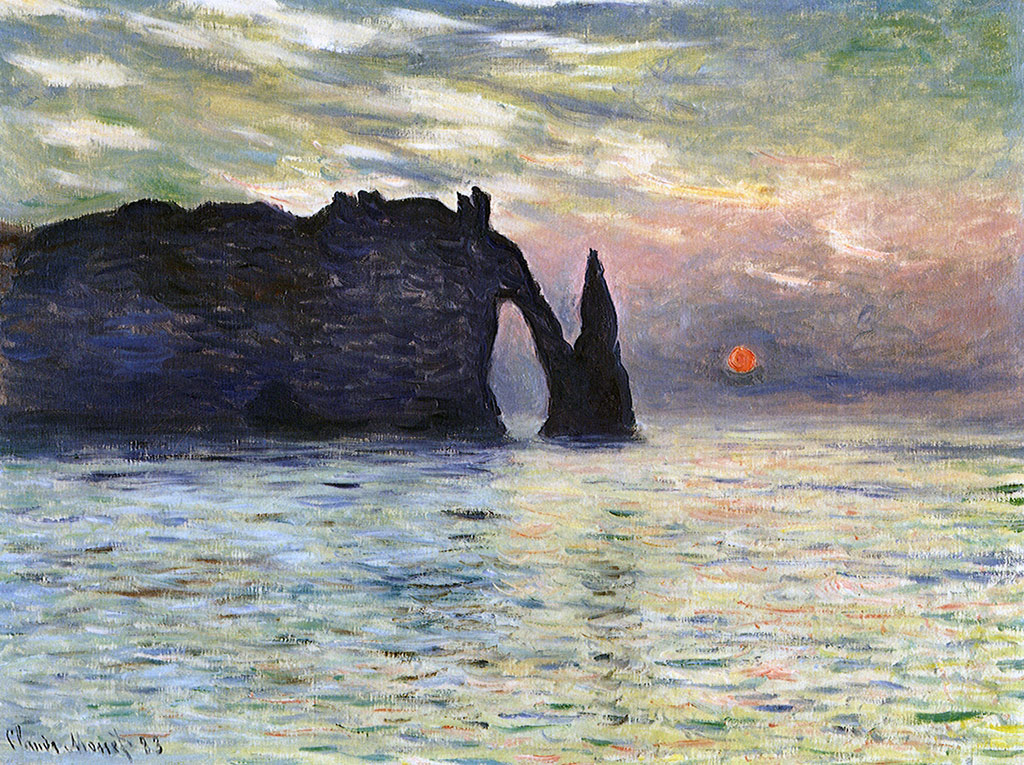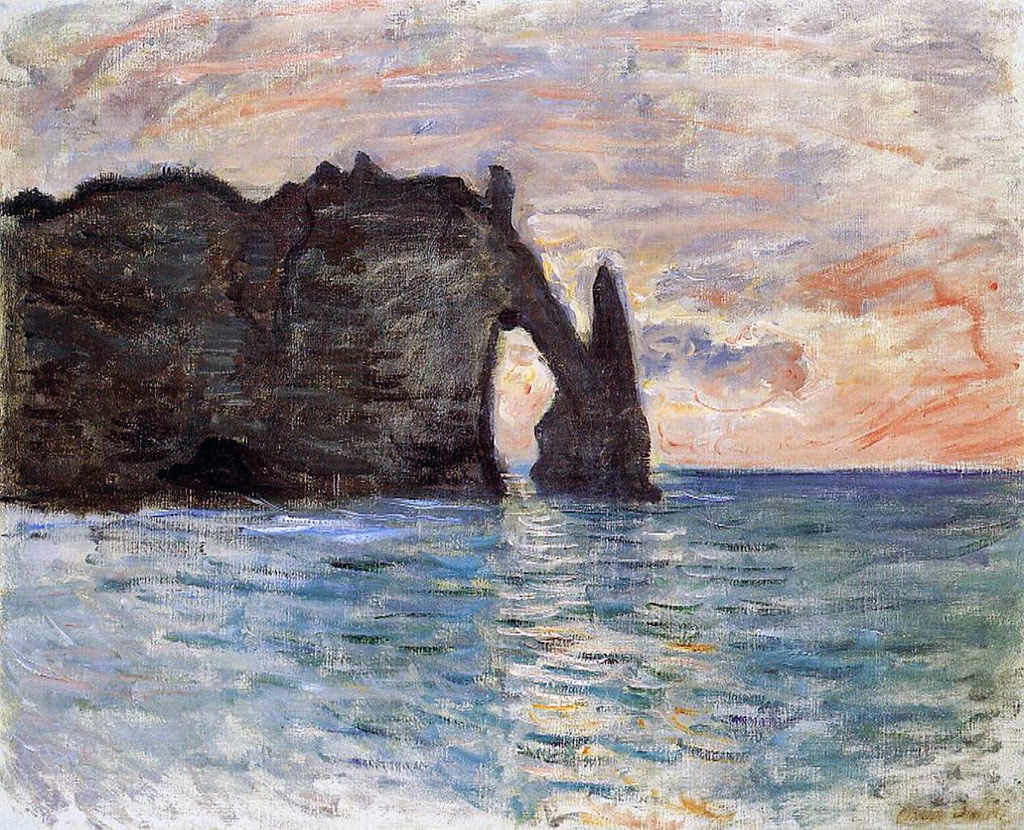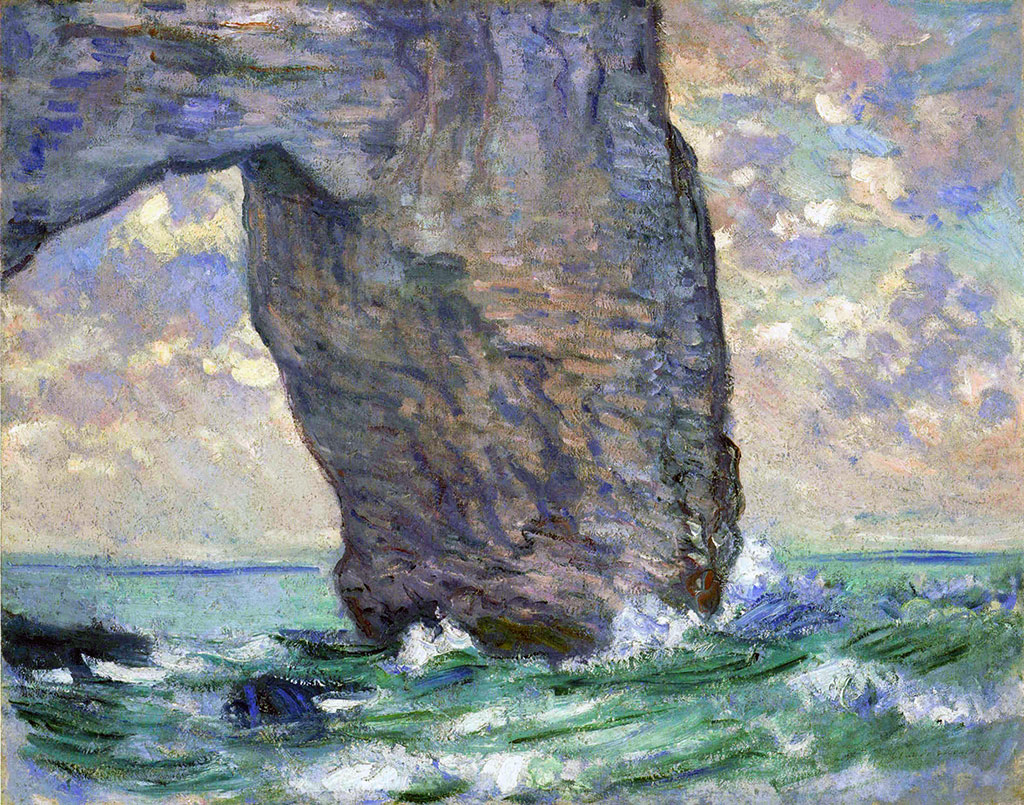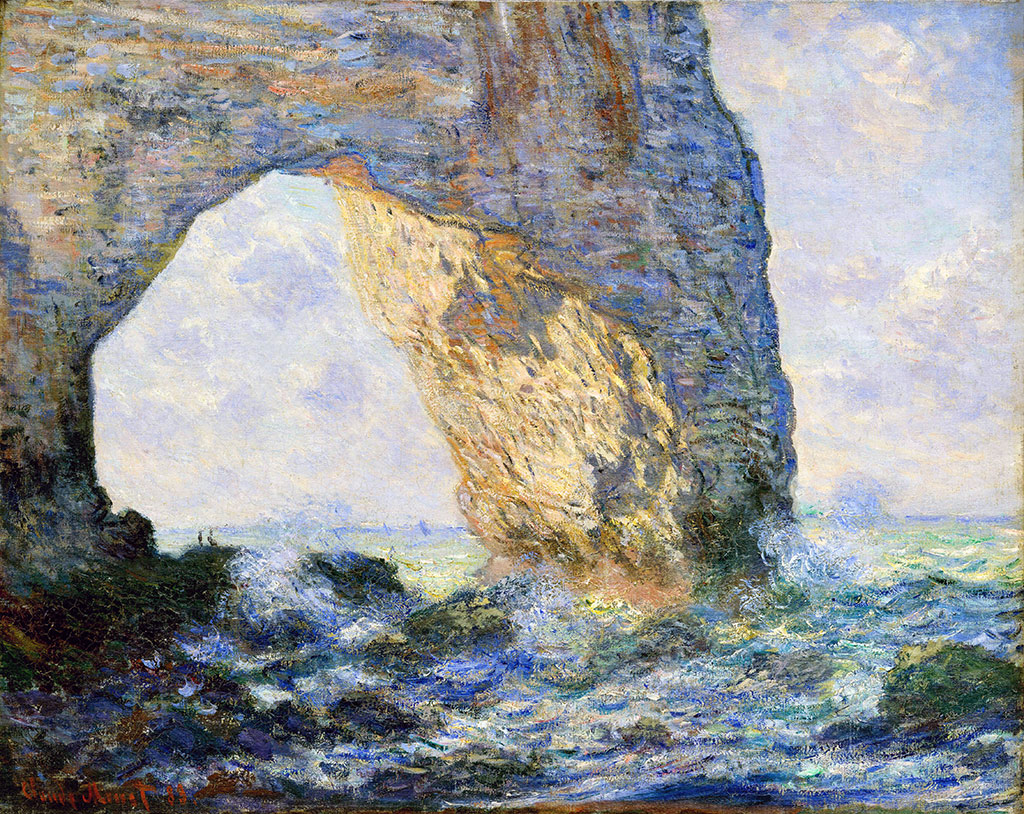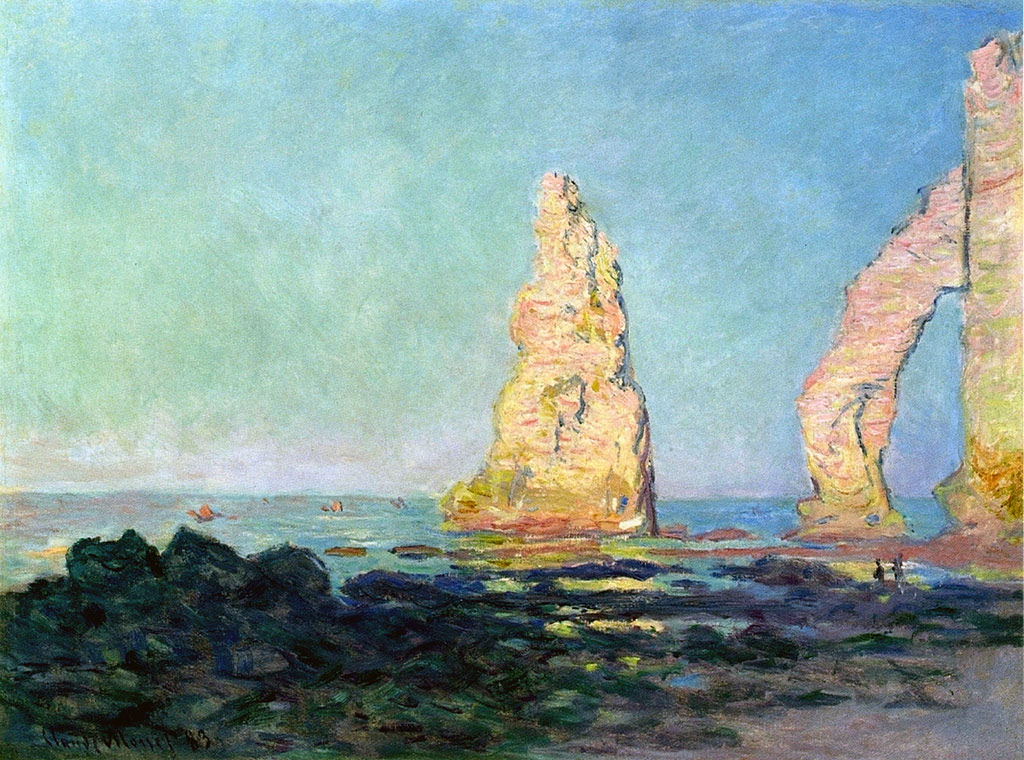 NOTE: The Aiguille (=needle) lies slightly behind the Porte d'Aval sea arch and can be seen from the beach of Etretat.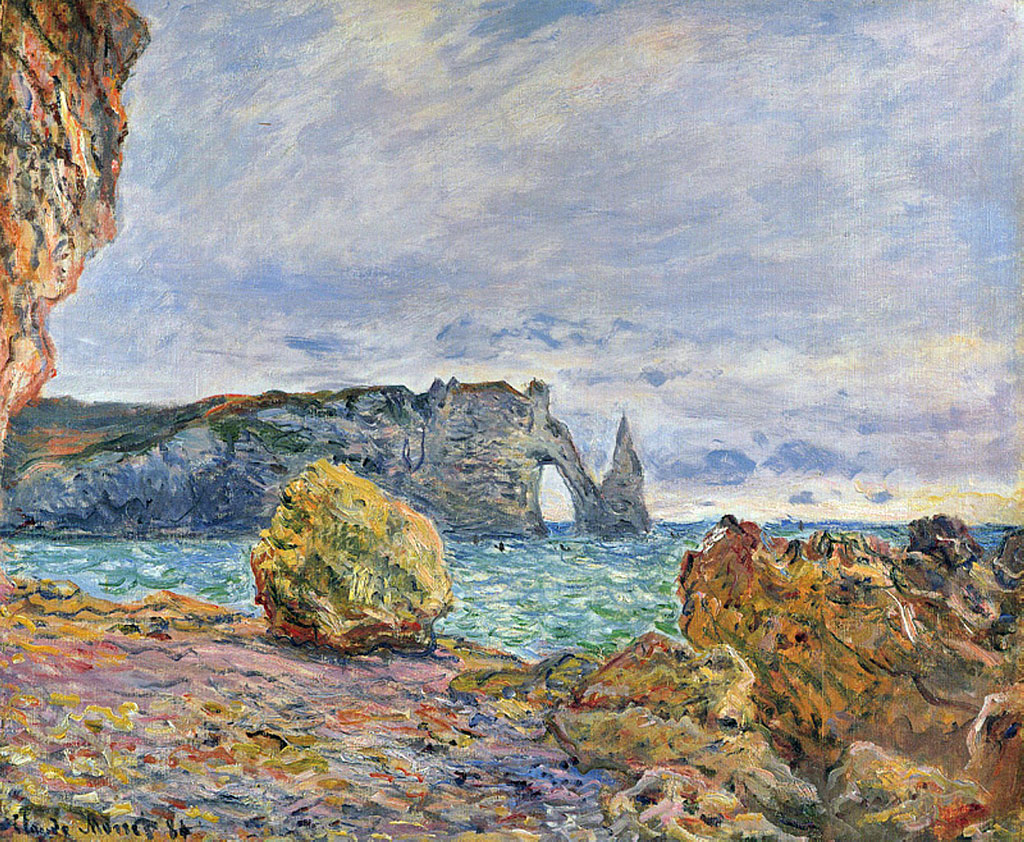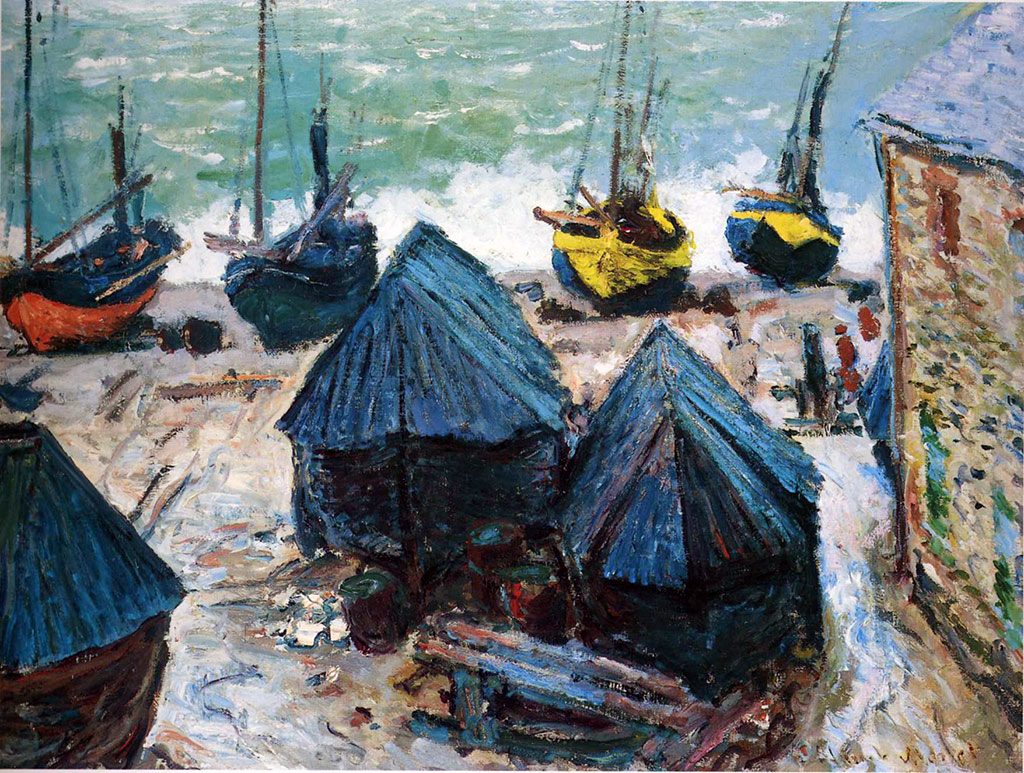 NOTE: The huts you see are called "caloge" which are former fishing boats, covered with a roof, used to keep fishing materials dry.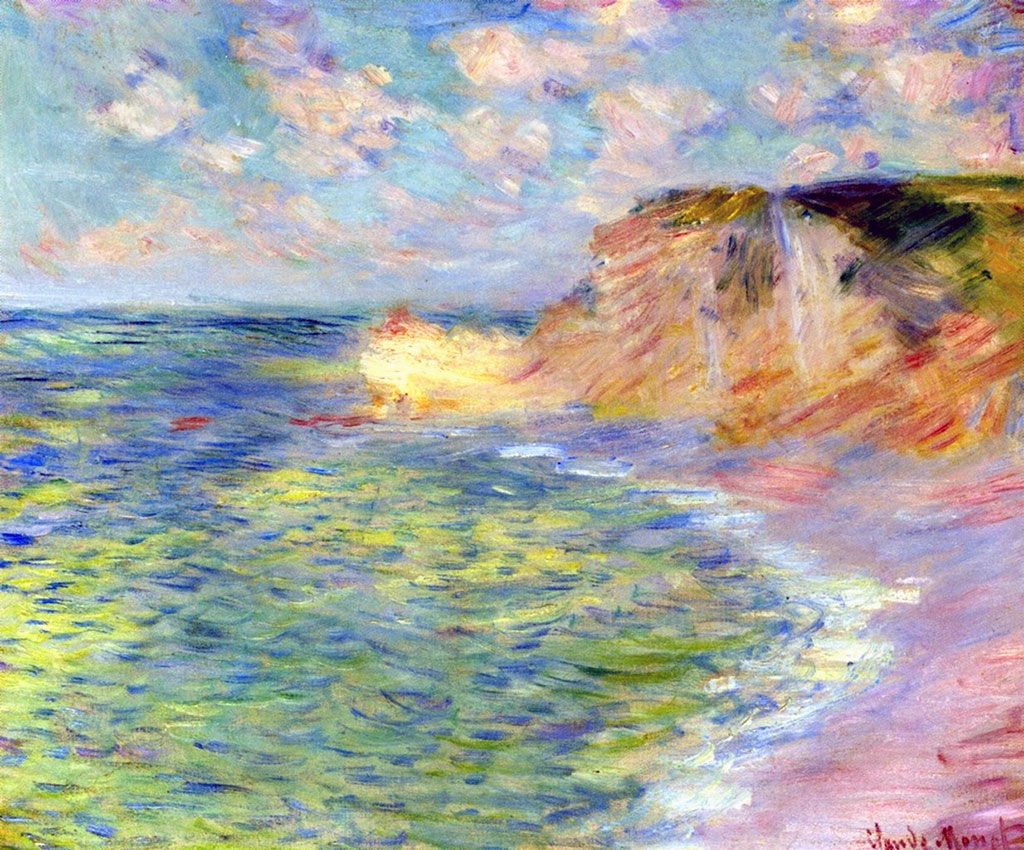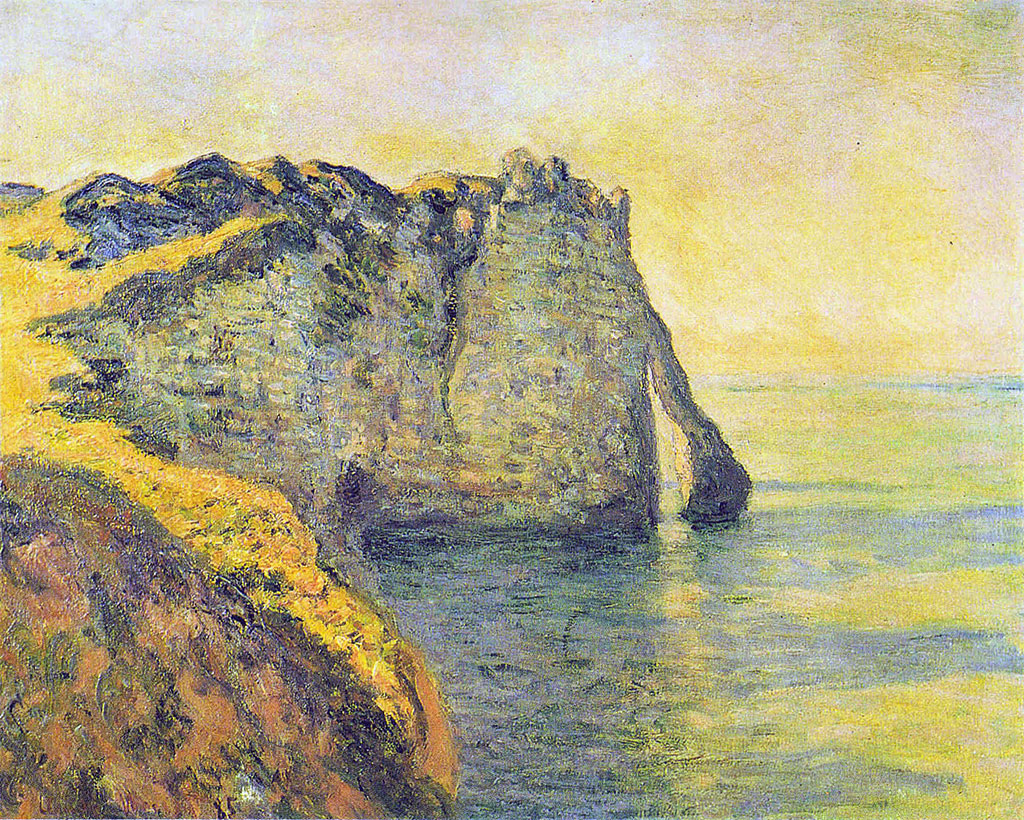 TODAY: There is a hiking path that goes all the way up the cliff. From the top you can see the Porte d'Aval sea arch, the Mannporte sea arch and the Amont sea arch.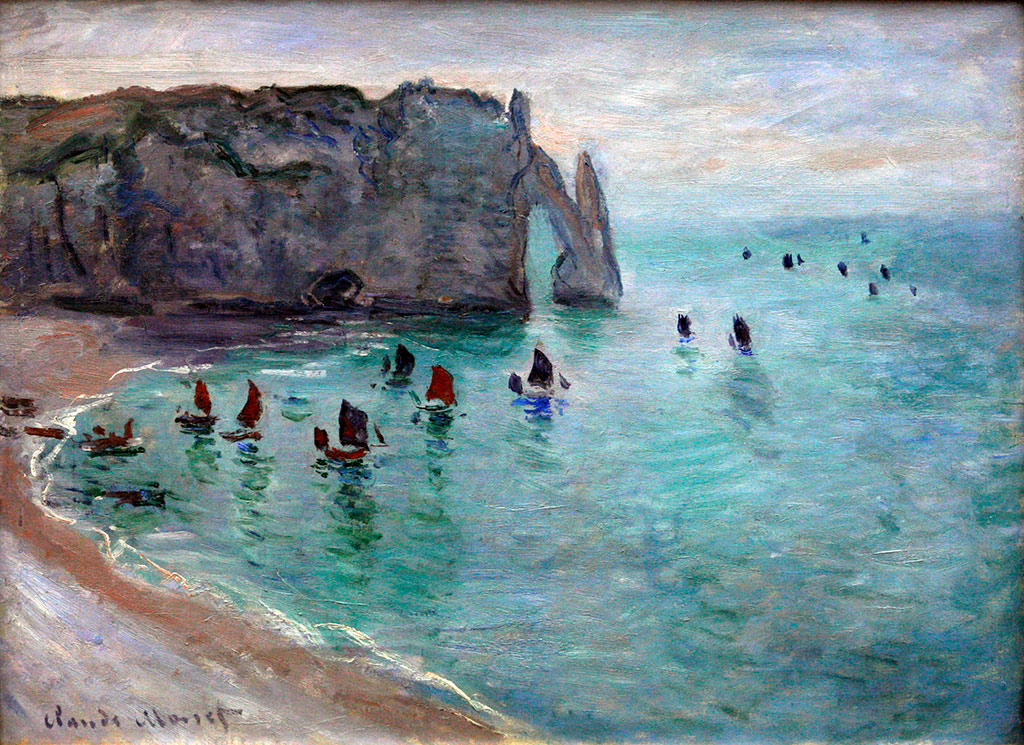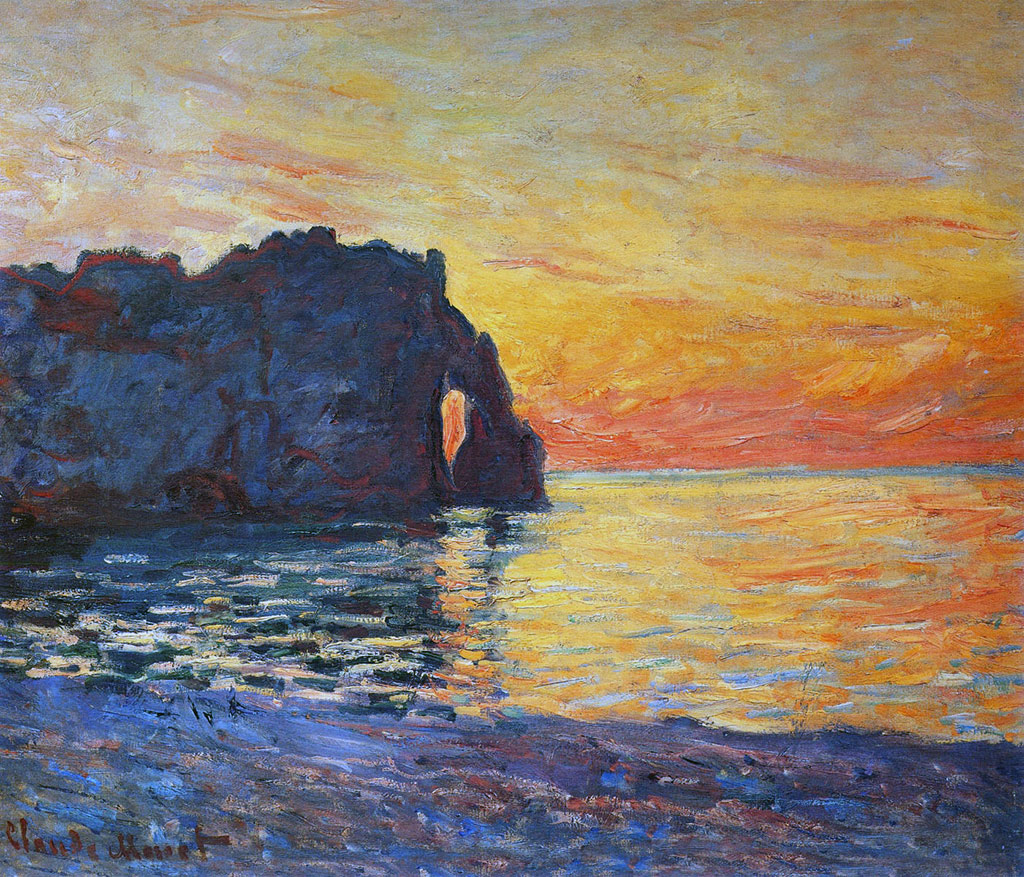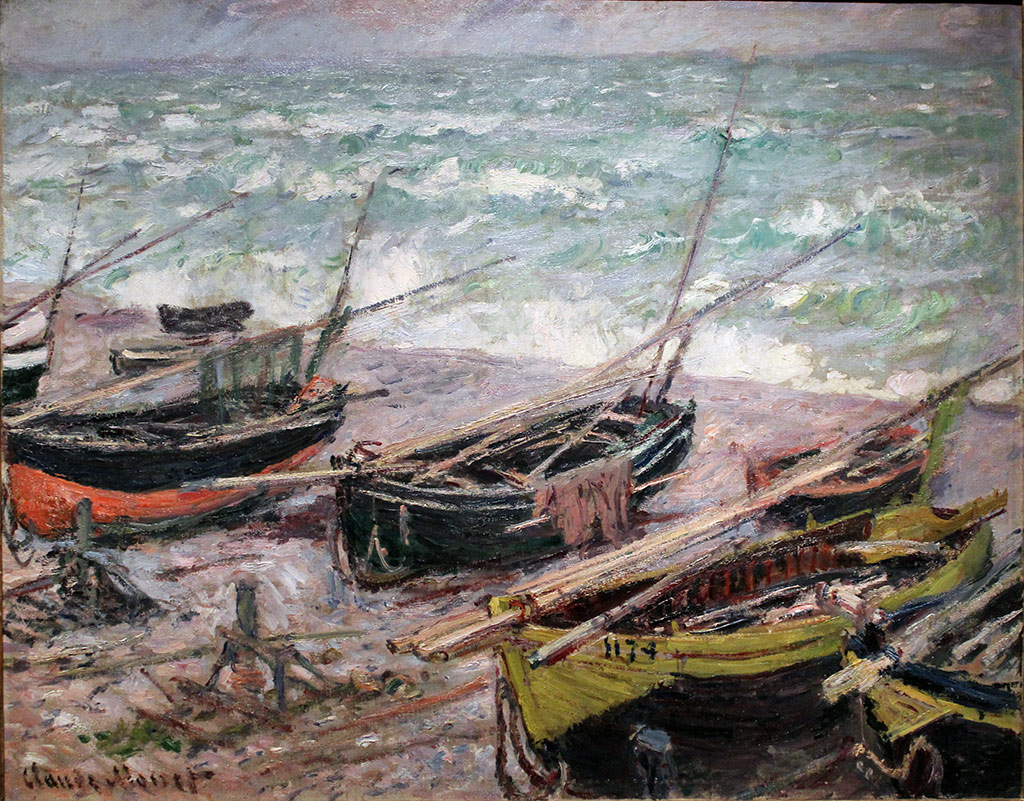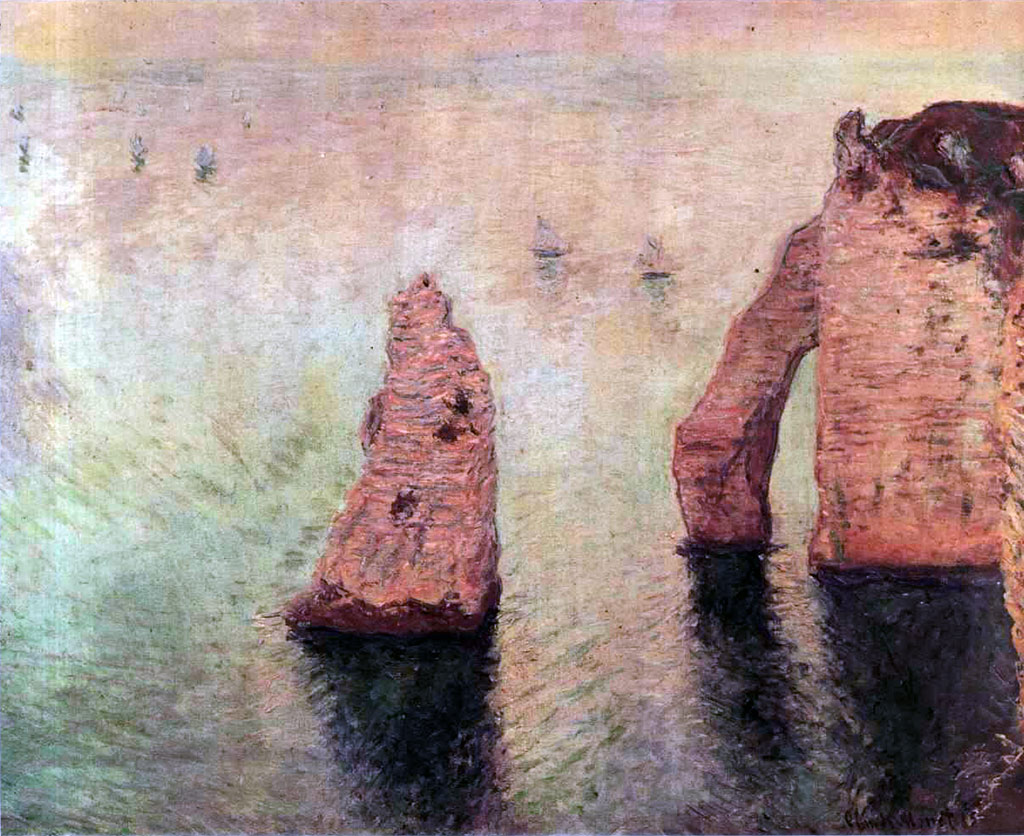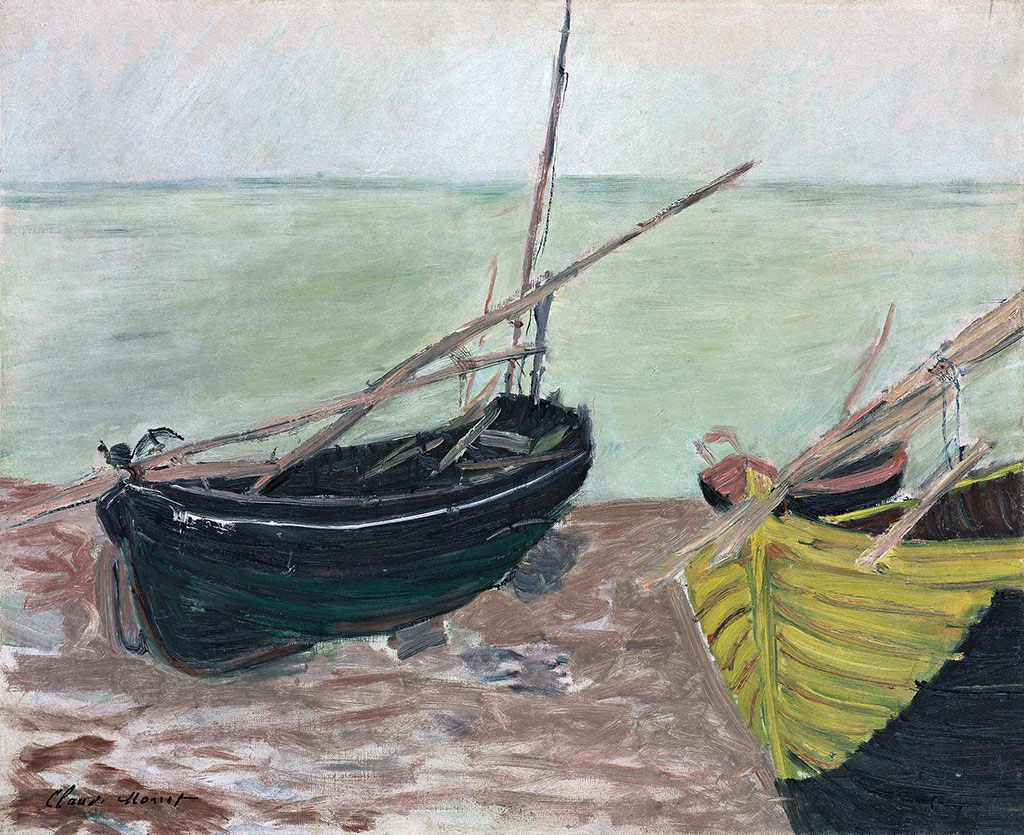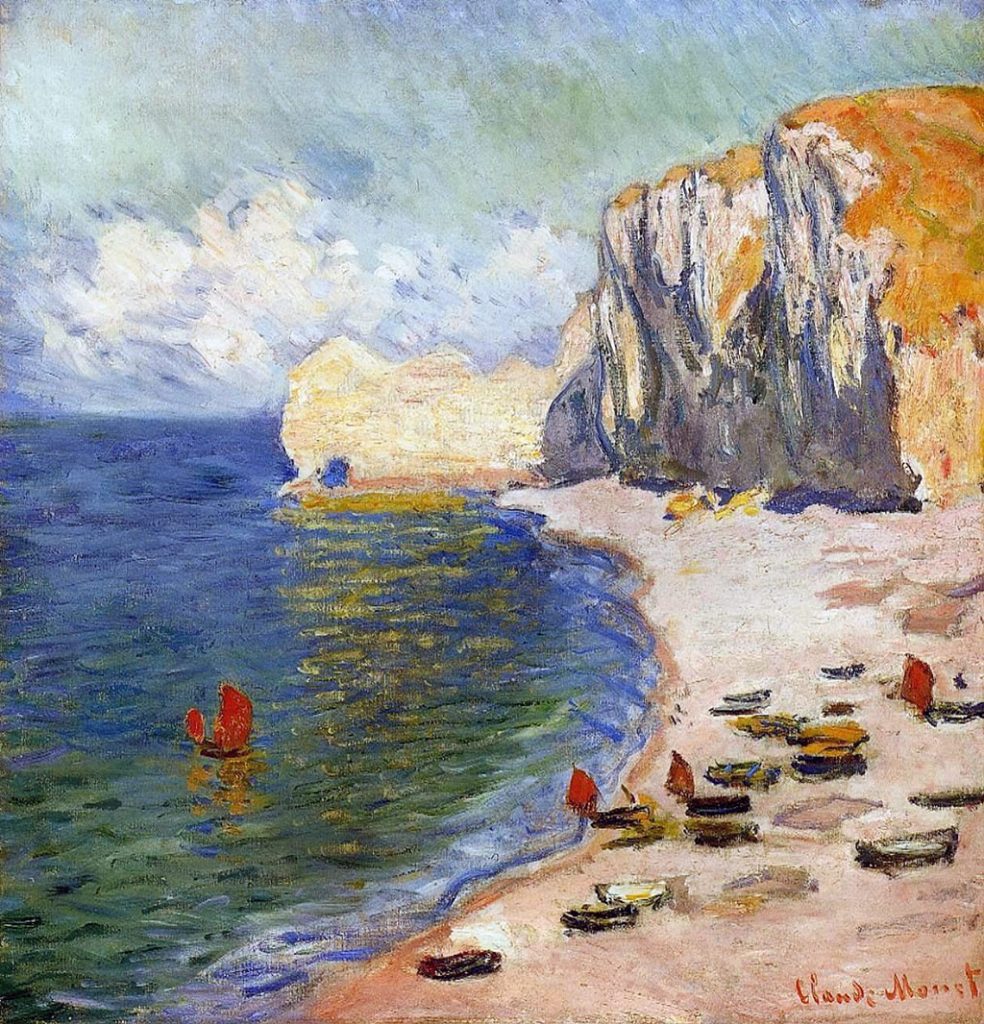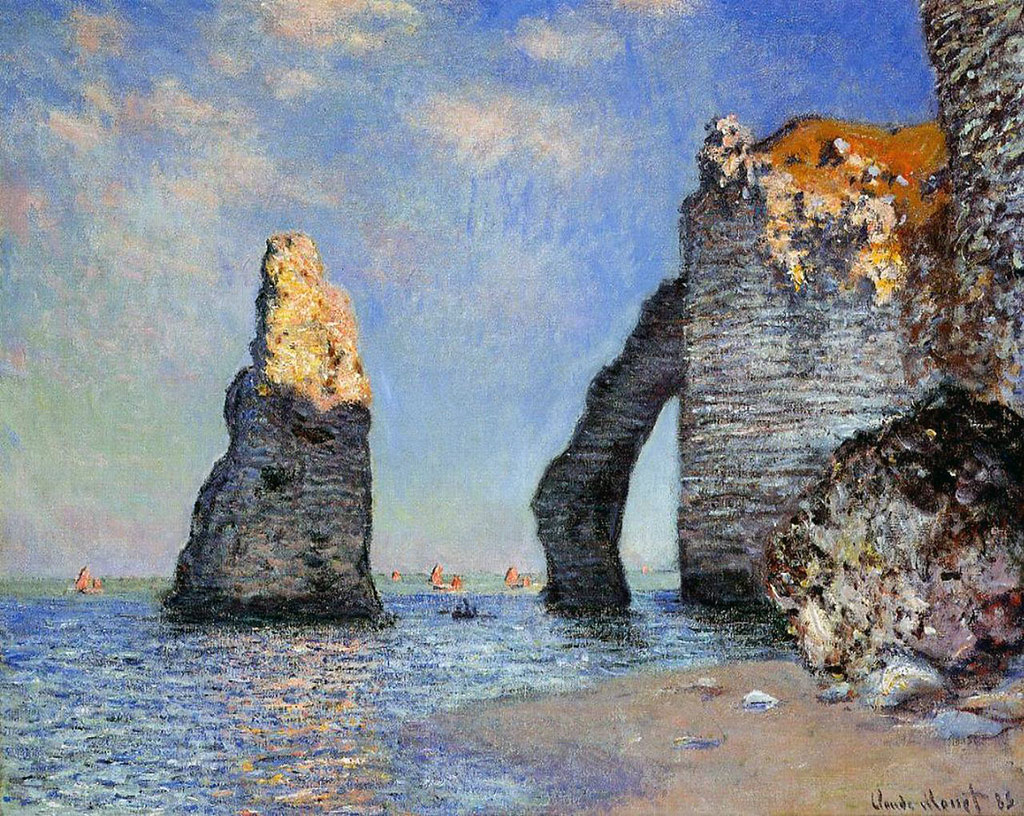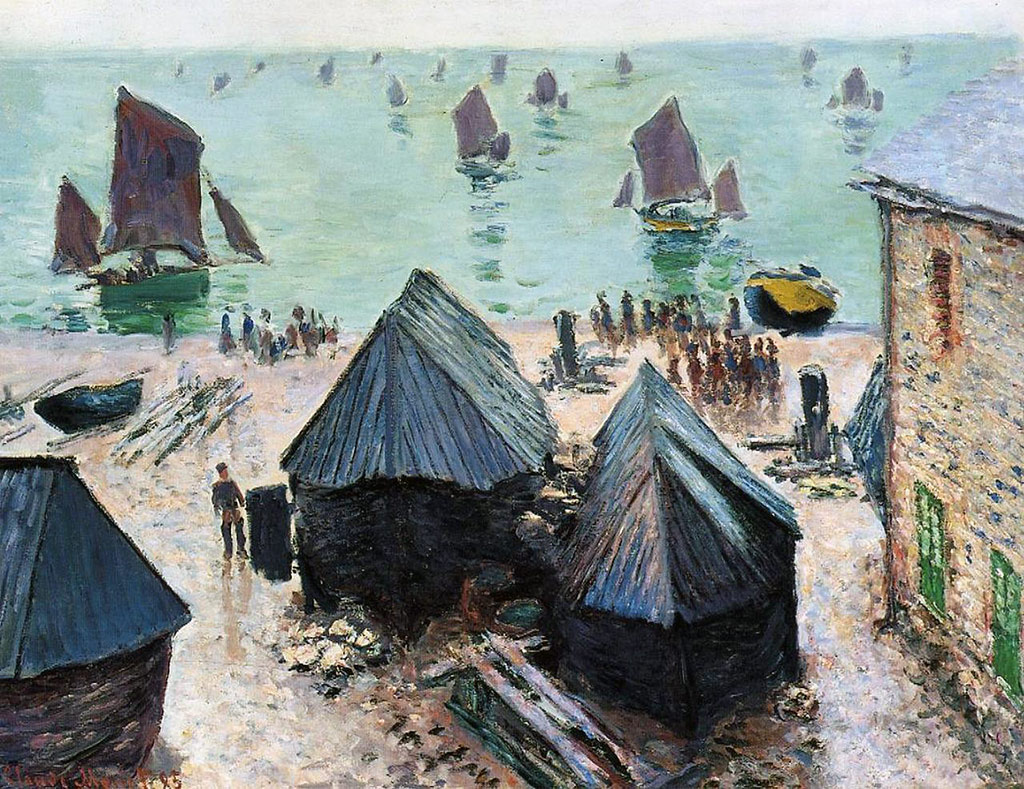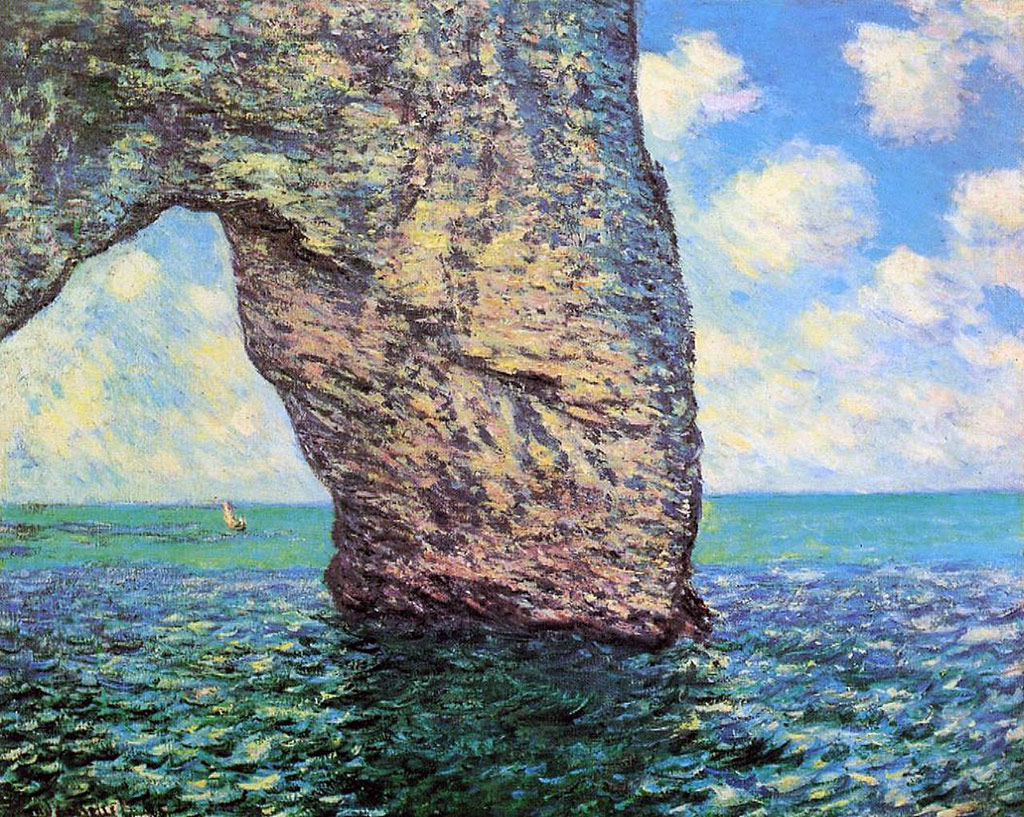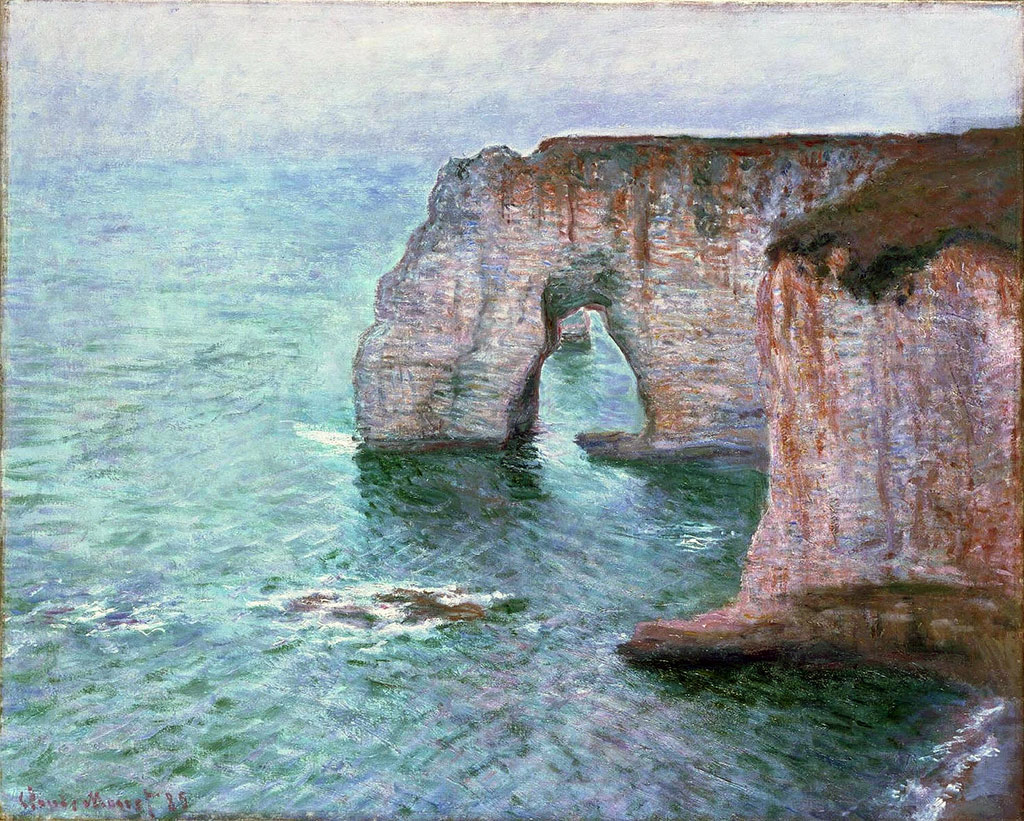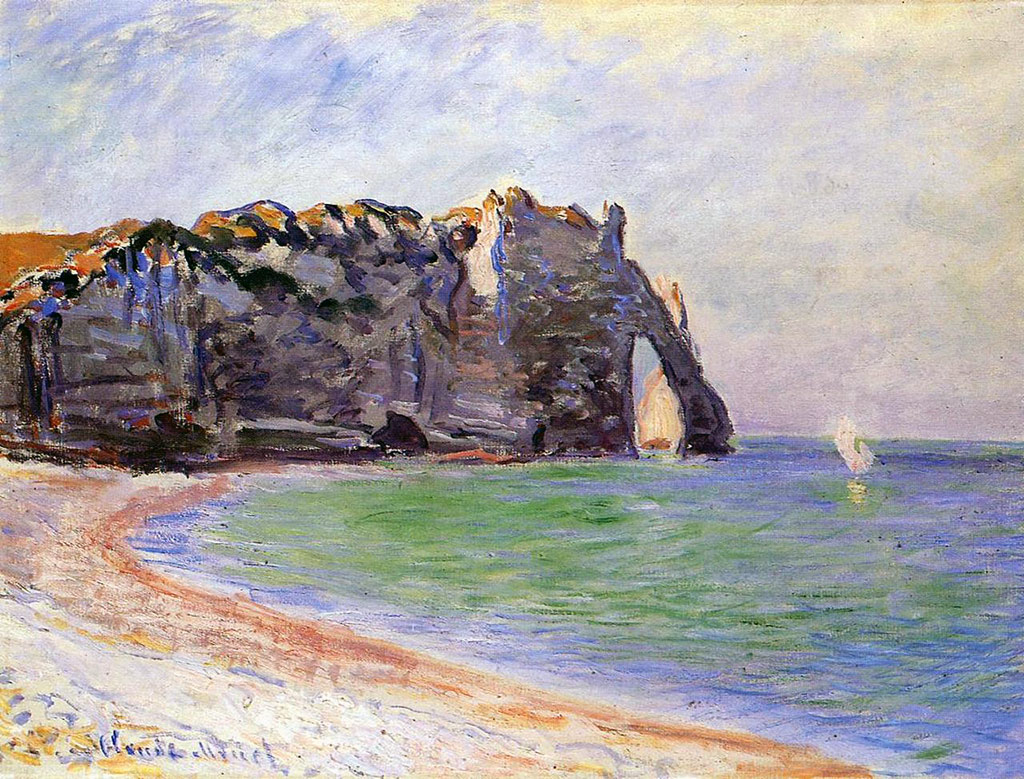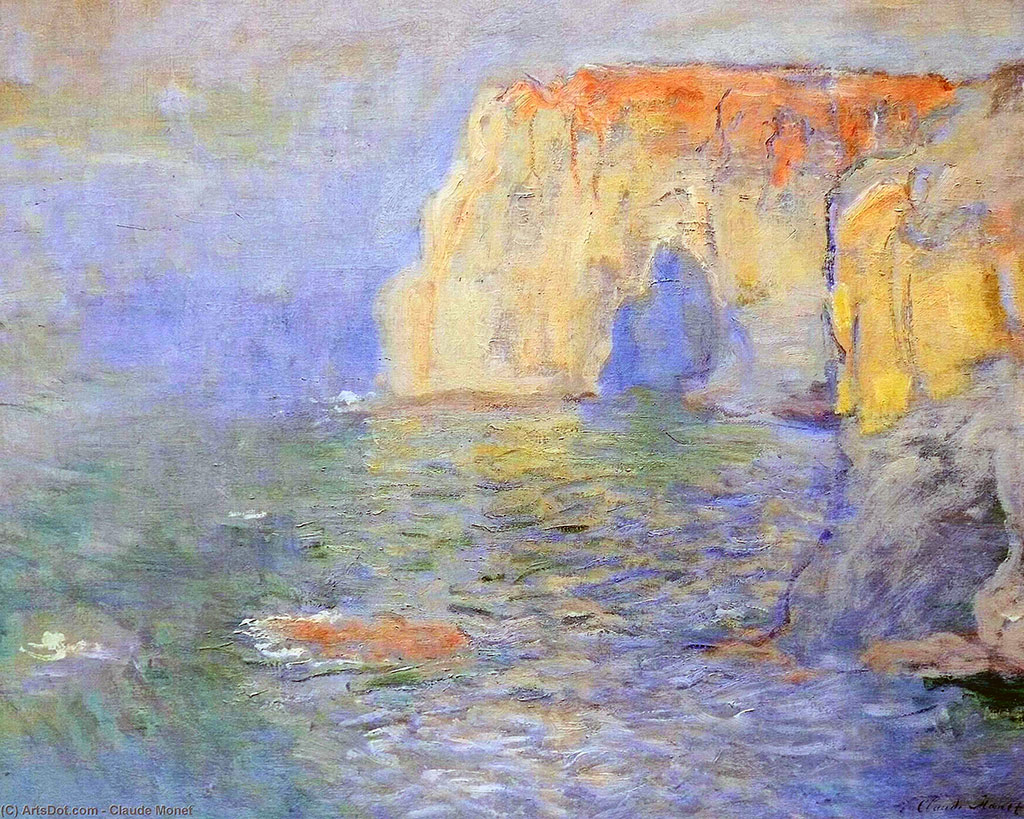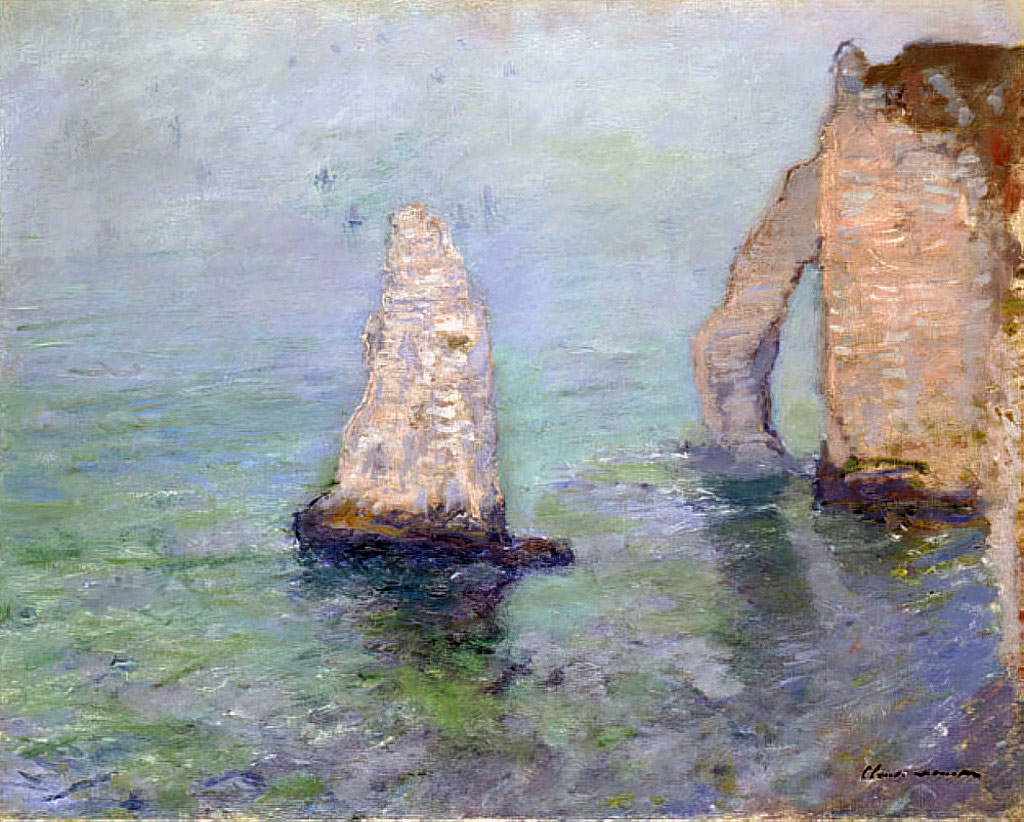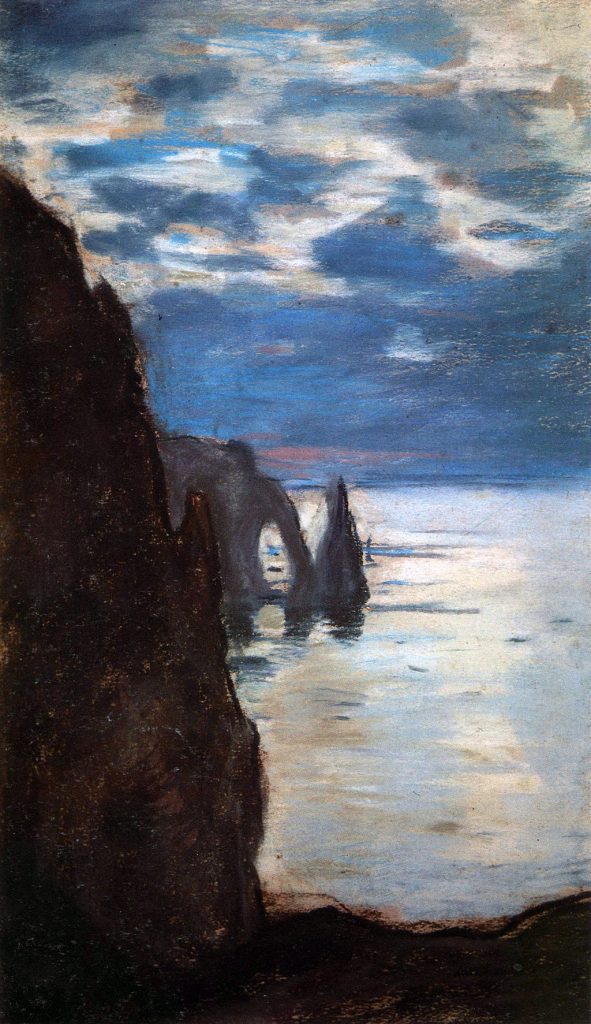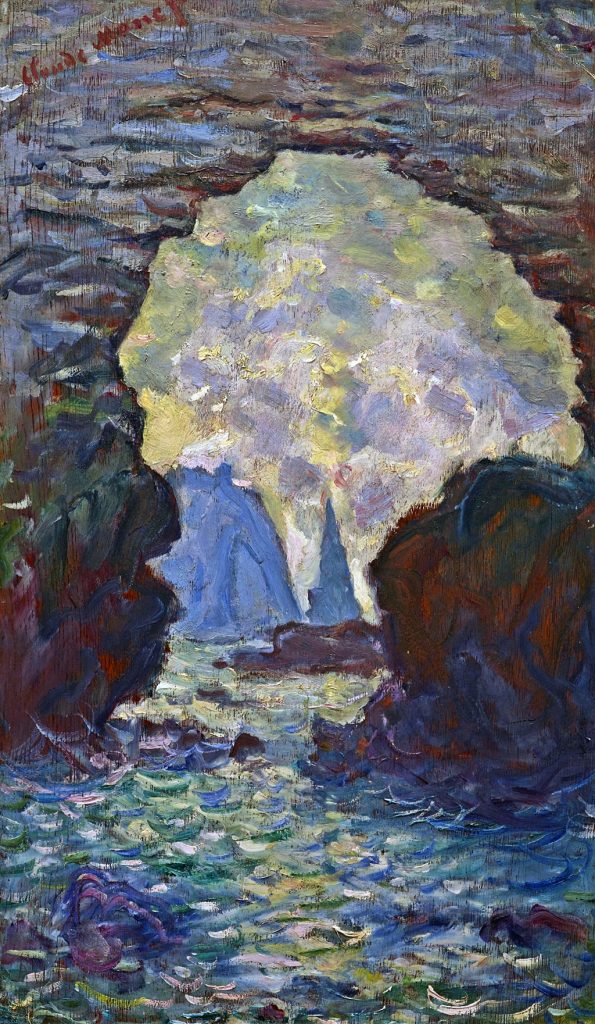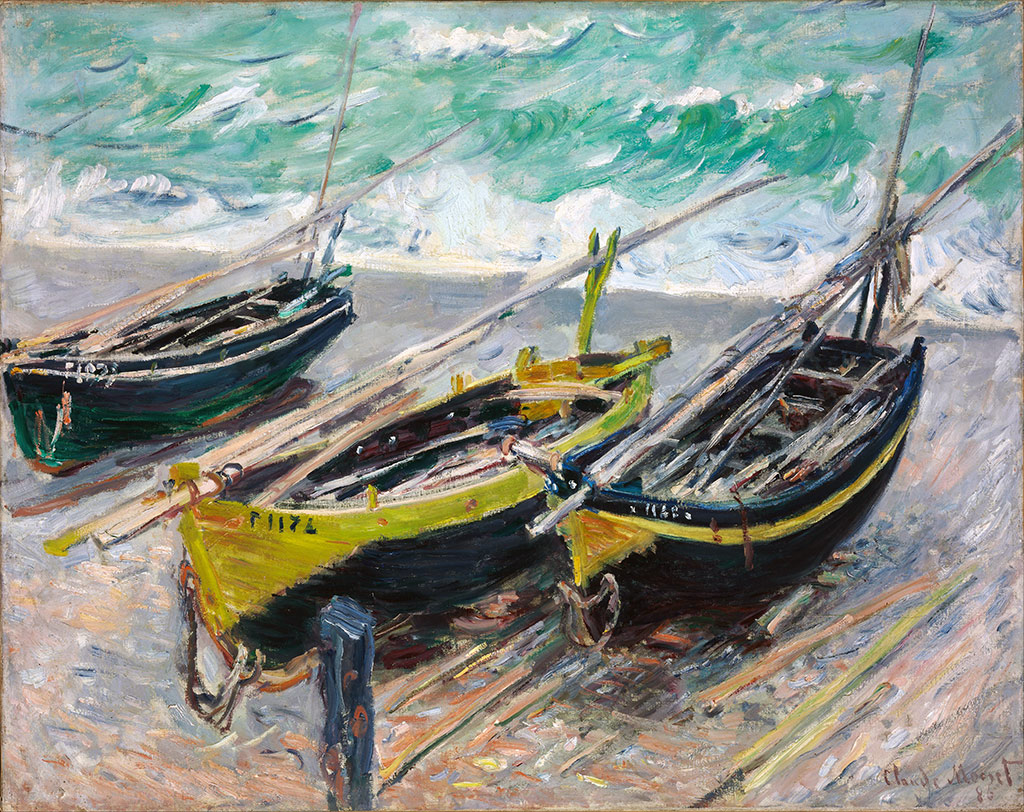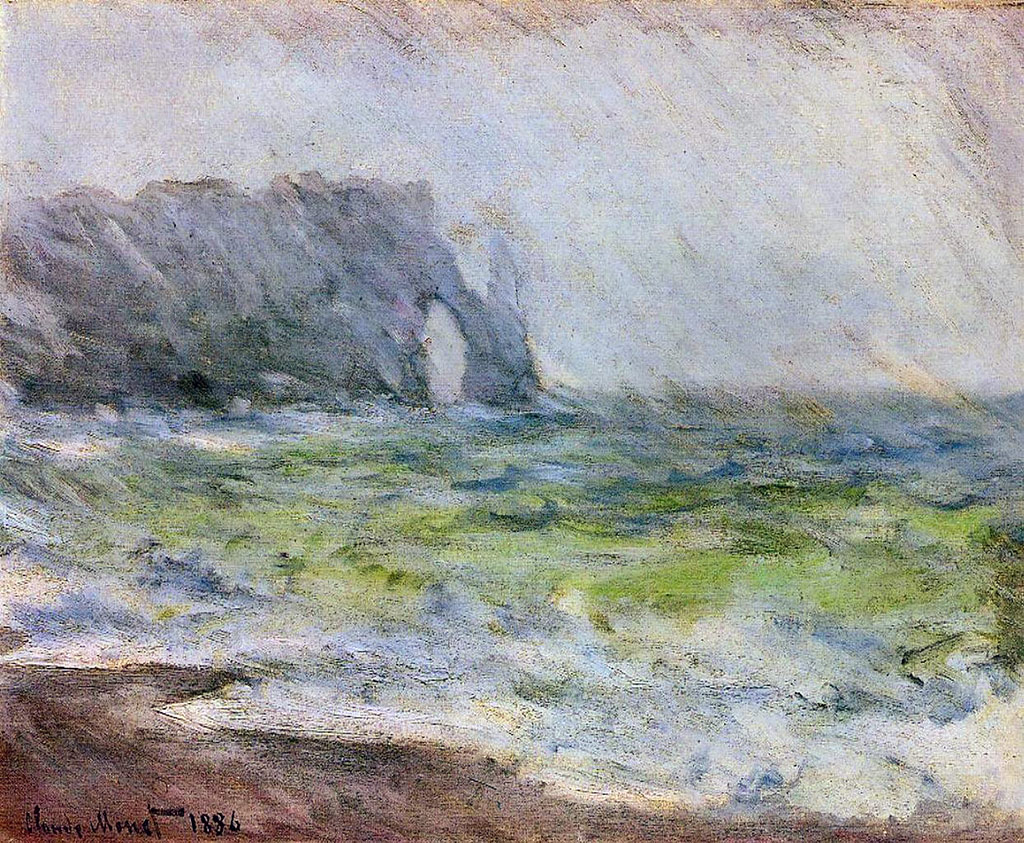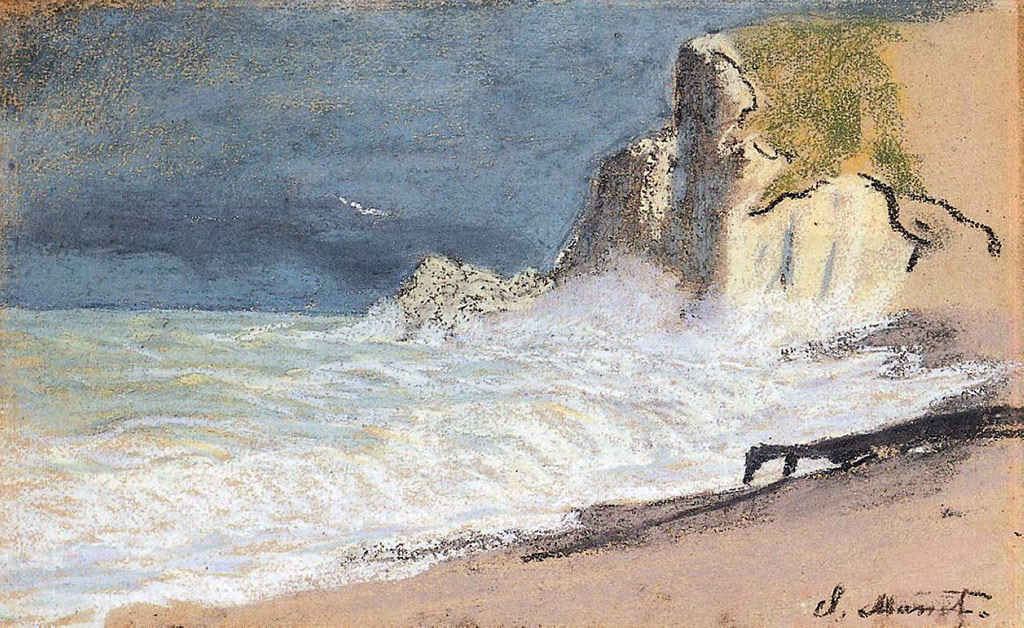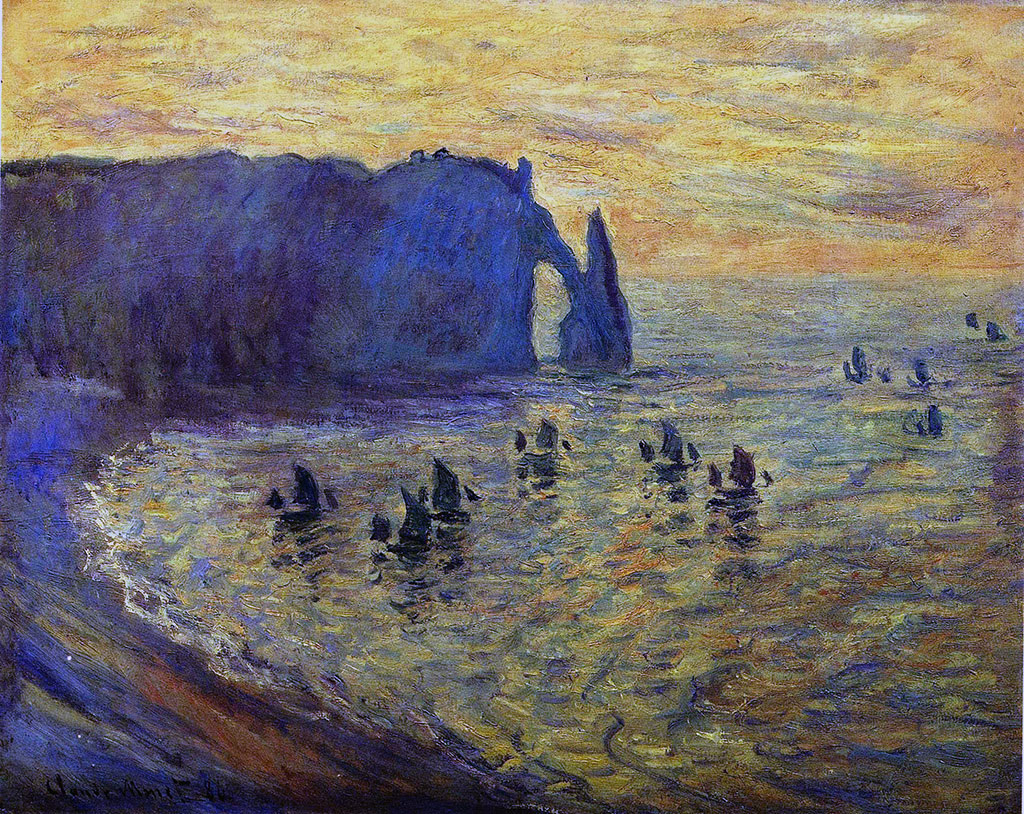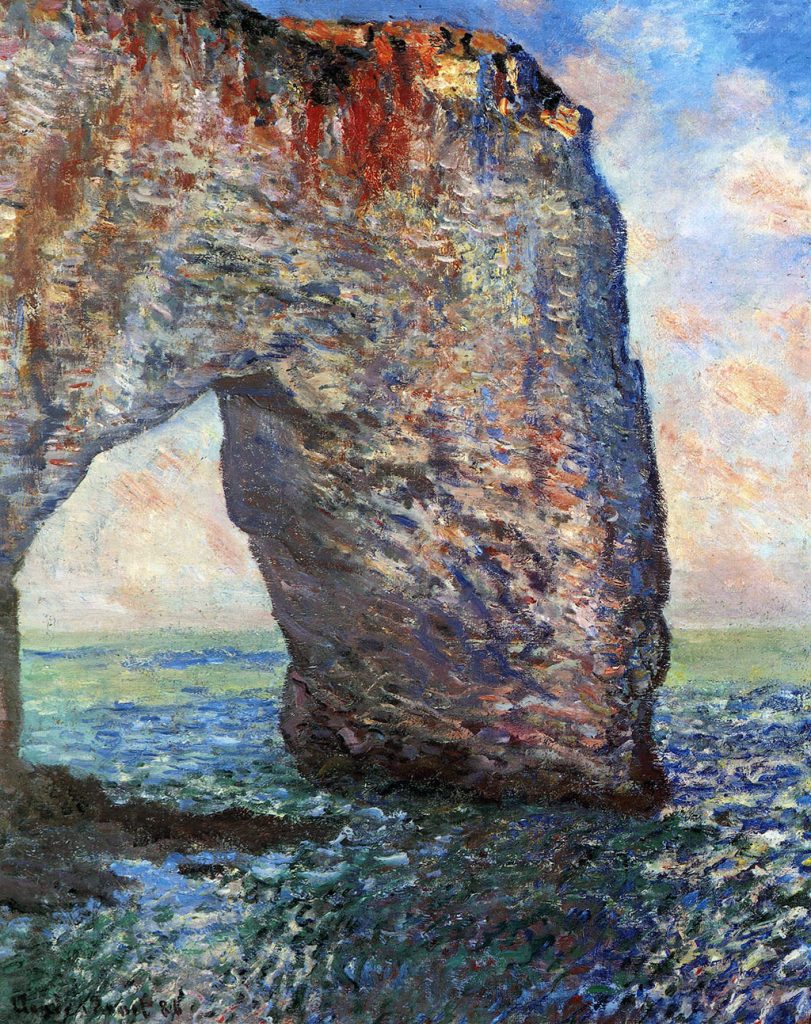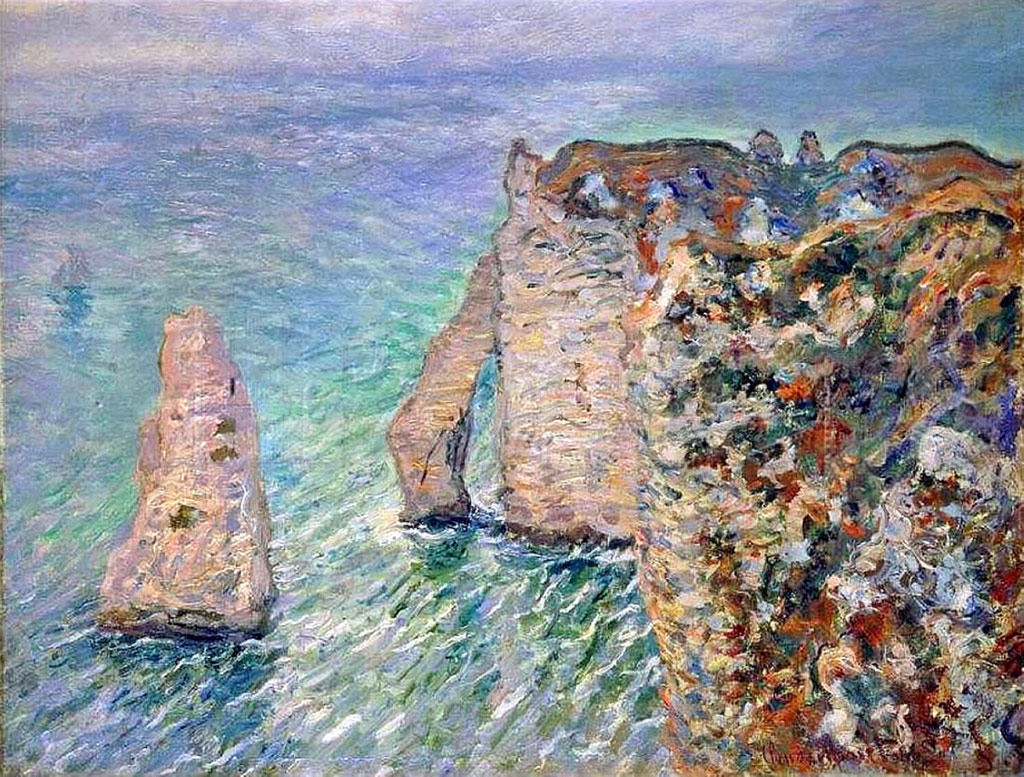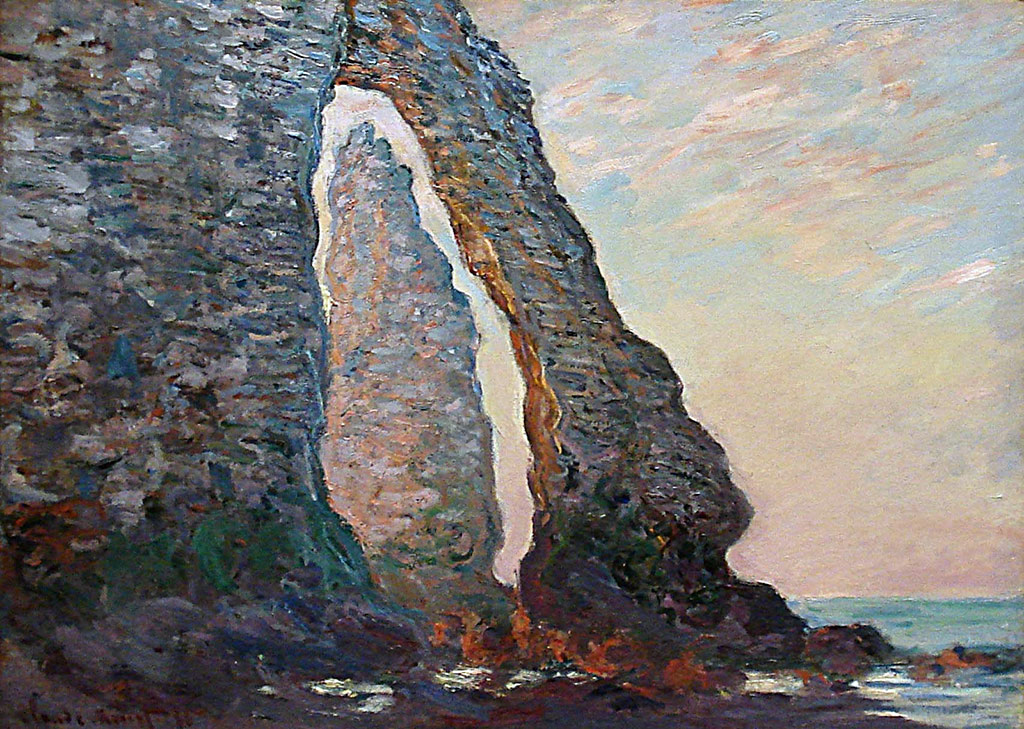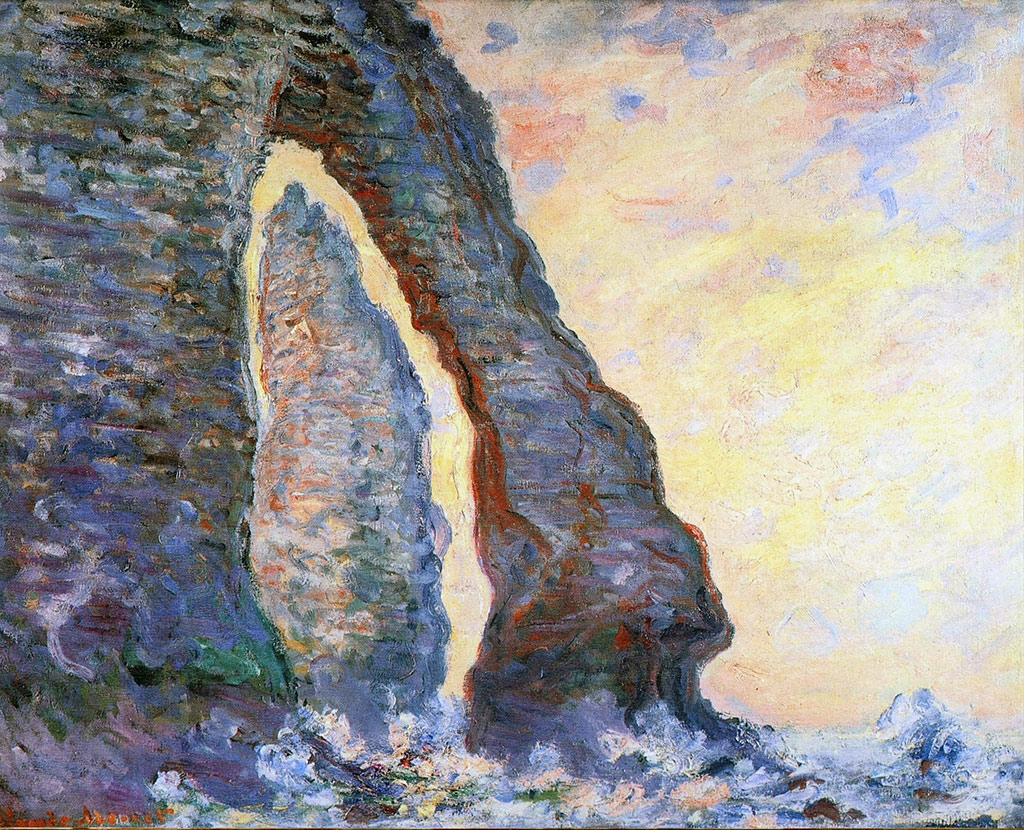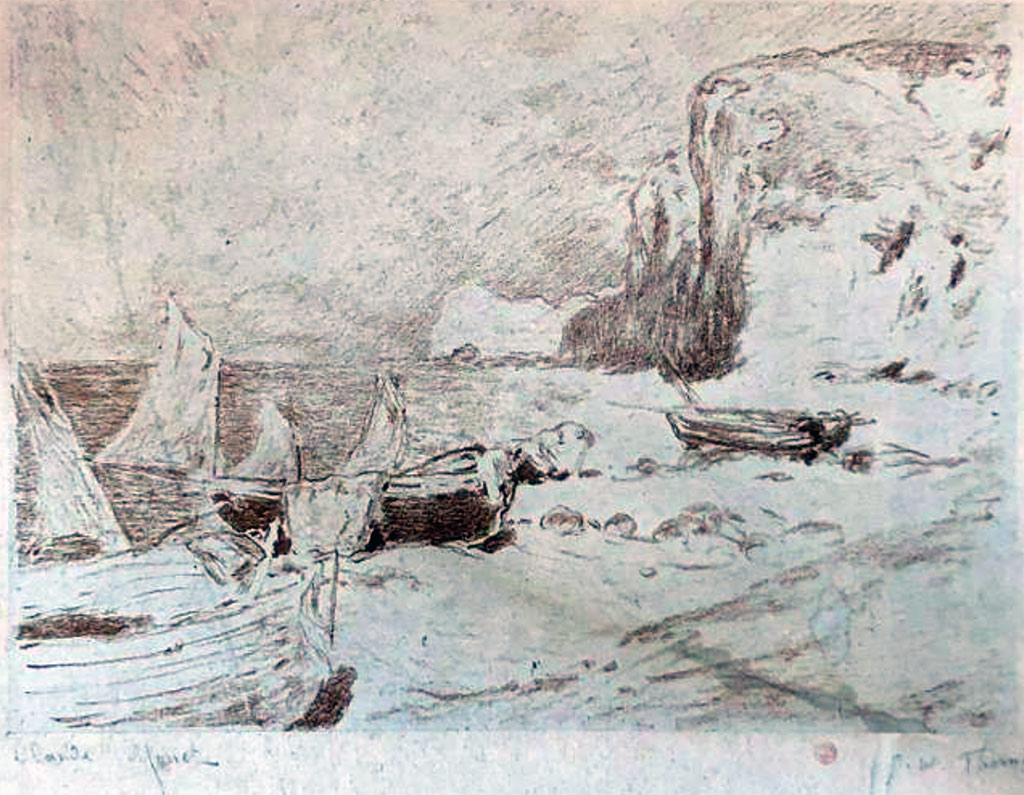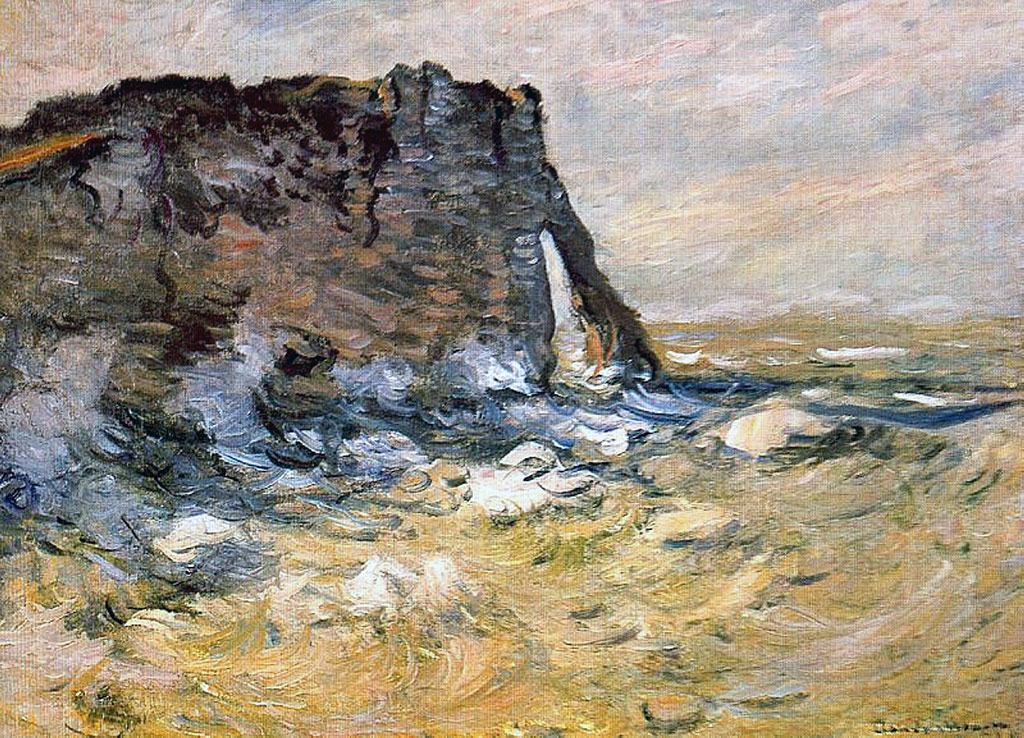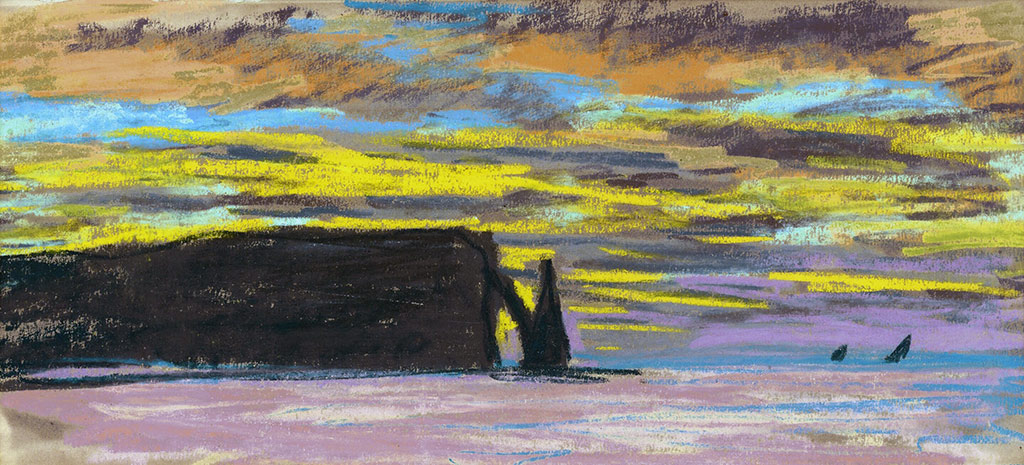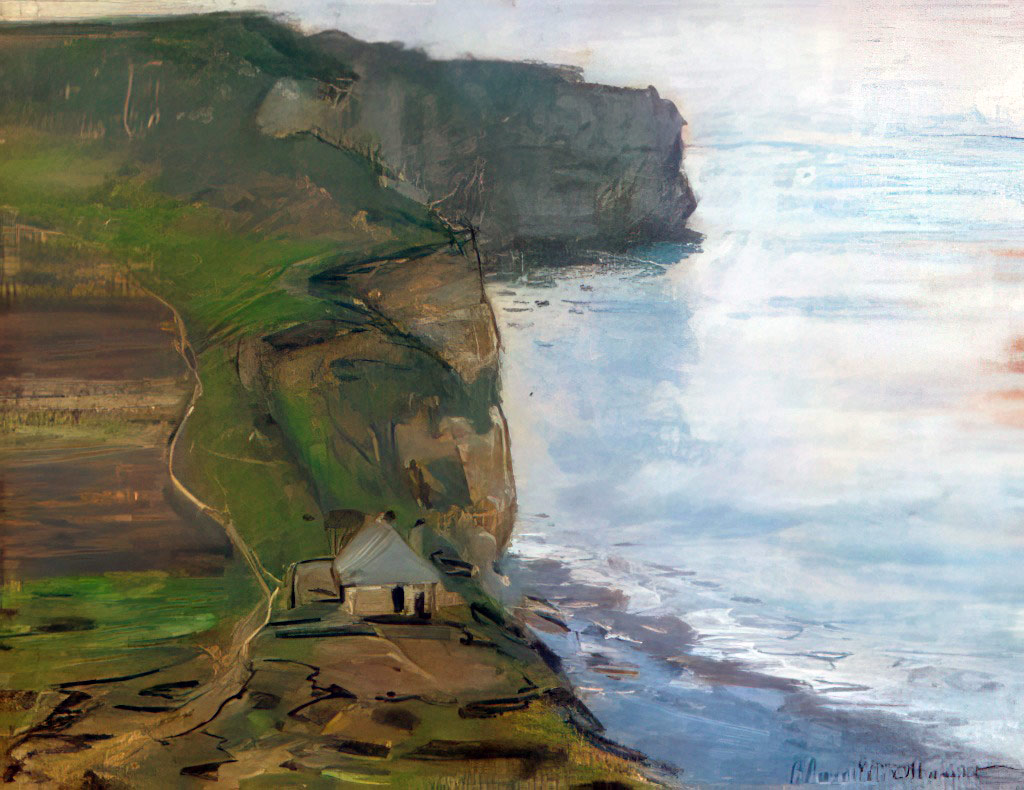 NOTE: The Cap d'Antifer lies next to Etretat and is the home of a large lighthouse.
Monet painted throughout Normandy. More of his Normandy and France based works will appear on this site, and a link "⇠" to those painting will appear below.
Brittany
Normandy
Provence-Alpes-Cote d'Azur

Antibes
Juan-les-Pins
Menton
Roquebrune-Cap-Martin
Etretat is the second most popular and visited place in Normandy (the first being Mont Saint-Michel). And since it was popular, many artists came here to be inspired by its nature and scenic environments. Here is a list of artists who worked in Etretat (a link "⇠" to their work will appear when published).
🇫🇷 Boudan, Louis *⇠
🇫🇷 Boudin, Eugene-Louis ⇠
🇫🇷 Braque, Georges ⇠
🇫🇷 Burel, Henry E. ⇠
🇫🇷 Caillebotte, Gustave ⇠
🇫🇷 Courbet, Gustave ⇠
🇫🇷 de Saint-Delis, Rene ⇠
🇫🇷 Friesz, Othon ⇠
🇫🇷 Gudin, Theodore ⇠
🇫🇷 Hoguet, Charles ⇠
🇫🇷 Huet, Paul ⇠
🇺🇸 Inness, George ⇠
🇫🇷 Isabey, Eugene ⇠
🇳🇱 Jongkind, Johan ⇠
🇬🇧 Kay, James ⇠
🇫🇷 Lebasque, Henri ⇠
🇫🇷 Lebourg, Albert ⇠
🇫🇷 Lepoittevin, Eugene ⇠
🇫🇷 Loiseau, Gustave ⇠
🇫🇷 Matisse, Henri ⇠
🇫🇷 Maufra, Maxime ⇠
🇫🇷 Maze, Paul ⇠
🇫🇷 Monet, Claude
🇫🇷 Noel, Alexandre Jean
🇷🇺 Polenov, Vasily
🇫🇷 Roullet, Gaston
🇫🇷 Schuffenecker, Claude-Emile
🇫🇷 Signac, Paul
🇨🇭 Vallotton, Felix
🇫🇷 Vollon, Antoine
NOTE: You can subscribe to our new articles by entering your email address in the box on the right column (or at the very bottom of this article) and clicking on the button "Subscribe".

You will need to check your incoming emails and validate your subscription. If you can't see an email from us, check your Spam folder. Without validating your email address, you will not get notifications from us. WE WILL NEVER GIVE YOUR EMAIL ADDRESSES TO ANYONE!
Related Posts