This page forms part of a series of pages dedicated to the many artists who painted in Dieppe. A full list of all the artists with a link to their works can be found at the bottom of this page.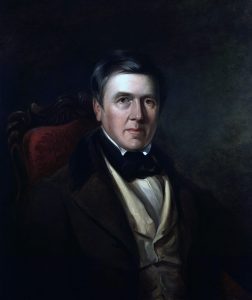 Movement(s): –
David Cox Sr (1783 – 1859) was an English landscape painter, one of the most important members of the Birmingham School of landscape artists and an early precursor of Impressionism. He is considered one of the greatest English landscape painters, and a major figure of the Golden age of English watercolour.
His father was a blacksmith and whitesmith about whom little is known, except that he supplied components such as bayonets and barrels to the Birmingham gun trade.
Cox's mother was the daughter of a farmer and miller from Small Heath to the east of Birmingham.
Early biographers record that "she had had a better education than his father, and was a woman of superior intelligence and force of character."
Although most popularly known for his works in watercolour, he also painted over 300 works in oil towards the end of his career, now considered "one of the greatest, but least recognised, achievements of any British painter.
He made his first trip to the Continent, to Belgium and the Netherlands in 1826 and subsequently moved to London the following year.
His son, known as David Cox the Younger (1809-1885), was also a successful artist.
Click here to read Cox Sr.'s full bio on Wikipedia.
NOTE: Click on any image below for a bigger version (no new window will open).
NOTE: A black box like this one, means that there is an explanation text about today's situation of the painting above it.
NOTE: Click on this photo icon
anywhere below a painting to see a photo of what the area looks like today.
NOTE: A blue box like this one, means there is an explanation or a note.
TODAY: The pier still stands, however there is no longer a watch tower.
David Cox Sr painted in several places in France. Here are the places he painted in (links "⇠" to his works will appear below when published):
Dieppe in Normandy was a popular place for artists to come and apply their art. Here is a list, non exhaustive, of the artists that painted in Dieppe.
A link ("⇠") to the artist's works will appear when published (a "*" indicates that the artist did not work directly in Dieppe, instead worked in nearby villages):
NOTE: You can subscribe to our new articles by entering your email address in the box on the right column (or at the very bottom of this article) and clicking on the button "Subscribe".

You will need to check your incoming emails and validate your subscription. If you can't see an email from us, check your Spam folder. Without validating your email address, you will not get notifications from us. WE WILL NEVER GIVE YOUR EMAIL ADDRESSES TO ANYONE!
Related Posts