This page forms part of a series of pages dedicated to the many artists who painted in Dieppe. A full list of all the artists with a link to their works can be found at the bottom of this page.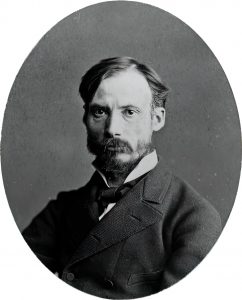 Pierre-Auguste Renoir (1841 – 1919) was a French artist who was a leading painter in the development of the Impressionist style. As a celebrator of beauty and especially feminine sensuality, it has been said that "Renoir is the final representative of a tradition which runs directly from Rubens to Watteau."
He was the father of actor Pierre Renoir (1885–1952), filmmaker Jean Renoir (1894–1979) and ceramic artist Claude Renoir (1901–1969). He was the grandfather of the filmmaker Claude Renoir (1913–1993), son of Pierre.
Pierre-Auguste Renoir was born in Limoges, Haute-Vienne, France, in 1841. His father, Leonard Renoir, was a tailor of modest means, so in 1844, Renoir's family moved to Paris in search of more favorable prospects. The location of their home, in rue d'Argenteuil in central Paris, placed Renoir in proximity to the Louvre. Although the young Renoir had a natural proclivity for drawing, he exhibited a greater talent for singing. His talent was encouraged by his teacher, Charles Gounod, who was the choir-master at the Church of St Roch at the time. However, due to the family's financial circumstances, Renoir had to discontinue his music lessons and leave school at the age of thirteen to pursue an apprenticeship at a porcelain factory.
Although Renoir displayed a talent for his work, he frequently tired of the subject matter and sought refuge in the galleries of the Louvre. The owner of the factory recognized his apprentice's talent and communicated this to Renoir's family. Following this, Renoir started taking lessons to prepare for entry into Ecole des Beaux Arts. When the porcelain factory adopted mechanical reproduction processes in 1858, Renoir was forced to find other means to support his learning. Before he enrolled in art school, he also painted hangings for overseas missionaries and decorations on fans.
In 1862, he began studying art under Charles Gleyre in Paris. There he met Alfred Sisley, Frederic Bazille, and Claude Monet. At times, during the 1860s, he did not have enough money to buy paint.
Renoir was inspired by the style and subject matter of previous modern painters Camille Pissarro and Edouard Manet. After a series of rejections by the Salon juries, he joined forces with Monet, Sisley, Pissarro, and several other artists to mount the first Impressionist exhibition in April 1874, in which Renoir displayed six paintings. Although the critical response to the exhibition was largely unfavorable, Renoir's work was comparatively well received.
In 1881, he traveled to Algeria, a country he associated with Eugene Delacroix, then to Madrid, to see the work of Diego Velazquez. Following that, he traveled to Italy to see Titian's masterpieces in Florence and the paintings of Raphael in Rome. On 15 January 1882, Renoir met the composer Richard Wagner at his home in Palermo, Sicily. Renoir painted Wagner's portrait in just thirty-five minutes. In the same year, after contracting pneumonia which permanently damaged his respiratory system, Renoir convalesced for six weeks in Algeria.
Around 1892, Renoir developed rheumatoid arthritis. In 1907, he moved to the warmer climate of "Les Collettes," a farm at the village of Cagnes-sur-Mer, Provence-Alpes-Cote d'Azur, close to the Mediterranean coast. Renoir painted during the last twenty years of his life even after his arthritis severely limited his mobility. He developed progressive deformities in his hands and ankylosis of his right shoulder, requiring him to change his painting technique. It has often been reported that in the advanced stages of his arthritis, he painted by having a brush strapped to his paralyzed fingers, but this is erroneous; Renoir remained able to grasp a brush, although he required an assistant to place it in his hand. The wrapping of his hands with bandages, apparent in late photographs of the artist, served to prevent skin irritation.
Renoir died at Cagnes-sur-Mer on 3 December 1919.
Click here to read the (very) full bio of Pierre-Auguste Renoir on Wikipedia.
NOTE: Click on any image below for a bigger version (no new window will open).
Petit-Caux
Petit-Caux (population: 9,600) is a merger of different small villages rolled into one. It includes Berneval and the Castle of Wargemont. Petit Caux lies to the North of Dieppe.
Pourville-sur-Mer
The town of Pourville (population: 1,200) lies against Dieppe on the East. They share a coastline.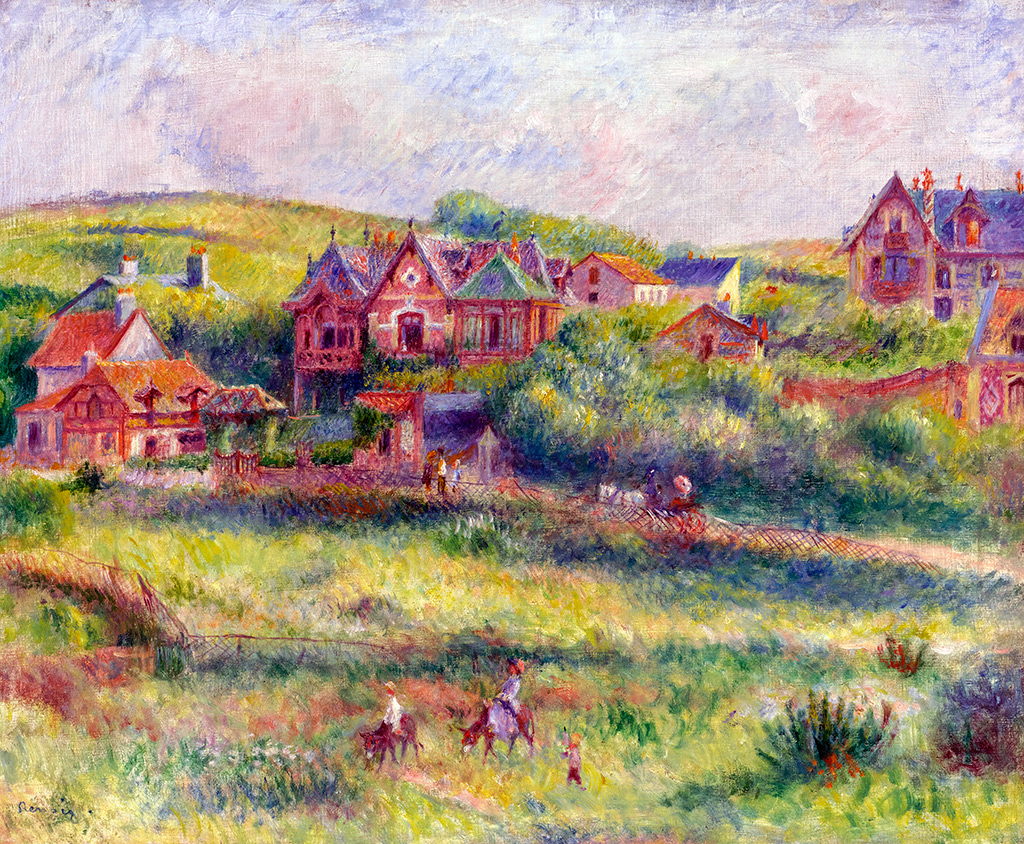 Varengeville-sur-Mer
The village of Varengeville-sur-Mer (population: 1,000) lies next to Pourville, a bit further East from Dieppe along the coast. It was a popular place for artists.
Renoir painted in many places in France (and Europe). Here are the places he painted in France (a link "⇠" to his works for those places will appear below when published):
Brittany

Douarnenez
Nizon
Pont-Aven
Treboul

Grand Est
Normandy
Nouvelle-Aquitaine
Pays de la Loire
Provence-Alpes-Cote d'Azur

Antibes
Avignon
Cagnes-sur-Mer
Cannes
Cannet
Grasse
Mourillon
Nice
Saint-Tropez
Villeneuve-les-Avignon
Dieppe in Normandy was a popular place for artists to come and apply their art. Here is a list, non exhaustive, of the artists that painted in Dieppe.
A link ("⇠") to the artist's works will appear when published (a "*" indicates that the artist did not work directly in Dieppe, instead worked in nearby villages):
NOTE: You can subscribe to our new articles by entering your email address in the box on the right column (or at the very bottom of this article) and clicking on the button "Subscribe".

You will need to check your incoming emails and validate your subscription. If you can't see an email from us, check your Spam folder. Without validating your email address, you will not get notifications from us. WE WILL NEVER GIVE YOUR EMAIL ADDRESSES TO ANYONE!
Related Posts