This page forms part of a series of pages dedicated to the many artists who painted in Dieppe. A full list of all the artists with a link to their works can be found at the bottom of this page.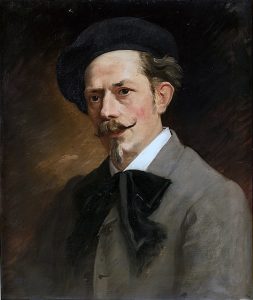 Louis-Etienne Timmermans (1846 – 1910) was a Belgian painter, specialized in marine paintings and landscapes.
He was a pupil of the Academie de Bruxelles and the Ecole des Beaux Arts de Paris.
Timmermans worked mostly in France, painting small coastal harbours, which he painted with a precise realism.
He died in 1910 in Paris. Not much else is known about him.
NOTE: Click on any image below for a bigger version (no new window will open).
NOTE: A black box like this one, means that there is an explanation text about today's situation of the painting above it.
NOTE: Click on this photo icon
anywhere below a painting to see a photo of what the area looks like today.
NOTE: A blue box like this one, means there is an explanation or a note.
TODAY: On the top of the cliff you can see a church. This is the Eglise Notre-Dame de Bonsecours de Dieppe which still exists today and can be visited.
TODAY: Dieppe's beach is still a popular place to visit during the summer and can get quite busy.
Timmermans painted in several places in France, and more notably in Normandy. These are the places he painted (a link "⇠" to his works will appear below when published):
Brittany

Camaret
Landerneau
Saint-Servan
Trinite-sur-Mer

Normandy
Dieppe in Normandy was a popular place for artists to come and apply their art. Here is a list, non exhaustive, of the artists that painted in Dieppe.
A link ("⇠") to the artist's works will appear when published (a "*" indicates that the artist did not work directly in Dieppe, instead worked in nearby villages):
NOTE: You can subscribe to our new articles by entering your email address in the box on the right column (or at the very bottom of this article) and clicking on the button "Subscribe".

You will need to check your incoming emails and validate your subscription. If you can't see an email from us, check your Spam folder. Without validating your email address, you will not get notifications from us. WE WILL NEVER GIVE YOUR EMAIL ADDRESSES TO ANYONE!
Related Posts
96

Charles Ernest Cundall, (1890 – 1971), was an English painter of topographical subjects and townscapes, best known for his large panoramic canvases. Whilst serving with the Royal Fusiliers in World War I, he was wounded in the right arm and had to learn to paint with his left arm before…

96

Ambroise Louis Garneray (1783 – 1857) was a French corsair, painter and writer. He served under Robert Surcouf and Jean-Marie Dutertre, and was held as prisoner-of-war by the British for eight years after being captured before being repatriated at the conclusion of the Napoleonic Wars, continuing his career as a…

96

William Callow was an English landscape painter, engraver and water colourist. He travelled extensively in France, the Netherlands, Belgium, Germany, Switzerland and Italy, had a large number of pupils, and enjoyed favour with the royal family. Here are his paintings he made in Dieppe, Normandy.

95

Charles-Louis Mozin (1806 - 1862) was born into a family of musicians, Charles-Louis Mozin studied with Xavier Leprince. Primarily a painter and lithographer of coastal landscapes, harbour views and seascapes, he exhibited at the Salons in Paris between 1824 and 1861. Along with Eugene Isabey and Richard Parkes Bonington, Mozin…