This page forms part of a series of pages dedicated to the many artists who painted in Dieppe. A full list of all the artists with a link to their works can be found at the bottom of this page.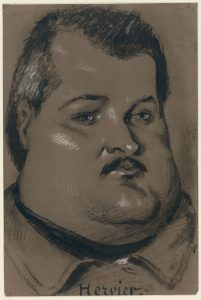 Movement(s): Impressionism, Romanticism
Adolphe Hervier, in full: Louis-Henri-Victor-Jules-François-Adolphe Hervier (1818 – 1879) was a French painter and engraver, known for his rural genre scenes. Over his lifetime, his style changed from a strict Romanticism to an early type of Impressionism.
He was the son of a painter but had a difficult life in the beginning making it as a living. In addition to his numerous oil and watercolor paintings, he produced engravings by etching, aquatint and lithography.
Despite being Parisian, his favorite painting locations were in Normandy; including Honfleur, Le Havre, Rouen and Granville. Camille Corot helped promote his work, but he made little money and was employed painting landscape backgrounds for more prestigious artists.
Click here to read Hervier's full bio on Wikipedia.
NOTE: Click on any image below for a bigger version (no new window will open).
Hervier painted several other places in Normandy and a few others in France ( a link "⇠" to his works will appear below when published):
Grand Est
Hauts-de-France
Normandy
Dieppe in Normandy was a popular place for artists to come and apply their art. Here is a list, non exhaustive, of the artists that painted in Dieppe.
A link ("⇠") to the artist's works will appear when published (a "*" indicates that the artist did not work directly in Dieppe, instead worked in nearby villages):
NOTE: You can subscribe to our new articles by entering your email address in the box on the right column (or at the very bottom of this article) and clicking on the button "Subscribe".

You will need to check your incoming emails and validate your subscription. If you can't see an email from us, check your Spam folder. Without validating your email address, you will not get notifications from us. WE WILL NEVER GIVE YOUR EMAIL ADDRESSES TO ANYONE!
Related Posts
89

Armand Guillaumin (1841 – 1927) was a French impressionist painter and lithographer. Born Jean-Baptiste Armand Guillaumin in Paris, he worked at his uncle's lingerie shop while attending evening drawing lessons. He also worked for a French government railway before studying at the Academie Suisse in 1861. There, he met Paul…

89

Eva Gonzales (1849 – 1883) was a French Impressionist painter. She was born in Paris and became introduced to sophisticated literary and art circles at an early age by her father, writer Emmanuel Gonzales. Here are her works for the city of Dieppe, Normandy.

88

Frits Thaulow was a Norwegian Impressionist painter, best known for his naturalistic depictions of landscape. Here are his paintings for Dieppe and its surroundings.