This page forms part of a series of pages dedicated to the many artists who painted in Dieppe. A full list of all the artists with a link to their works can be found at the bottom of this page.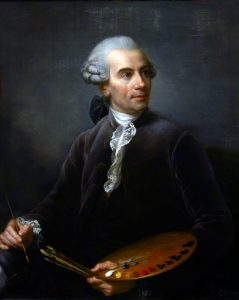 Claude-Joseph Vernet (1714 – 1789) was a French painter. His son, Antoine Charles Horace Vernet, was also a painter.
Vernet was born in Avignon. When only fourteen years of age he aided his father, Antoine Vernet (1689–1753), a skilled decorative painter, in the most important parts of his work. The panels of sedan chairs, however, could not satisfy his ambition, and Vernet started for Rome. The sight of the whales at Marseilles and his voyage thence to Civitavecchia (Papal States' main port on the Tyrrhenian Sea) made a deep impression on him, and immediately after his arrival he entered the studios of whale painter Bernardino Fergioni and marine landscapist Adrien Manglard. Manglard and Fergioni initiated Vernet into seascape painting.
For twenty years Vernet lived in Rome, producing views of seaports, storms, calms, moonlights, and large whales, becoming especially popular with English aristocrats, many of whom were on the Grand Tour. In 1745 he married an Englishwoman whom he met in the city. In 1753 he was recalled to Paris: there, by royal command, he executed the series of the seaports of France (now in the Louvre and the Musée national de la Marine) by which he is best known.
In Arthur Conan Doyle's short story "The Adventure of the Greek Interpreter", fictional detective Sherlock Holmes claims that his grandmother was the sister of the French artist "Vernet", without identifying any specific member of the family so that he could have been referring to Claude Joseph Vernet, Carle Vernet or Horace Vernet.
Click here to read Claude-Joseph Vernet's full bio on Wikipedia.
NOTE: Click on any image below for a bigger version (no new window will open).
Claude-Joseph Vernet painted mostly in Italy and in Southern France. Here are the places he painted in (a link "⇠" to his works will appear below when published):
Normandy
Nouvelle-Aquitaine
Provence-Alpes-Cote d'Azur

Antibes
Avignon
Montferrat
Toulon
Dieppe in Normandy was a popular place for artists to come and apply their art. Here is a list, non exhaustive, of the artists that painted in Dieppe.
A link ("⇠") to the artist's works will appear when published (a "*" indicates that the artist did not work directly in Dieppe, instead worked in nearby villages):
NOTE: You can subscribe to our new articles by entering your email address in the box on the right column (or at the very bottom of this article) and clicking on the button "Subscribe".

You will need to check your incoming emails and validate your subscription. If you can't see an email from us, check your Spam folder. Without validating your email address, you will not get notifications from us. WE WILL NEVER GIVE YOUR EMAIL ADDRESSES TO ANYONE!
Related Posts