This page forms part of a series of pages dedicated to the many artists who worked in Dieppe. A full list of all the artists with a link to their works can be found at the bottom of this page.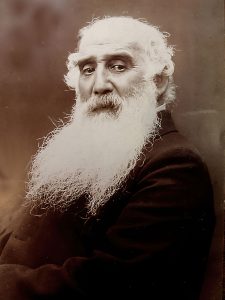 Movement(s): Impressionism, Neo Impressionism, Post Impressionism
Camille Pissarro (1830 – 1903) was a Danish-French Impressionist and Neo-Impressionist painter. He was born on the island of St. Thomas (when it was still in hands of Denmark). He is recognised as being important and an influencer in the impressionist movement.
In 1859 his first painting was accepted and exhibited. His other paintings during that period were influenced by Camille Corot, who tutored him. He and Corot both shared a love of rural scenes painted from nature. It was by Corot that Pissarro was inspired to paint outdoors, also called "plein air" painting. Pissarro found Corot, along with the work of Gustave Courbet, to be "statements of pictorial truth," writes Rewald. He discussed their work often. Jean-François Millet was another whose work he admired, especially his "sentimental renditions of rural life".
As the recognised "Dean of Impressionists", he became friends with the likes of Claude Monet, Paul Cezanne and several other who have become famous later on.
In 1903 Pissarro was seeing hard times and needed money. A businessman in Le Havre commissioned him to make 24 paintings of the harbour of Le Havre. Most of them were made out of his hotel room.
Pissarro had quite an active life as a painter, and was controversial. Click here to read Pissarro's full bio on Wikipedia.
NOTE: Click on any image below for a bigger version (no new window will open).
NOTE: A black box like this one, means that there is an explanation text about today's situation of the painting above it.
NOTE: Click on this photo icon
anywhere below a painting to see a photo of what the area looks like today.
NOTE: A blue box like this one, means there is an explanation or a note.
TODAY: The Saint-Jacques church still exists and is the centre point of Dieppe's market activities.
TODAY: Still, after many centuries, every Saturday morning, there is a very big open-air market held around the Saint-Jacques church and many of its side streets.
TODAY: The church (Notre-Dame de Bonsecours de Dieppe) you see on top of the cliff still exists today and can be visited.
TODAY: We presume Pissarro meant "Duquesne", full name "Abraham Duquesne", a French admiral who was born in Dieppe. There is a statue of his at the City Hall and one of the main harbour basins was named after him. Click here to read more about this Marquis and his colorful past.
TODAY: Dieppe remains an important fishing port so the fish market is rather large.
Varengeville-sur-Mer
The village of Varengeville-sur-Mer (population: 1,000) lies next to Pourville, a bit further East from Dieppe along the coast. It was a popular place for artists.
Pissarro painted mostly in Normandy and a few other places in France (plus some places abroad), which will be featured eventually on this site. A link "⇠" to those cities will appear below.
Bourgogne-Franche-Comte (Burgundy)
Grand Est
Normandy

Bazincourt-sur-Epte
Dieppe (and surroundings) ⇠
Fecamp (surrounding only) ⇠
Gisors (and surroundings)
Hebecourt

Provence-Alpes-Cote d'Azur
Dieppe in Normandy was a popular place for artists to come and apply their art. Here is a list, non exhaustive, of the artists that painted in Dieppe.
A link ("⇠") to the artist's works will appear when published (a "*" indicates that the artist did not work directly in Dieppe, instead worked in nearby villages):
NOTE: You can subscribe to our new articles by entering your email address in the box on the right column (or at the very bottom of this article) and clicking on the button "Subscribe".

You will need to check your incoming emails and validate your subscription. If you can't see an email from us, check your Spam folder. Without validating your email address, you will not get notifications from us. WE WILL NEVER GIVE YOUR EMAIL ADDRESSES TO ANYONE!
Related Posts