This page forms part of a series of pages dedicated to the many artists who painted in Dieppe. A full list of all the artists with a link to their works can be found at the bottom of this page.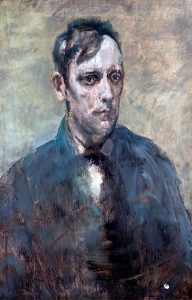 Movement(s): –
Arthur Ambrose McEvoy ARA (1877 – 1927) was an English artist. His early works are landscapes and interiors with figures, in a style influenced by James McNeill Whistler. Later he gained success as a portrait painter, mainly of women and often in watercolour.
McEvoy was born and baptised in Crudwell, Wiltshire, in 1877, the son of Charles Ambrose McEvoy, a Scottish engineer, and his wife Mary Jane. Encouraged by Whistler, who spotted his talent early on, McEvoy enrolled at the Slade School of Fine Art in London when he was fifteen. At the Slade he was part of the group around Augustus John and William Orpen. McEvoy had the reputation for a fine technical skill in oils, learnt from study with Whistler. He later worked with Walter Sickert in Dieppe. While at the Slade he was fellow pupil of Gwen John, with whom he had an unhappy affair.
During the First World War, McEvoy was attached to the Royal Naval Division from 1916 to 1918 and "painted a number of distinguished sailors and soldiers, now in the Imperial War Museum", and the National Maritime Museum.
Click here to read McEvoy's full bio on Wikipedia.
NOTE: Click on any image below for a bigger version (no new window will open).
To our knowledge, McEvoy only painted in one place in France:
Dieppe in Normandy was a popular place for artists to come and apply their art. Here is a list, non exhaustive, of the artists that painted in Dieppe.
A link ("⇠") to the artist's works will appear when published (a "*" indicates that the artist did not work directly in Dieppe, instead worked in nearby villages):
NOTE: You can subscribe to our new articles by entering your email address in the box on the right column (or at the very bottom of this article) and clicking on the button "Subscribe".

You will need to check your incoming emails and validate your subscription. If you can't see an email from us, check your Spam folder. Without validating your email address, you will not get notifications from us. WE WILL NEVER GIVE YOUR EMAIL ADDRESSES TO ANYONE!
Related Posts
97

Charles Ernest Cundall, (1890 – 1971), was an English painter of topographical subjects and townscapes, best known for his large panoramic canvases. Whilst serving with the Royal Fusiliers in World War I, he was wounded in the right arm and had to learn to paint with his left arm before…

97

Charles Edward Conder (1868 – 1909) was an English-born painter, lithographer and designer. He emigrated to Australia and was a key figure in the Heidelberg School, arguably the beginning of a distinctively Australian tradition in Western art. In 1890, he moved to Paris and studied at the Academie Julian, where…

97

William Callow was an English landscape painter, engraver and water colourist. He travelled extensively in France, the Netherlands, Belgium, Germany, Switzerland and Italy, had a large number of pupils, and enjoyed favour with the royal family. Here are his paintings he made in Dieppe, Normandy.

96

Charles-Louis Mozin (1806 - 1862) was born into a family of musicians, Charles-Louis Mozin studied with Xavier Leprince. Primarily a painter and lithographer of coastal landscapes, harbour views and seascapes, he exhibited at the Salons in Paris between 1824 and 1861. Along with Eugene Isabey and Richard Parkes Bonington, Mozin…