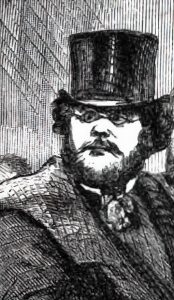 Theodore Alexander Weber (1838 – 1907) was born in Leipzig, Germany and died in Paris, France. He was a German painter who took the French nationality in 1878.
He became a student of Wilhelm Krause in 1854 in Berlin. He subsequently went to Paris in 1856 to continue his studies with Eugene Isabey.
In 1858 he participated in the "Salon" and in 1868 his painting "Le Sauvetage à l'entree du Treport" was remarked for its qualities. That same year he participated in the international maritime exposition at Le Havre and won the bronze medal.
In 1870 and 1871, during the French-German war, he went to live in exile at London and then Brussels. He came back to live in Paris and in 1878 he took the French citizenship.
Not much else is know about this artist.
Theodore Weber painted all over France. Here are the places he painted in (a link "⇠" to his works will appear here when published):
Hauts-de-France

Boulogne
Dunkerque
Gravelines

Normandy
Pays de la Loire
Related Posts
97

Fernand-Fortune Truffault was a French painter. He was born in Trouville-sur-Mer. He studied art in Rouen, but not much is known about this artist.

97

Alfred Montague (1832 - 1883) was a British painter born in London. Not much, if anything, is known about this British artist.

96

Maxime Maufra was a French landscape and marine painter, etcher and lithographer. He painted quite a few paintings in Normandy.

96

Claude-Joseph Vernet (1714 – 1789) was a French painter. His son, Antoine Charles Horace Vernet, was also a painter.