This page forms part of a series of pages dedicated to the many artists who painted in Dieppe. A full list of all the artists with a link to their works can be found at the bottom of this page.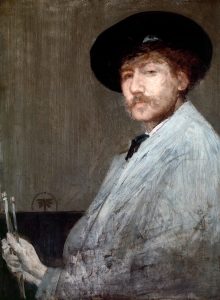 James Abbott McNeill Whistler RBA (1834 – 1903) was an American artist active during the American Gilded Age and based primarily in the United Kingdom. He eschewed sentimentality and moral allusion in painting and was a leading proponent of the credo "art for art's sake".
He found a parallel between painting and music, and entitled many of his paintings "arrangements", "harmonies", and "nocturnes", emphasizing the primacy of tonal harmony. His most famous painting, Arrangement in Grey and Black No. 1, commonly known as Whistler's Mother, is a revered and often parodied portrait of motherhood.
James Abbott Whistler was born in Lowell, Massachusetts on July 11, 1834, the first child of Anna McNeill Whistler and George Washington Whistler, and the brother of Confederate surgeon Dr. William McNeill Whistler. His father was a railroad engineer, and Anna was his second wife. James lived the first three years of his life in a modest house at 243 Worthen Street in Lowell.
Nicholas I of Russia learned of George Whistler's ingenuity in engineering the Boston & Albany Railroad, and he offered him a position in 1842 engineering a railroad from St. Petersburg to Moscow, and the family moved to St. Petersburg in the winter of 1842/43.
Whistler was a moody child prone to fits of temper and insolence, and he often drifted into periods of laziness after bouts of illness. His parents discovered that drawing often settled him down and helped focus his attention.
In 1847–1848, his family spent some time in London with relatives, while his father stayed in Russia. Whistler's brother-in-law Francis Haden, a physician who was also an artist, spurred his interest in art and photography. Haden took Whistler to visit collectors and to lectures, and gave him a watercolour set with instruction. Whistler already was imagining an art career. He began to collect books on art and he studied other artists' techniques.
Whistler arrived in Paris in 1855, rented a studio in the Latin Quarter, and quickly adopted the life of a bohemian artist. Soon he had a French girlfriend, a dressmaker named Heloise. He studied traditional art methods for a short time at the Ecole Imperiale and at the atelier of Marc Charles Gabriel Gleyre. The latter was a great advocate of the work of Ingres, and impressed Whistler with two principles that he used for the rest of his career: that line is more important than color and that black is the fundamental color of tonal harmony.
By 1871, Whistler returned to portraits and soon produced his most famous painting, the nearly monochromatic full-length figure entitled Arrangement in Grey and Black No.1, but usually referred to as Whistler's Mother. A model failed to appear one day, according to a letter from his mother, so Whistler turned to his mother and suggested that he do her portrait. He had her stand at first, in his typically slow and experimental way, but that proved too tiring so the seated pose was adopted. It took dozens of sittings to complete.
In the final seven years of his life, Whistler did some minimalist seascapes in watercolor and a final self-portrait in oil. He corresponded with his many friends and colleagues. Whistler founded an art school in 1898, but his poor health and infrequent appearances led to its closure in 1901. He died in London on July 17, 1903, six days after his 69th birthday. He is buried in Chiswick Old Cemetery in west London, adjoining St Nicholas Church, Chiswick.
Click here to read the VERY long bio of Whistler on Wikipedia.
NOTE: Click on any image below for a bigger version (no new window will open).
Pourville-sur-Mer
The town of Pourville (population: 1,200) lies against Dieppe on the East. They share a coastline.
James Whistler painted many paintings, mostly in the United Kingdom, but he did manage to be quite productive in France. Here are all the places he painted in (a link "⇠" will appear when a specific place is published):
Brittany
Centre-Val de Loire
Hauts-de-France
Normandy
Nouvelle-Aquitaine
Dieppe in Normandy was a popular place for artists to come and apply their art. Here is a list, non exhaustive, of the artists that painted in Dieppe.
A link ("⇠") to the artist's works will appear when published (a "*" indicates that the artist did not work directly in Dieppe, instead worked in nearby villages):
NOTE: You can subscribe to our new articles by entering your email address in the box on the right column (or at the very bottom of this article) and clicking on the button "Subscribe".

You will need to check your incoming emails and validate your subscription. If you can't see an email from us, check your Spam folder. Without validating your email address, you will not get notifications from us. WE WILL NEVER GIVE YOUR EMAIL ADDRESSES TO ANYONE!
Related Posts
89

James Kay was a Scottish artist notable for his paintings of the landscapes and shipping. Born on the Isle of Arran, Kay spent much of his working life with a studio in Glasgow and living at Portincaple on Loch Long in Argyll and Bute. He was elected to the Royal…

89

William Callow was an English landscape painter, engraver and water colourist. He travelled extensively in France, the Netherlands, Belgium, Germany, Switzerland and Italy, had a large number of pupils, and enjoyed favour with the royal family. Here are his paintings he made in Dieppe, Normandy.

88

Charles Edward Conder (1868 – 1909) was an English-born painter, lithographer and designer. He emigrated to Australia and was a key figure in the Heidelberg School, arguably the beginning of a distinctively Australian tradition in Western art. In 1890, he moved to Paris and studied at the Academie Julian, where…

88

Antoine Vollon (1833 – 1900) was a French realist artist, best known as a painter of still lifes, landscapes, and figures. During his lifetime, Vollon was a successful celebrity, enjoyed an excellent reputation, and was called a "painter's painter". Here are his paintings he made in Dieppe, Normandy.