This page forms part of a series of pages dedicated to the many artists who painted in Dieppe. A full list of all the artists with a link to their works can be found at the bottom of this page.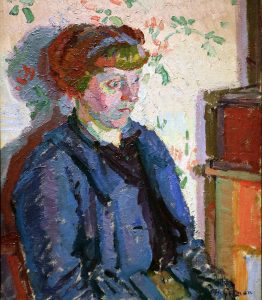 Movement(s): Female Artists
Laura Sylvia Gosse (1881 – 1968) was an English painter and printmaker. She ran an art school with the painter Walter Sickert.
Laura Sylvia Gosse, known as Sylvia, was the youngest of three children of Ellen (Epps) Gosse and the English poet and critic Sir Edmund Gosse. Her grandfather was the naturalist Philip Henry Gosse, and the painter Lawrence Alma-Tadema was her uncle by marriage. Gosse got her art training first at the St. John's Wood Art School and then at the Royal Academy of Art (1906–09).
In 1908, the artist Walter Sickert was impressed by her talent and decided she should learn etching. She enrolled in Sickert's evening classes, first at the Westminster School of Art and then at a private art school he founded in the Hampstead Road. Gosse eventually took over responsibility for running this school, which became known as Rowlandson House (alternatively, the Sickert and Gosse School of Painting and Etching). She served as co-principal from 1910 until it closed in 1914 and taught some classes there as well. Gosse had an independent income, and without her financial support the school would have closed much sooner.
Eye cataracts put an end to her painting in 1961, and she died in 1968.
Click here to read Sylvia Gosse's full bio on Wikipedia.
NOTE: Click on any image below for a bigger version (no new window will open).
NOTE: A black box like this one, means that there is an explanation text about today's situation of the painting above it.
NOTE: Click on this photo icon
anywhere below a painting to see a photo of what the area looks like today.
NOTE: A blue box like this one, means there is an explanation or a note.
TODAY: The "old" casino no longer exists and has been replaced by a modern one.
TODAY: The "Rue de la Boucherie" still exists and is still located next to the Saint-Jacques church.
NOTE: The Place Saint-Jacques is the square where the Saint-Jacques church is located.
TODAY: The Dieppe castle is still the most visible construction in Dieppe, since it's located on top of a cliff overlooking the city.
TODAY: The Place National still exists today, and is the place where the open air market is held.
TODAY: The open-air market of Dieppe, held every Saturday morning, has been considered the best market of France in 2020.
TODAY: The Rue de L'Oranger still exists today, located next to the Saint-Jacques church.
Envermeu
Envermeu lies close to Dieppe on the East of the city.
Sylvia Gosse did not paint much outside the UK. She did paint in the following places in Normandy (a link ""⇠ below will follow to her works when published):
Normandy
Occitanie
Provence-Alpes-Cote d'Azur
Dieppe in Normandy was a popular place for artists to come and apply their art. Here is a list, non exhaustive, of the artists that painted in Dieppe.
A link ("⇠") to the artist's works will appear when published (a "*" indicates that the artist did not work directly in Dieppe, instead worked in nearby villages):
NOTE: You can subscribe to our new articles by entering your email address in the box on the right column (or at the very bottom of this article) and clicking on the button "Subscribe".

You will need to check your incoming emails and validate your subscription. If you can't see an email from us, check your Spam folder. Without validating your email address, you will not get notifications from us. WE WILL NEVER GIVE YOUR EMAIL ADDRESSES TO ANYONE!
Related Posts