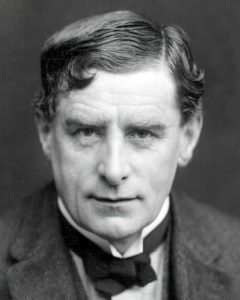 Walter Richard Sickert (1860 – 1942) was a British painter and printmaker who was a member of the Camden Town Group of Post-Impressionist artists in early 20th-century London. He was an important influence on distinctively British styles of avant-garde art in the mid- and late 20th century.
Sickert was a cosmopolitan and eccentric who often favoured ordinary people and urban scenes as his subjects. His work includes portraits of well-known personalities and images derived from press photographs. He is considered a prominent figure in the transition from Impressionism to Modernism.
Sickert was born in Munich, Germany, on 31 May 1860, the eldest son of Oswald Sickert, a Danish-German artist, and his wife, Eleanor Louisa Henry, who was an illegitimate daughter of the British astronomer Richard Sheepshanks. In 1868, following the German annexation of Schleswig-Holstein, the family settled in Britain, where Oswald's work had been recommended by Freiherrin Rebecca von Kreusser to Ralph Nicholson Wornum, who was Keeper of the National Gallery at the time.
The family obtained British nationality. The young Sickert was sent to University College School from 1870 to 1871, before transferring to King's College School, where he studied until the age of 18. Though he was the son and grandson of painters, he first sought a career as an actor; he appeared in small parts in Sir Henry Irving's company, before taking up the study of art in 1881. After less than a year's attendance at the Slade School, Sickert left to become a pupil of and etching assistant to James Abbott McNeill Whistler. Sickert's earliest paintings were small tonal studies painted alla prima from nature after Whistler's example.
In 1883 he travelled to Paris and met Edgar Degas, whose use of pictorial space and emphasis on drawing would have a powerful effect on Sickert's work. He developed a personal version of Impressionism, favouring sombre colouration.
In the late 1880s he spent much of his time in France, especially in Dieppe, which he first visited in mid-1885, and where his mistress, and possibly his illegitimate son, lived.
Just before the First World War he championed the avant-garde artists Lucien Pissarro, Jacob Epstein, Augustus John and Wyndham Lewis. At the same time Sickert founded, with other artists, the Camden Town Group of British painters, named from the district of London in which he lived.
After the death of his second wife in 1920, Sickert relocated to Dieppe, where he painted scenes of casinos and cafe life until his return to London in 1922. In 1924, he was elected an Associate of the Royal Academy (ARA).
Sickert painted an informal portrait of Winston Churchill in about 1927. Churchill's wife Clementine introduced him to Sickert, who had been a friend of her family. The two men got along so well that Churchill, whose hobby was painting, wrote to his wife that "He is really giving me a new lease of life as a painter."
Sickert took a keen interest in the crimes of Jack the Ripper and believed he had lodged in a room used by the notorious serial killer. He had been told this by his landlady, who suspected a previous lodger. Sickert did a painting of the room and titled it Jack the Ripper's Bedroom. It shows a dark, melancholy room with most details obscured.
Although for over 80 years there was no mention of Sickert being a suspect in the Ripper crimes, in the 1970s authors began to explore the idea that Sickert was Jack the Ripper or his accomplice.
Sickert died in Bath, Somerset in 1942, at the age of 81.
Click here to read more about this British artist on Wikipedia.
Walter Sickert painted mostly in Dieppe and its surroundings when he was in France. He did paint in Paris and one other place in France (a link "⇠" to his works will appear below when published):
Auberville
Dieppe (and surroundings) ⇠
Related Posts