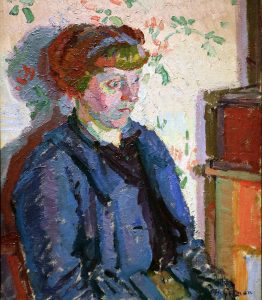 Movement(s): Female Artists
Laura Sylvia Gosse (1881 – 1968) was an English painter and printmaker. She ran an art school with the painter Walter Sickert.
Laura Sylvia Gosse, known as Sylvia, was the youngest of three children of Ellen (Epps) Gosse and the English poet and critic Sir Edmund Gosse. Her grandfather was the naturalist Philip Henry Gosse, and the painter Lawrence Alma-Tadema was her uncle by marriage. Gosse got her art training first at the St. John's Wood Art School and then at the Royal Academy of Art (1906–09).
In 1908, the artist Walter Sickert was impressed by her talent and decided she should learn etching. She enrolled in Sickert's evening classes, first at the Westminster School of Art and then at a private art school he founded in the Hampstead Road. Gosse eventually took over responsibility for running this school, which became known as Rowlandson House (alternatively, the Sickert and Gosse School of Painting and Etching). She served as co-principal from 1910 until it closed in 1914 and taught some classes there as well. Gosse had an independent income, and without her financial support the school would have closed much sooner.
Eye cataracts put an end to her painting in 1961, and she died in 1968.
Click here to read Sylvia Gosse's full bio on Wikipedia.
Sylvia Gosse did not paint much outside the UK. She did paint in the following places in Normandy (a link ""⇠ below will follow to her works when published):
Normandy
Occitanie
Provence-Alpes-Cote d'Azur
Related Posts
97

Alfred Montague (1832 - 1883) was a British painter born in London. Not much, if anything, is known about this British artist.

96

John Duncan Fergusson (1874 – 1961) was a Scottish artist and sculptor, regarded as one of the major artists of the Scottish Colourists school of painting.

96

Maxime Maufra was a French landscape and marine painter, etcher and lithographer. He painted quite a few paintings in Normandy.