This page forms part of a series of pages dedicated to the many artists who painted in Dieppe. A full list of all the artists with a link to their works can be found at the bottom of this page.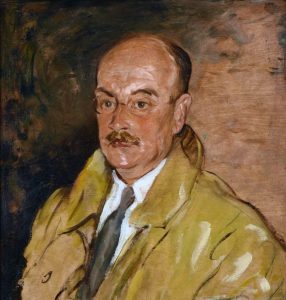 Movement(s): –
Alexander Jamieson (1873 – 1937) was born in Glasgow and trained at the Haldane Academy (Glasgow School of Art) in the mid- 1890s. In 1898, he won a scholarship to study for a further year in Paris where, in the progressive atmosphere of contemporary French painting, his style began to develop a broad Impressionistic character.
He met many of the Impressionist painters and was introduced to their techniques of painting in oils "au premier coup" and "wet-in-wet", where the next layer is applied before the first has dried and he used this to good effect; many of his paintings achieved a characteristic glossiness.
Jamieson was much taken with France and Paris in particular. While in Paris he met the painter Gertrude (Biddy) Macdonald, two years his senior; she was born and studied in England, but had moved to Paris to continue her studies. They married in 1907 and settled in a studio in the Cromwell Road, South Kensington.
He enlisted in Kitchener's "New Army" as a volunteer in 1914 and in 1915 was commissioned into the 10th Bn York & Lancs Regiment. He served throughout the Great War, taking part in the bloody battles of Loos, the Somme and Arras from 1915-18. He transferred to the Royal Flying Corps in January 1918 and was demobilised in 1919, at the age of 45.
After the war, he settled with Biddy in the village of Weston Turville in the Vale of Aylesbury, a mere couple of miles from his old camp in Halton. He continued to paint and exhibit while living there, enjoying considerable acclaim for much of his work.
But the Great War had taken its toll of him and he died aged 63, in London on 2 May 1937 and is buried in the churchyard of St Mary the Virgin, Weston Turville. Biddy Jamieson survived him, dying aged 80 in 1952 and is buried in the same grave.
NOTE: Click on any image below for a bigger version (no new window will open).
NOTE: A black box like this one, means that there is an explanation text about today's situation of the painting above it.
NOTE: Click on this photo icon
anywhere below a painting to see a photo of what the area looks like today.
NOTE: A blue box like this one, means there is an explanation or a note.
TODAY: The Place Nationale is a major square in Dieppe where you will find the open air market and the Abraham Duquesne statue.
TODAY: The church (Eglise Notre-Dame de Bonsecours de Dieppe) you see on the top of the cliffs still exists today and can be visited.
TODAY: The houses and general harbour area you see in the painting is now full of restaurants and bars.
Martin-Eglise
Martin-Eglise is a small village located to the East of Dieppe.
Jamieson painted quite a lot in France (and other European countries). In France he painted in these places (a link "⇠" to his works will appear for each place when published):
Brittany
Centre-Val de Loire
Hauts-de-France
Normandy

Dieppe (and surroundings) ⇠
Pont-de-l'Arche
Vernon
Dieppe in Normandy was a popular place for artists to come and apply their art. Here is a list, non exhaustive, of the artists that painted in Dieppe.
A link ("⇠") to the artist's works will appear when published (a "*" indicates that the artist did not work directly in Dieppe, instead worked in nearby villages):
NOTE: You can subscribe to our new articles by entering your email address in the box on the right column (or at the very bottom of this article) and clicking on the button "Subscribe".

You will need to check your incoming emails and validate your subscription. If you can't see an email from us, check your Spam folder. Without validating your email address, you will not get notifications from us. WE WILL NEVER GIVE YOUR EMAIL ADDRESSES TO ANYONE!
Related Posts
97

William Callow was an English landscape painter, engraver and water colourist. He travelled extensively in France, the Netherlands, Belgium, Germany, Switzerland and Italy, had a large number of pupils, and enjoyed favour with the royal family. Here are his paintings he made in Dieppe, Normandy.

96

Charles-Louis Mozin (1806 - 1862) was born into a family of musicians, Charles-Louis Mozin studied with Xavier Leprince. Primarily a painter and lithographer of coastal landscapes, harbour views and seascapes, he exhibited at the Salons in Paris between 1824 and 1861. Along with Eugene Isabey and Richard Parkes Bonington, Mozin…

96

Charles Edward Conder (1868 – 1909) was an English-born painter, lithographer and designer. He emigrated to Australia and was a key figure in the Heidelberg School, arguably the beginning of a distinctively Australian tradition in Western art. In 1890, he moved to Paris and studied at the Academie Julian, where…

96

James Kay was a Scottish artist notable for his paintings of the landscapes and shipping. Born on the Isle of Arran, Kay spent much of his working life with a studio in Glasgow and living at Portincaple on Loch Long in Argyll and Bute. He was elected to the Royal…