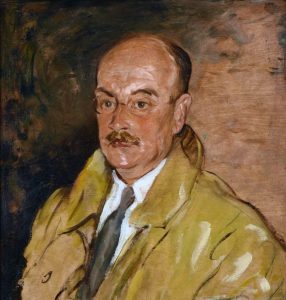 Movement(s): –
Alexander Jamieson (1873 – 1937) was born in Glasgow and trained at the Haldane Academy (Glasgow School of Art) in the mid- 1890s. In 1898, he won a scholarship to study for a further year in Paris where, in the progressive atmosphere of contemporary French painting, his style began to develop a broad Impressionistic character.
He met many of the Impressionist painters and was introduced to their techniques of painting in oils "au premier coup" and "wet-in-wet", where the next layer is applied before the first has dried and he used this to good effect; many of his paintings achieved a characteristic glossiness.
Jamieson was much taken with France and Paris in particular. While in Paris he met the painter Gertrude (Biddy) Macdonald, two years his senior; she was born and studied in England, but had moved to Paris to continue her studies. They married in 1907 and settled in a studio in the Cromwell Road, South Kensington.
He enlisted in Kitchener's "New Army" as a volunteer in 1914 and in 1915 was commissioned into the 10th Bn York & Lancs Regiment. He served throughout the Great War, taking part in the bloody battles of Loos, the Somme and Arras from 1915-18. He transferred to the Royal Flying Corps in January 1918 and was demobilised in 1919, at the age of 45.
After the war, he settled with Biddy in the village of Weston Turville in the Vale of Aylesbury, a mere couple of miles from his old camp in Halton. He continued to paint and exhibit while living there, enjoying considerable acclaim for much of his work.
But the Great War had taken its toll of him and he died aged 63, in London on 2 May 1937 and is buried in the churchyard of St Mary the Virgin, Weston Turville. Biddy Jamieson survived him, dying aged 80 in 1952 and is buried in the same grave.
Jamieson painted quite a lot in France (and other European countries). In France he painted in these places (a link "⇠" to his works will appear for each place when published):
Brittany
Centre-Val de Loire
Hauts-de-France
Normandy

Dieppe (and surroundings) ⇠
Pont-de-l'Arche
Vernon
Related Posts
95

Theodore Alexander Weber (1838 - 1907) was born in Leipzig, Germany and died in Paris, France. He was a German painter who took the French nationality in 1878.

95

Alfred Montague (1832 - 1883) was a British painter born in London. Not much, if anything, is known about this British artist.

94

One of the very few female artists we've been able to find that painted in Normandy. Anne Rushout is British and was a Lady. Not much else is known about her.