This page forms part of a series of pages dedicated to the many artists who painted in Dieppe. A full list of all the artists with a link to their works can be found at the bottom of this page.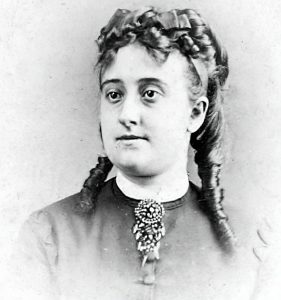 Movement(s): Female Artists, Impressionism
Eva Gonzales (1849 – 1883) was a French Impressionist painter. She was born in Paris and became introduced to sophisticated literary and art circles at an early age by her father, writer Emmanuel Gonzales. In 1865, at age sixteen, Eva Gonzales began her professional training and art lessons in drawing from the society portraitist Charles Chaplin (no, not that one). Through her father's connections as a founding president of the Société des gens de lettres, she met a variety of members of the Parisian cultural elite, and from a young age was exposed to the new ideas surrounding art and literature at the time.
Gonzales is best known for her starting out as a pupil of the artist Édouard Manet in February 1869. This relationship was formed by poor reviews that Manet received about his Salon entries, which made him hesitant to openly discuss his work; however, something about Eva's presence brought Manet out of his shell.
Her work was reviewed positively by a variety of critics. Louis Leroy, Jules Castagnary, and Émile Zola praised the work she successfully showed at the Salons. Furthermore, the art critic Maria Deraismes championed Gonzalés for producing paintings which challenged the way female painters were viewed and separated from the art scene in Paris.
In 1879, after a three-year engagement, she married Henri Guerard, a graphic artist and Manet's engraver. The couple had a son named Jean Raimond in April 1883, shortly before receiving news of the death of Manet. During the Franco-Prussian War she sought refuge in Dieppe.
In 1883, Gonzeles died in childbirth at the age of thirty-four, five days after the death of her teacher, Edouard Manet, which left her son to be raised by his father and her sister, Jeanne, who later became Guerard's second wife.
Click here to read Eva Gonzales full bio on Wikipedia.
NOTE: Click on any image below for a bigger version (no new window will open).
NOTE: A black box like this one, means that there is an explanation text about today's situation of the painting above it.
NOTE: Click on this photo icon
anywhere below a painting to see a photo of what the area looks like today.
NOTE: A blue box like this one, means there is an explanation or a note.
TODAY: The beach area is much more crowded with buildings and people.
TODAY: The harbour front has many more buildings (mostly restaurants) and ships moored at the marina.
Eva Gonzales mostly painted portraits, but so far we only found two places she painted in (a link "⇠" to her works will appear below when published):
Dieppe in Normandy was a popular place for artists to come and apply their art. Here is a list, non exhaustive, of the artists that painted in Dieppe.
A link ("⇠") to the artist's works will appear when published (a "*" indicates that the artist did not work directly in Dieppe, instead worked in nearby villages):
NOTE: You can subscribe to our new articles by entering your email address in the box on the right column (or at the very bottom of this article) and clicking on the button "Subscribe".

You will need to check your incoming emails and validate your subscription. If you can't see an email from us, check your Spam folder. Without validating your email address, you will not get notifications from us. WE WILL NEVER GIVE YOUR EMAIL ADDRESSES TO ANYONE!
Related Posts
96

Jules Emile Elisee Maclet (1881–1962) was a French Impressionist painter, particularly known for his views of Montmartre. Maclet was born the son of a gardener and a laundress at Lihons in the Santerre region in Picardy. His family was poor and he began work very young as an assistant to…

96

Claude Monet is without any doubt the most famous impressionist painter. He started the movement, and he was the master of it. Although he was born in Paris, France (and died in Giverny, Normandy, France), his heart was Normandy, particularly the Normandy coastline. His family moved to Le Havre in…

96

Pierre-Auguste Renoir (1841 – 1919) was a French artist who was a leading painter in the development of the Impressionist style. Here are his works for Dieppe and its surroundings in Normandy.