This page forms part of a series of pages dedicated to the many artists who painted in Dieppe. A full list of all the artists with a link to their works can be found at the bottom of this page.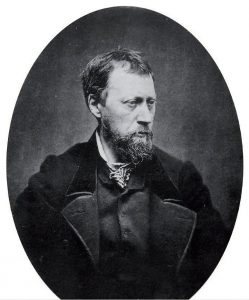 Movement(s): –
Johan Barthold Jongkind (1819 – 1891) was a Dutch artist. He painted many marine landscapes in a free manner and is regarded as a forerunner of the Impressionist movement.
Jongkind was born in the town of Lattrop in the Overijssel province of the Netherlands near the border with Germany. Trained at the art academy in The Hague under Andreas Schelfhout, in 1846 he moved to Montparnasse in Paris, France where he studied under Eugene Isabey and Francois-Edouard Picot.
Two years later, the Paris Salon accepted his work for its exhibition, and he received acclaim from critic Charles Baudelaire and later on from Emile Zola. He was to experience little success, however, and he suffered bouts of depression complicated by alcoholism.
Jongkind returned to live in Rotterdam in 1855, and remained there until 1860. Back in Paris, in 1861 he rented a studio on the rue de Chevreuse in Montparnasse where some of his paintings began to show glimpses of the Impressionist style to come.
In 1862 he met in Normandy, in the famous ferme Saint-Simeon in Honfleur, with some of his artist friends, such as Alfred Sisley, Eugene Boudin, and the young Claude Monet, to all of whom Jongkind served as a mentor. Monet later referred to him as "…a quiet man with such a talent that is beyond words" and credited the "definitive education" of his own eye to Jongkind.
In 1878, Jongkind and his companion Josephine Fesser moved to live in the small town of La Cote-Saint-Andre near Grenoble in the Isere departement in the southeast of France. He died in 1891 in Saint-Egreve, in the same departement. He is buried in the cemetery of La Cote-Saint-Andre.
Click here to read Jongkind's full bio on Wikipedia.
NOTE: Click on the image below for a bigger version (no new window will open).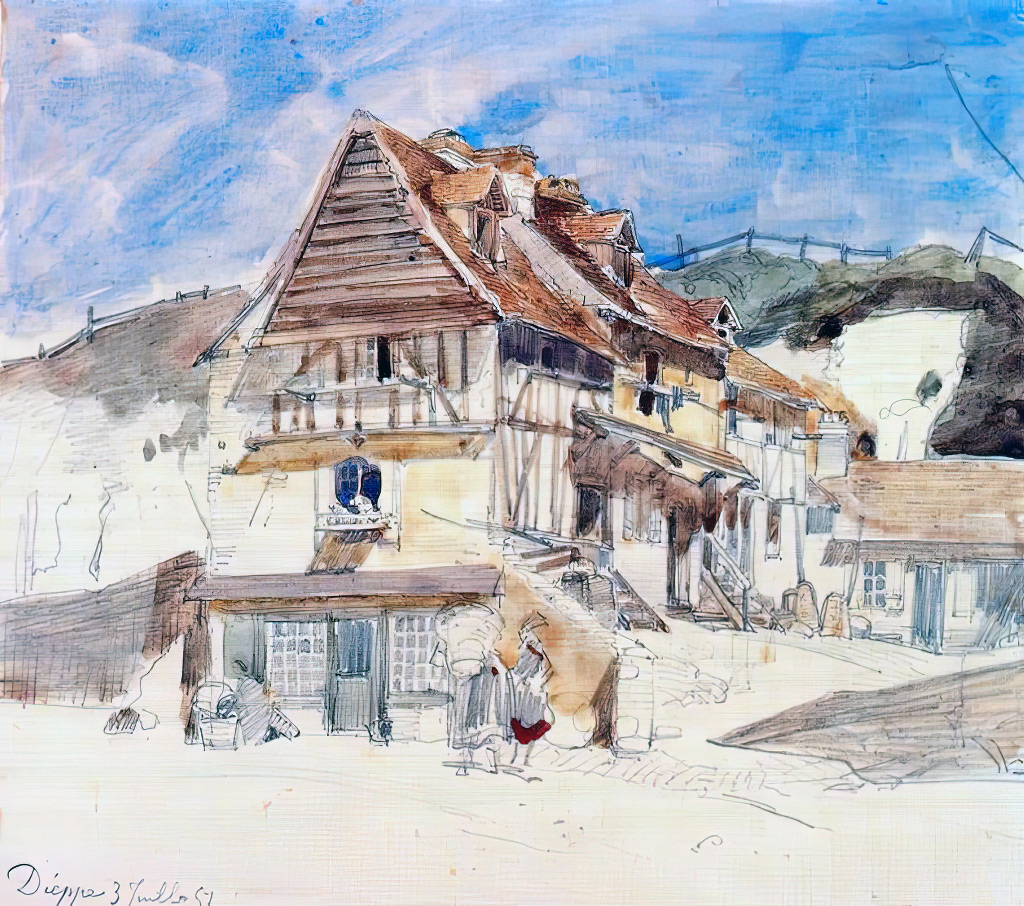 Jongkind painted in several places in France (a link "⇠" to his works per place will appear below when published):
Auvergne-Rhone-Alpes

Grenoble
La Cote-Saint-Andre
Neyron
Virieu-sur-Bourbre
Voiron

Bourgogne-Franche-Comte (Burgundy)

Nevers
Saincaize-Meauce
Saint-Parize-le-Chatel

Brittany
Normandy
Occitanie
Provence-Alpes-Cote d'Azur
Dieppe in Normandy was a popular place for artists to come and apply their art. Here is a list, non exhaustive, of the artists that painted in Dieppe.
A link ("⇠") to the artist's works will appear when published (a "*" indicates that the artist did not work directly in Dieppe, instead worked in nearby villages):
NOTE: You can subscribe to our new articles by entering your email address in the box on the right column (or at the very bottom of this article) and clicking on the button "Subscribe".

You will need to check your incoming emails and validate your subscription. If you can't see an email from us, check your Spam folder. Without validating your email address, you will not get notifications from us. WE WILL NEVER GIVE YOUR EMAIL ADDRESSES TO ANYONE!
Related Posts