Caen is one of those cities you can have a problem understanding or coming to grips with. The 110,000 people city is a medium sized city dating back to the beginnings of the Iron Age, but the first real settlements where to be found in the 1st century AC. It was also William The Conqueror's city (he is buried here), a city with a very strong Celtic DNA.
This city/town forms part of one of the French legs of the Santiago de Compostela pilgrimage route.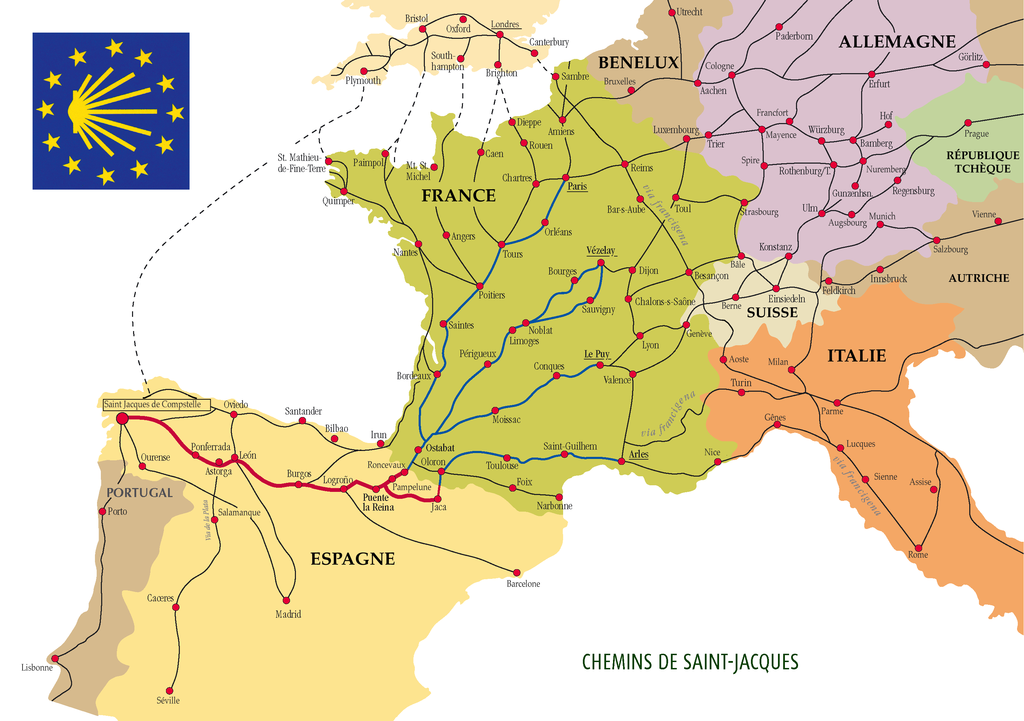 Santiago de Compostela pilgrimage routes
Caen was steeped in history, with a strong Celtic, Viking, Frank and Roman culture to be seen throughout the city. Signs of these cultures were well preserved and visible … UNTIL … WWII. Then, towards the end of World War II, the Battle of Caen wiped out 80% of the city. So what can be seen now is a very small sample of what was there previously. However, the most notable structure is brand new; the WWII Memorial.
Caen was rebuilt in haste and unfortunately it shows. Looking out over the rooftops the skyline is not pretty: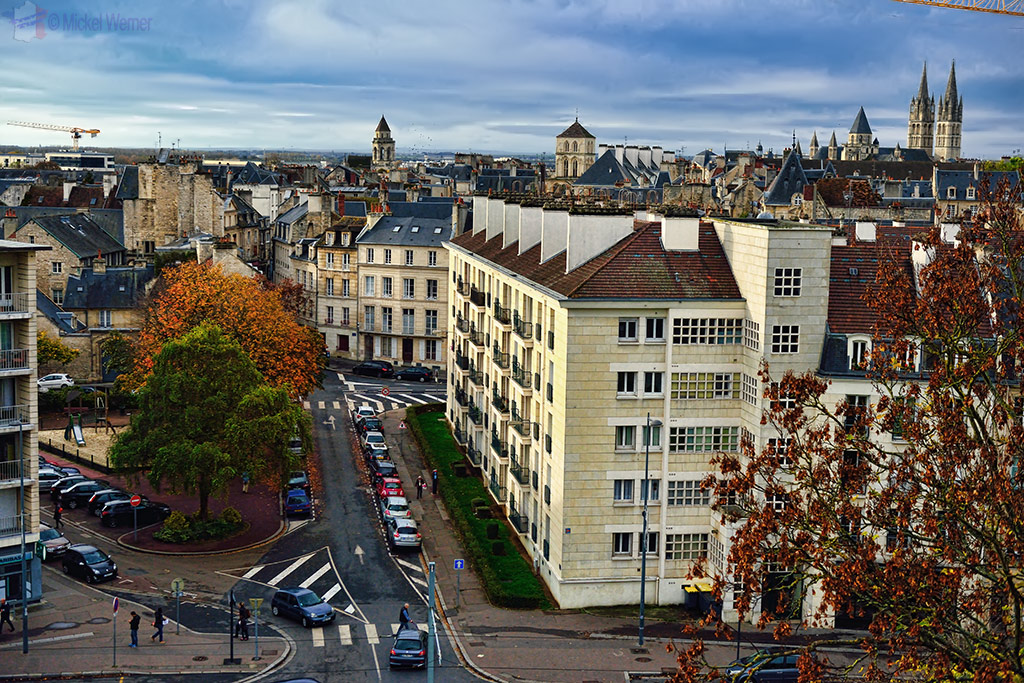 The only pretty part is the number of church steeples. Caen is also dubbed the "City of 100 Church Bells" thanks to its many churches. But when you are walking in the city centre, you can see several older buildings, like this one: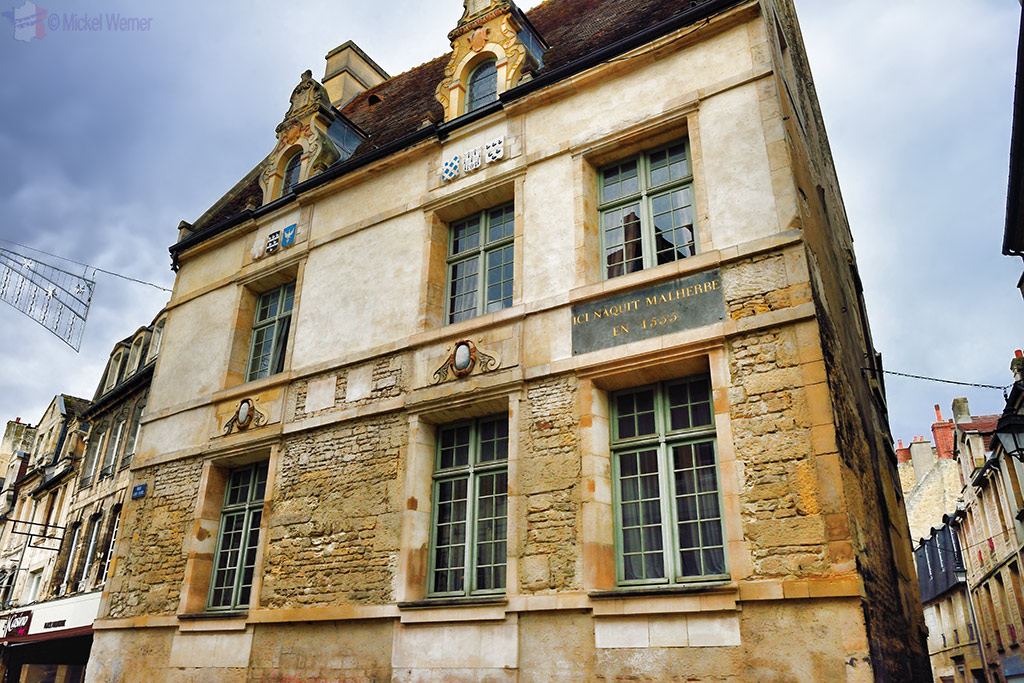 This is a house in which Francois de Malherbe (a famous French poet) was born in 1555. But not too far away from this house you will find modern monstrosities like this "Battlestar Galactica":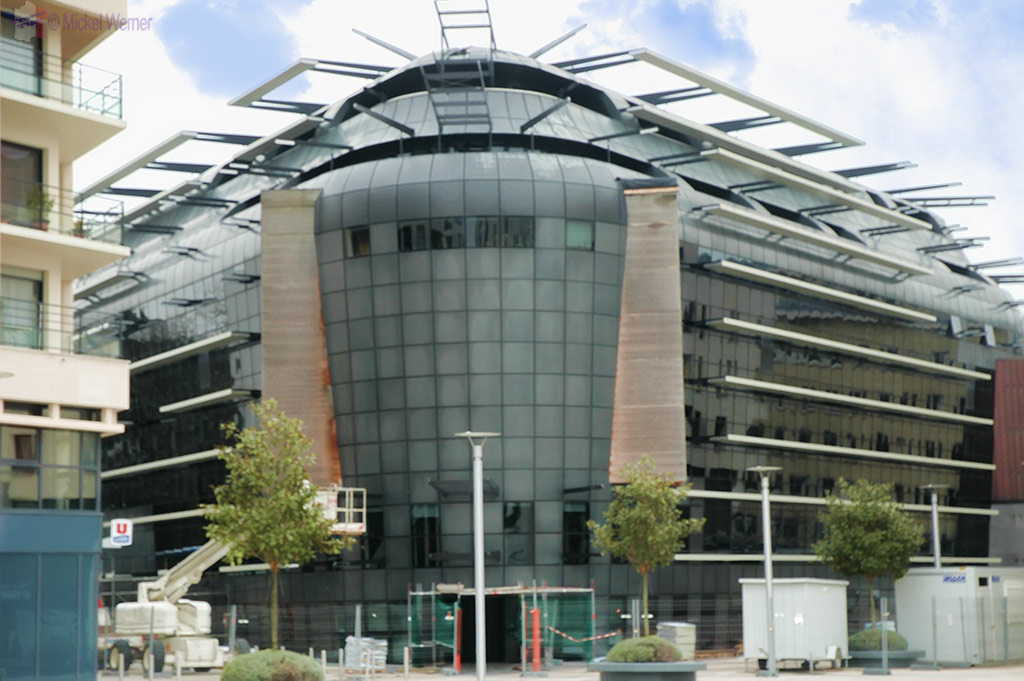 Interspersed in between the older houses and modern buildings, you'll find the occasional statue or monument: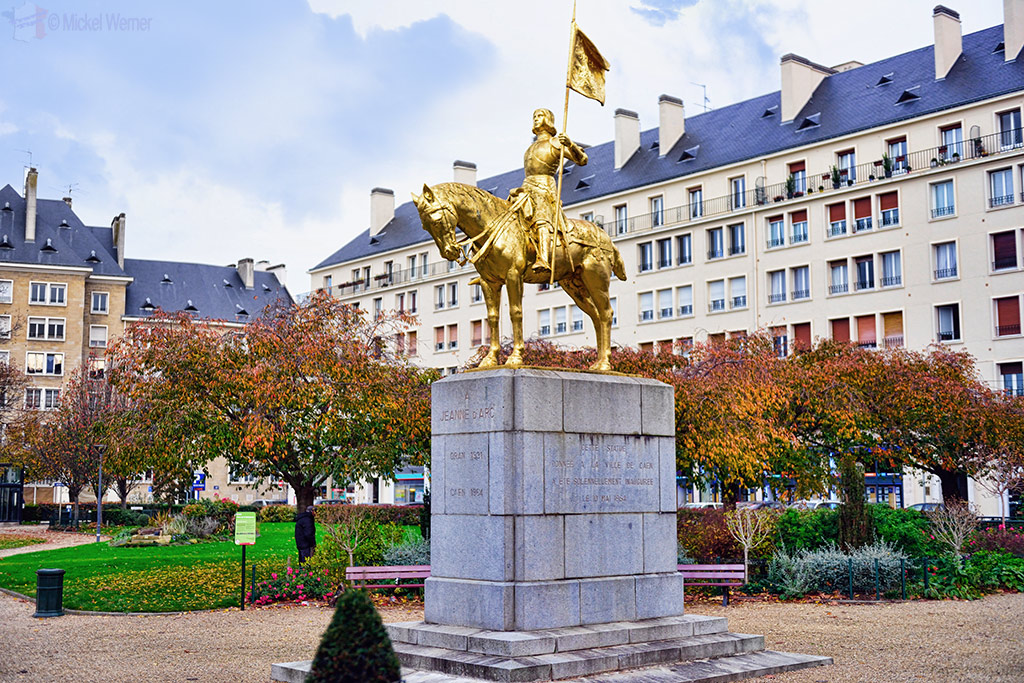 Here a golden statue of Joan of Arc (in French Jeanne d'Arc), who had nothing to do with the city. The city where Joan was burned at the stake is not that far from here; Rouen.
Although public transportation is very good, with an excellent bus network, they do have a strange mixture of tram/trolley system: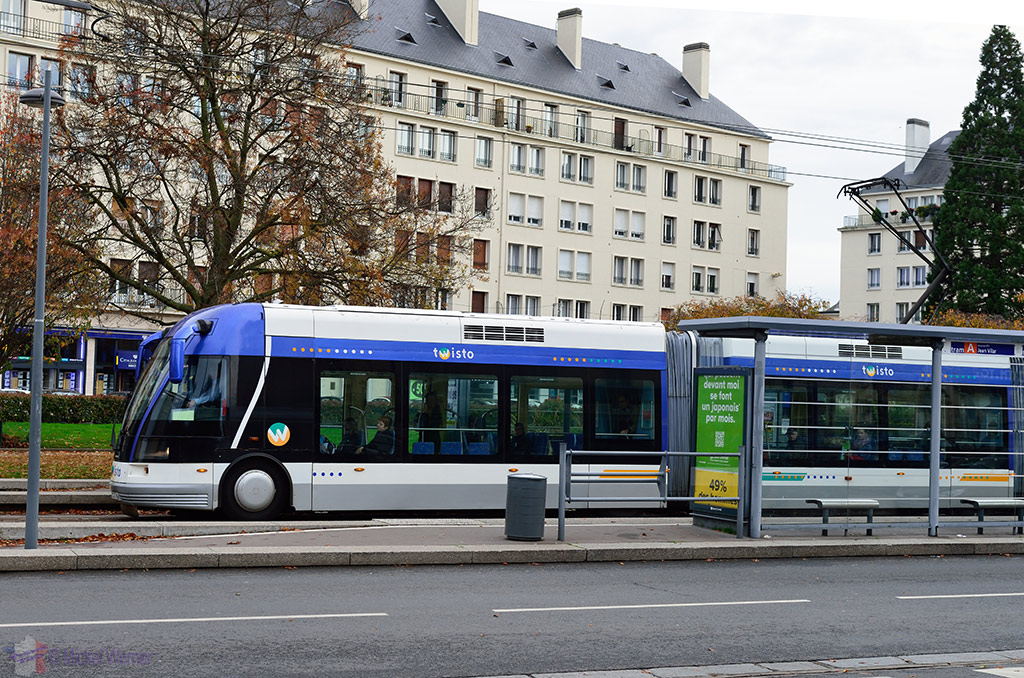 The vehicle is a mixture of a bus, tram (there is one rail under the vehicle) and trolley (the electric wires are above it). It doesn't make much sense, the only thing is it's slightly quieter than a tram, but it can not go around stranded objects since it's also on a rail.
The inner city is a nice and pleasant walking city, especially for shopping: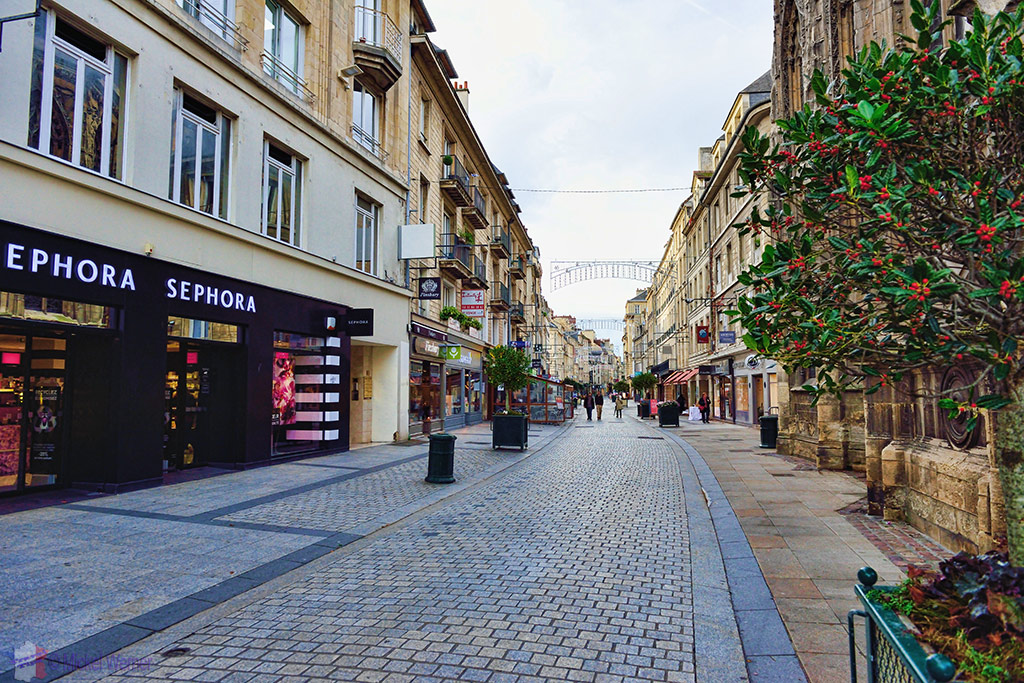 There are several, reasonably long, pedestrian streets with many shops. You can walk without the fear of being run down by a car. There are a multitude of shops; from very modern to…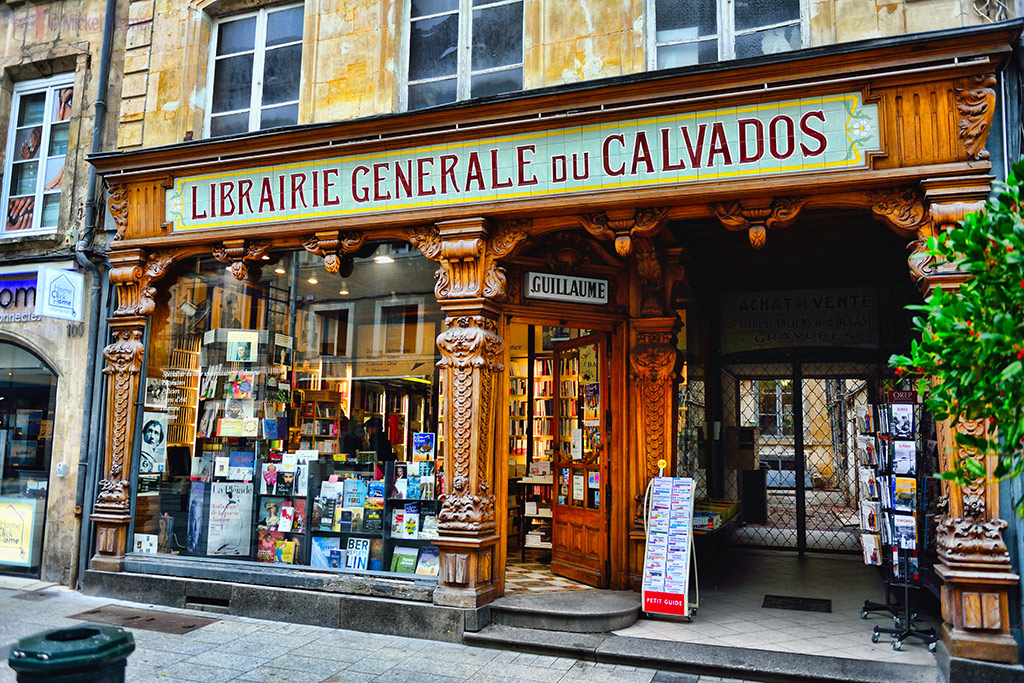 .. a very old book shop. It's in fact not that old, since it was "only" created in the year 1900 (for French standards, it's young).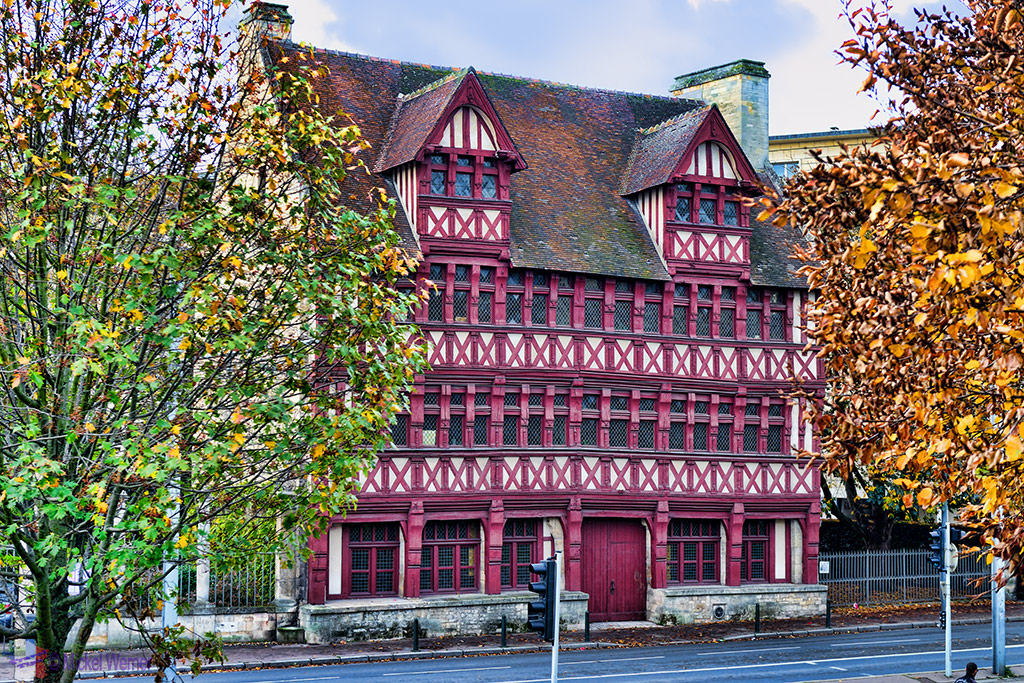 This is the "Maison des Quatrans" built in 1460 as private residence for nobility but now belonging to the city. It's located next to the castle/fortress and houses several cultural associations, but it can not be visited.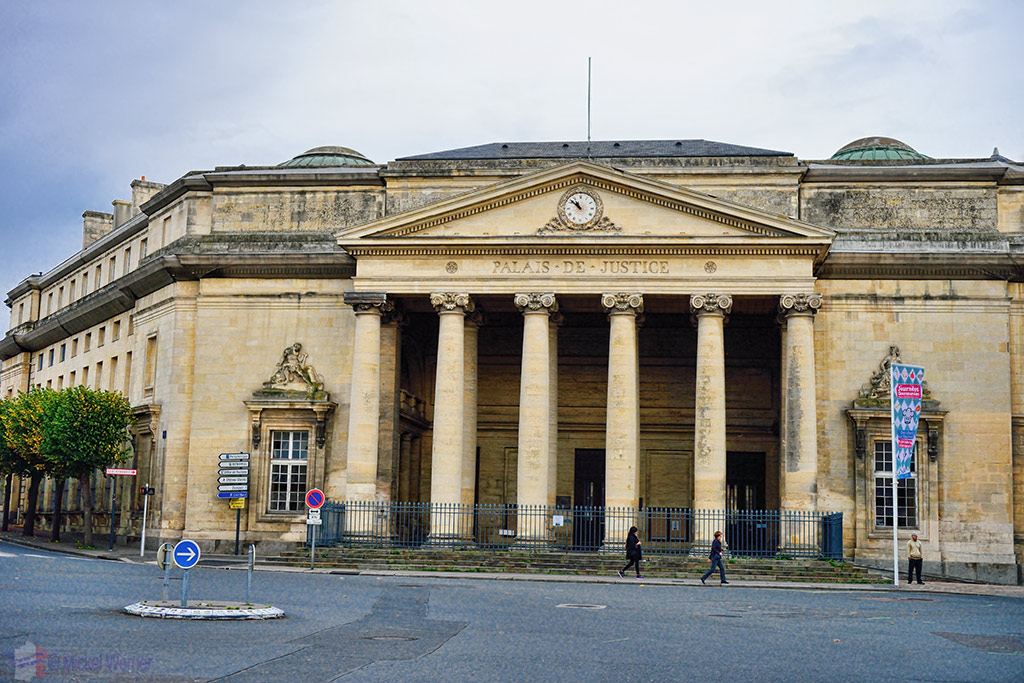 As you would expect, the courts look imposing, however they no longer serve as courts. Built in 1783, the courts have been abandoned for a new building not to far away. The cost of repairing the old building were far superior over building new ones. No information about what will happen with this old building.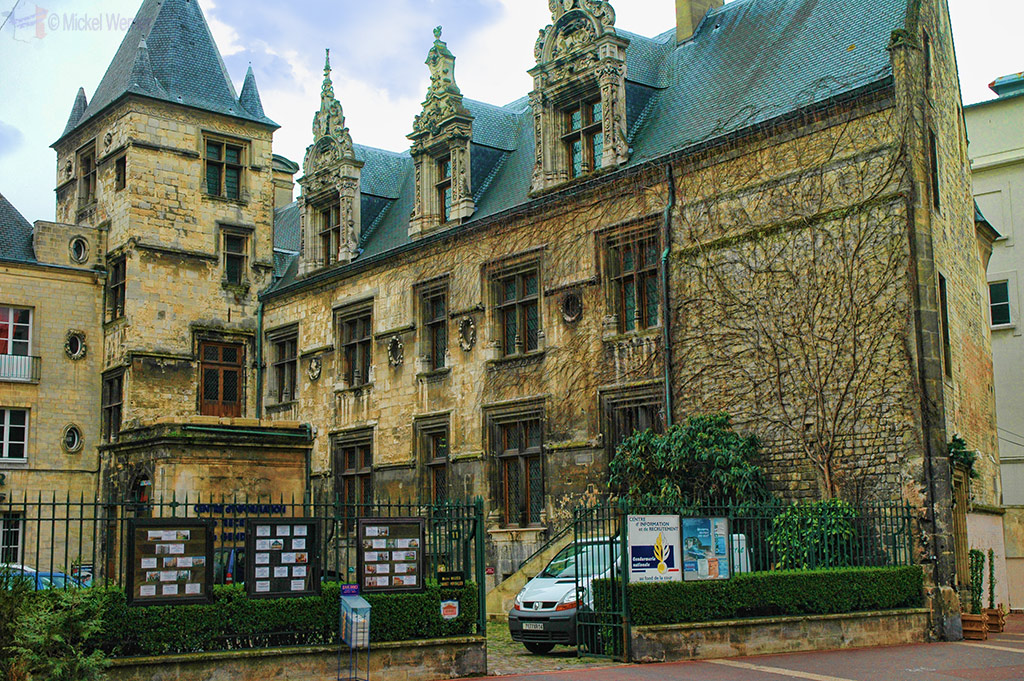 This is the former "Hotel de Than" ("hotel" in French has different meanings, in this case it's house) built in 1520 as private house. Later it became a restaurant (brasserie) and even a cinema. Now it's the recruitment centre for the Gendarmerie (national police, part of the military).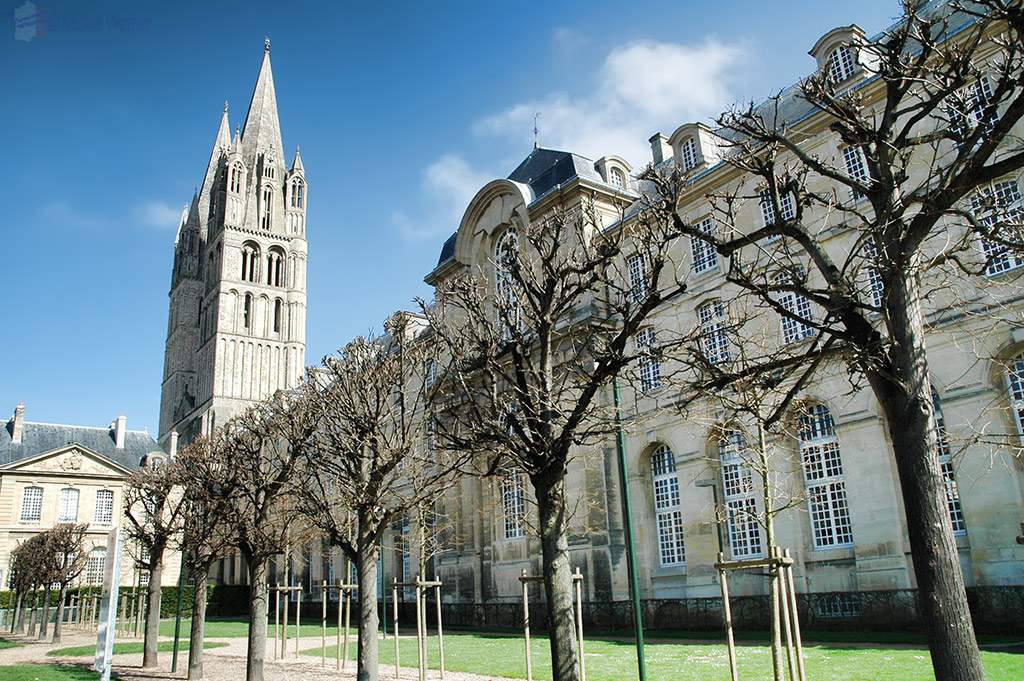 The City Hall (in French "Mairie") is very imposing. It's enormous and built against a church (in fact it's an Abby).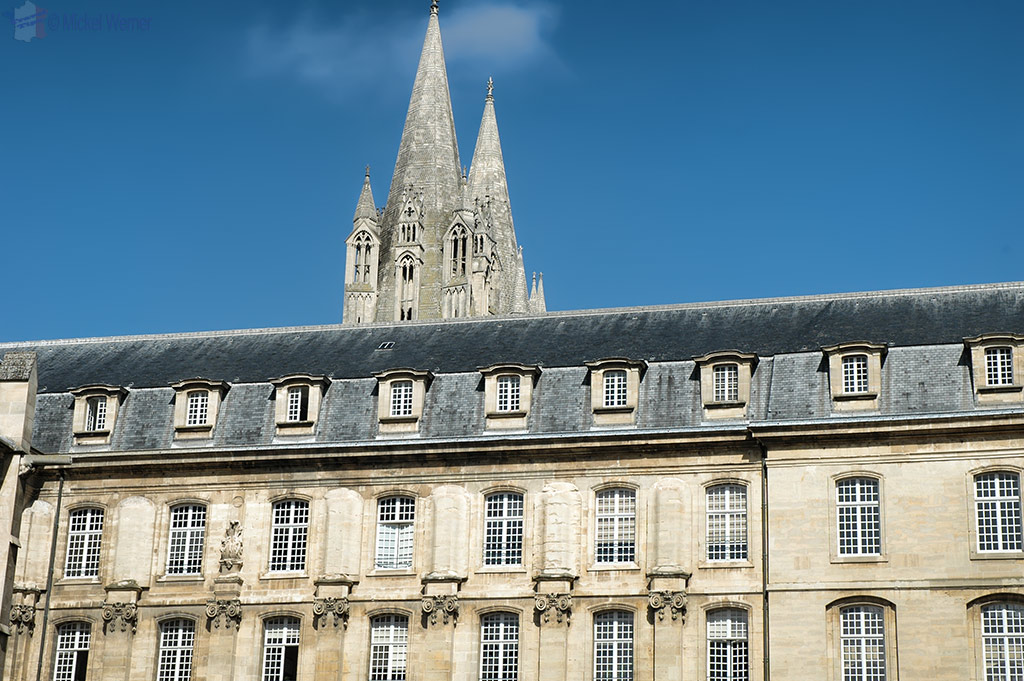 Click here to see more of the City Hall and Men's Abbey of Caen.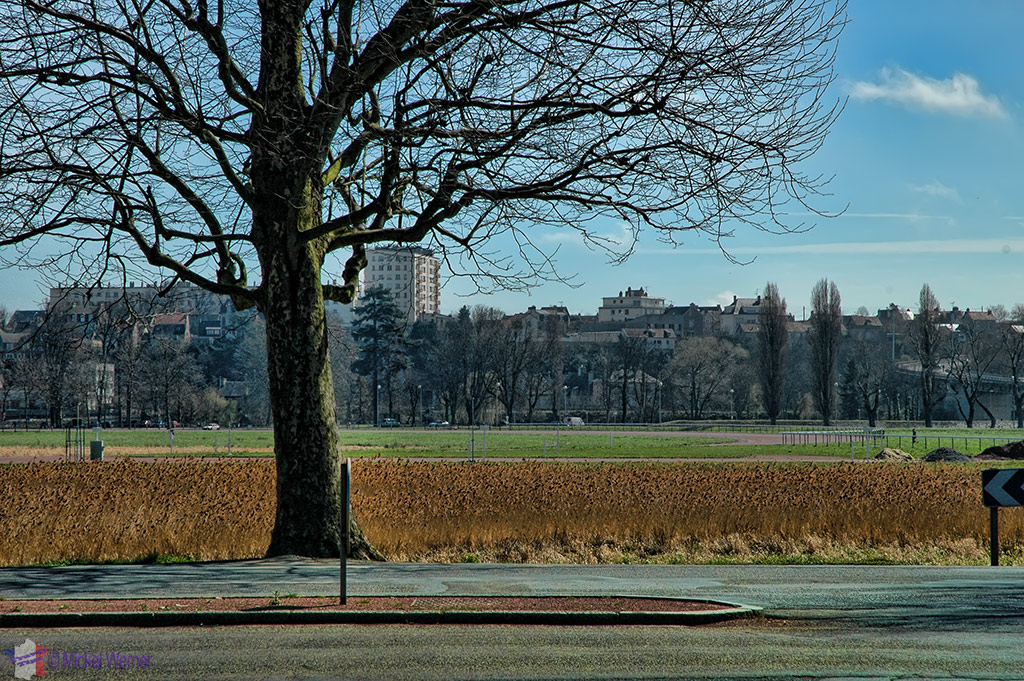 Caen also has a rather big horse racing track in the South of the city centre. It's in a walking distance from the City Hall and shopping streets.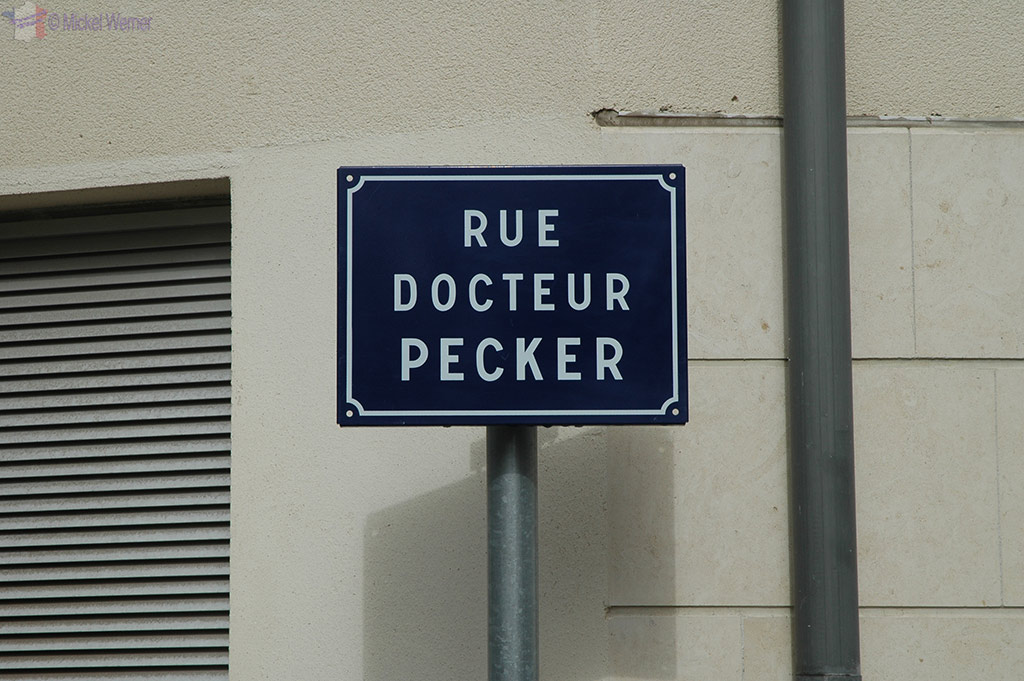 I'm sorry… I just couldn't resist.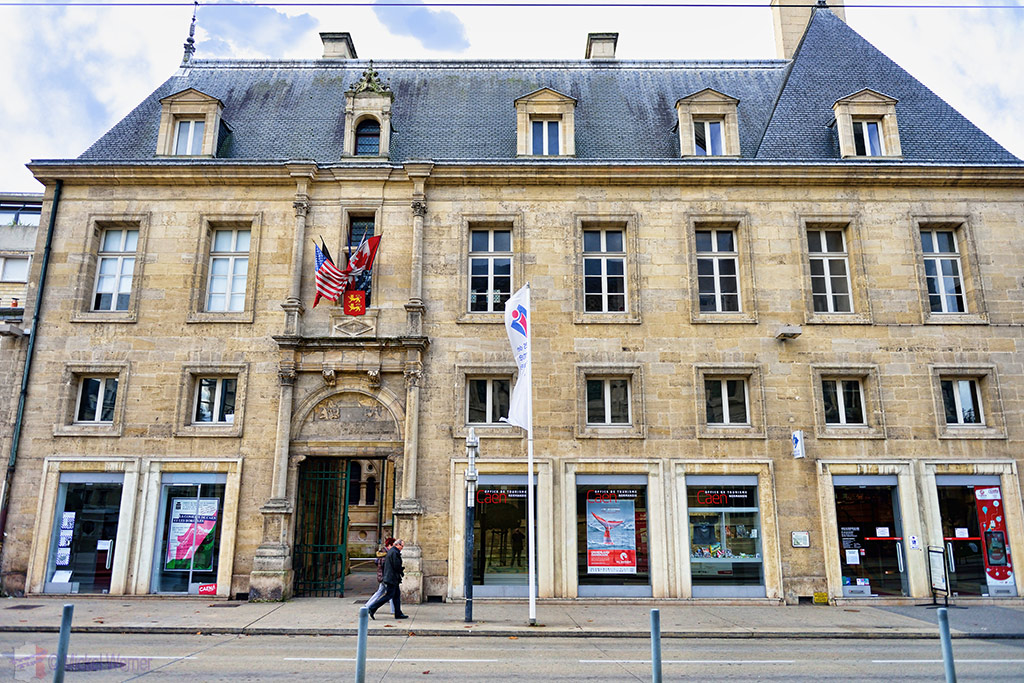 The Tourist Office of Caen, located opposite of the Caen Castle/Fortress, is situated in an old building. As tourist offices go, this one is well stocked with interesting information. But before you go in, go through the gate (on the left of the photo) and have a look.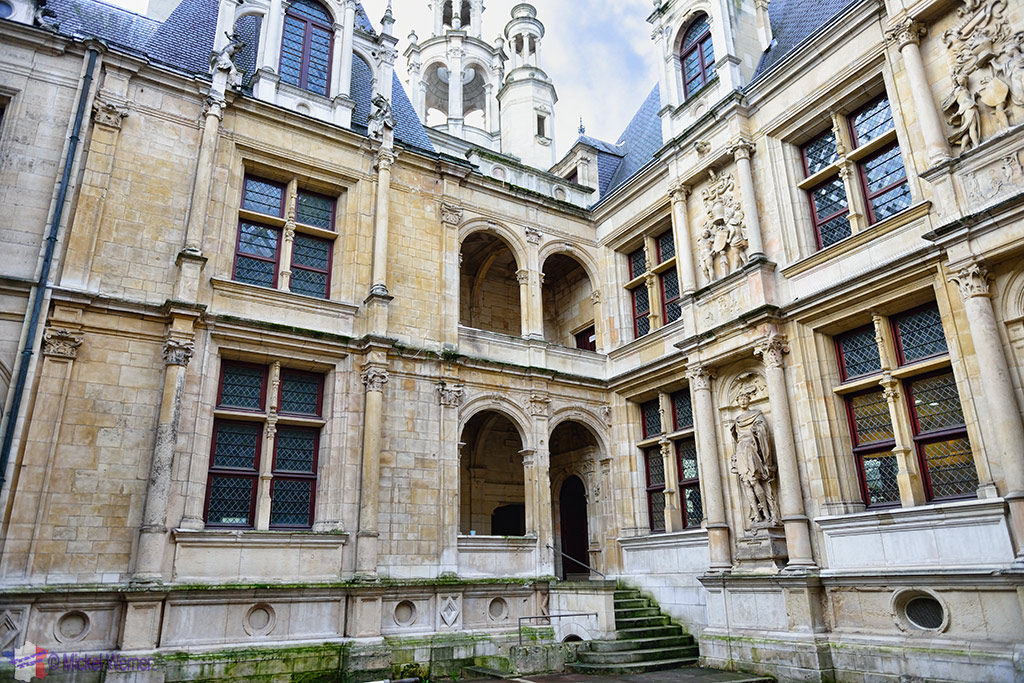 Inside you will find an interesting courtyard. Not bad for a tourist office.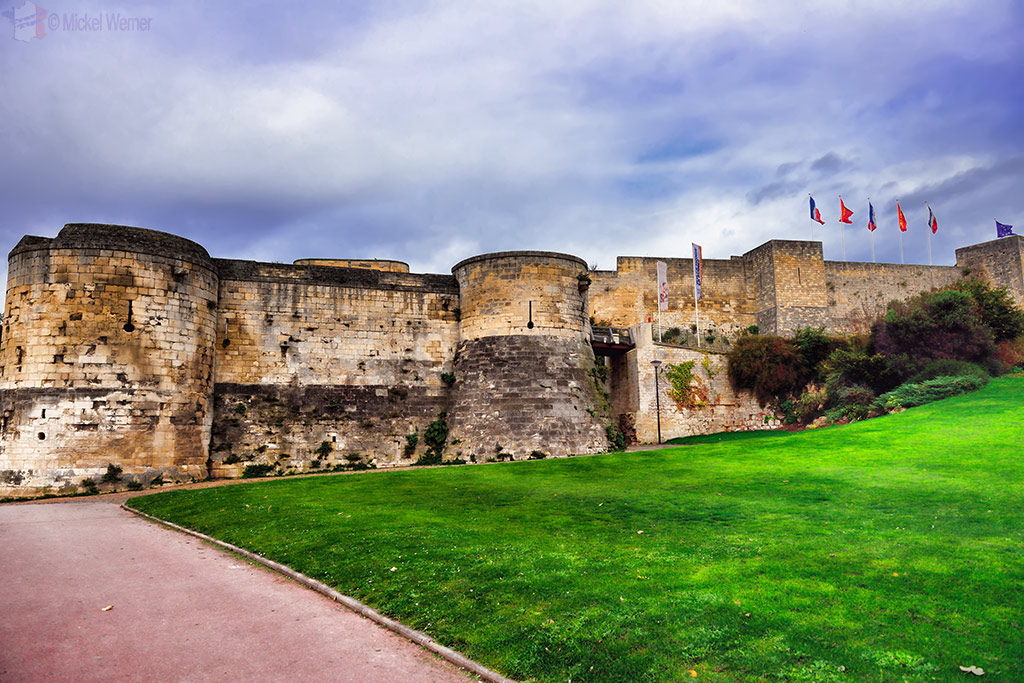 Opposite of the Tourist Office you will find the enormous fortress/castle, called the "Chateau Ducal". For more photos and information on this fortress, click here.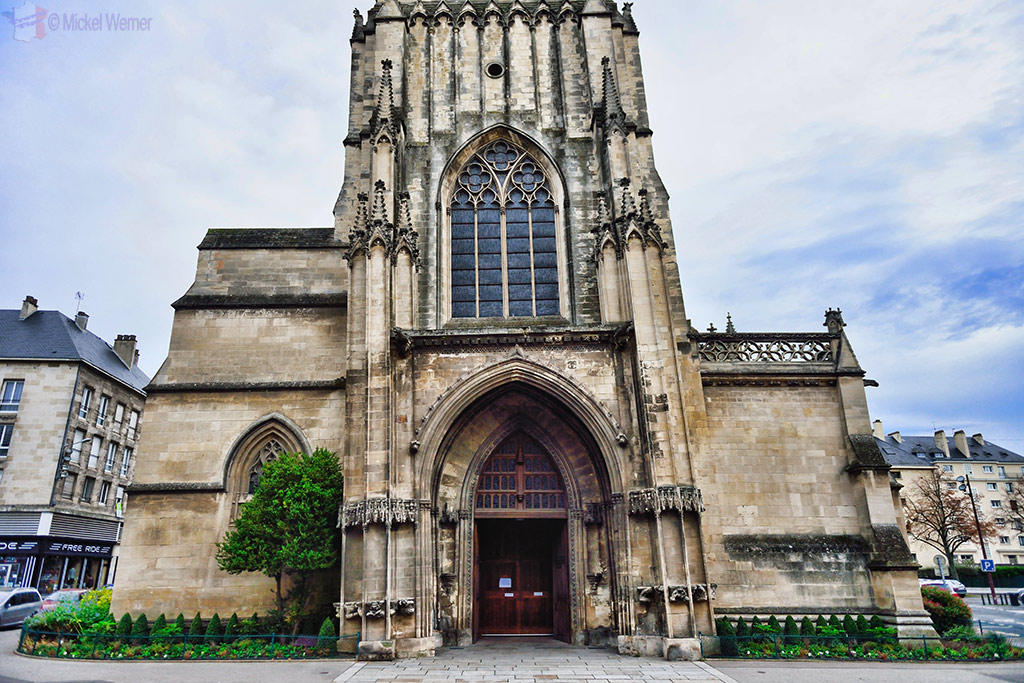 In between the Tourist Office and the Castle is the St. Pierre church. More about this church and other ones in the article "Some of the Churches of Caen".
Caen and the Artists
As is the case with most of Normandy, artists flocked to the region to capture the stunning sceneries help by an amazing light. Even today, you will see painters, photographers and other artists honing their art in the region.
Especially towards the end of the 1700's and 1800's, many artists from all over the world came to make paintings. Here is a list of artists with links to their works:
Artists featured here who painted in Caen (but not limited to) are (a link "⇠" will be placed next to an artist name when their works are published. A "*" means that the artist did NOT work in Caen itself, instead worked in nearby villages and towns):
Summary
Caen is a mixture of a pretty and old city with some not-so-pretty parts. The biggest negative factor, IMHO, is the pollution. You can see it on every monument, every church and even on the castle; black soot, green mold and grime. It's an expensive business cleaning these monuments, so they don't do it every year, so it shows and it's not pretty. Pity.
As a city to walk in, it's nice. Thanks to the many pedestrian streets, you are less bothered by the pollution.
Apart from an airport, Caen also has a ferry operating in a small beach resort town named Ouistreham.
Apart from the interesting fortress, the most important thing to see is the War Memorial. It's unique and very special. More coming on the Memorial shortly. Stay tuned in.
Related Posts