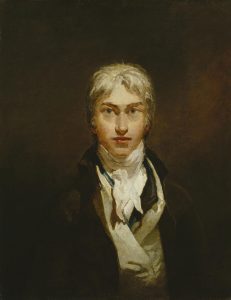 Joseph Mallord William Turner (1775 – 1851) known as William Turner, was an English artist of the Romantic movement. He was a painter, printmaker and a watercolourist. He is known for his expressive colourisations, imaginative landscapes and turbulent, often violent marine paintings.
As a child prodigy he went to art school in London at the age of 14. Although he lived all his live in London, he travelled extensively in Europe, particularly the Normandy area.
Intensely private, eccentric and reclusive, Turner was a controversial figure throughout his career. He did not marry, but fathered two daughters, Eveline (1801–1874) and Georgiana (1811–1843), by his housekeeper Sarah Danby. He became more pessimistic and morose as he got older, especially after the death of his father, after which his outlook deteriorated, his gallery fell into disrepair and neglect, and his art intensified. In 1841 Turner rowed a boat into the Thames so he could not be counted as present at any property.
He lived in squalor and poor health from 1845, and died in London in 1851 aged 76. Turner is buried in Saint Paul's Cathedral, London.
Click here to read Turner's full bio on Wikipedia.
William Turner painted in the following other places in France (but mostly in Normandy), which will be featured eventually on this site. A link "⇠" to those cities will appear below when published.
Auvergne-Rhone-Alpes
Bourgogne-Franche-Comte (Burgundy)
Centre-Val de Loire
Grand Est
Hauts-de-France
Normandy
Pays de la Loire
Provence-Alpes-Cote d'Azur
Related Posts