This page forms part of a series of pages dedicated to the many artists who painted in Dieppe. A full list of all the artists with a link to their works can be found at the bottom of this page.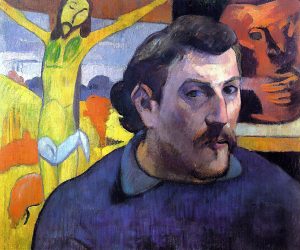 Movement(s): Post Impressionism, Primitivism, Synthetism
Eugene Henri Paul Gauguin (1848 – 1903) was a French Post-Impressionist artist. Unappreciated until after his death, Gauguin is now recognized for his experimental use of color and Synthetist style that were distinct from Impressionism. Toward the end of his life, he spent ten years in French Polynesia. The paintings from this time depict people or landscapes from that region.
His work was influential on the French avant-garde and many modern artists, such as Pablo Picasso and Henri Matisse, and he is well known for his relationship with Vincent and Theo van Gogh. Gauguin's art became popular after his death, partially from the efforts of dealer Ambroise Vollard, who organized exhibitions of his work late in his career and assisted in organizing two important posthumous exhibitions in Paris.
Gauguin was an important figure in the Symbolist movement as a painter, sculptor, printmaker, ceramist, and writer. His expression of the inherent meaning of the subjects in his paintings, under the influence of the cloisonnist style, paved the way for Primitivism and the return to the pastoral. He was also an influential proponent of wood engraving and woodcuts as art forms.
Gauguin was born in Paris to Clovis Gauguin and Aline Chazal on 7 June 1848. His birth coincided with revolutionary upheavals throughout Europe that year. His father, a 34-year-old liberal journalist, came from a family of entrepreneurs residing in Orleans. He was compelled to flee France when the newspaper for which he wrote was suppressed by French authorities. Gauguin's mother was the 22-year-old daughter of Andre Chazal, an engraver, and Flora Tristan, an author and activist in early socialist movements. Their union ended when Andre assaulted his wife Flora and was sentenced to prison for attempted murder.
In 1873, around the same time as he became a stockbroker, Gauguin began painting in his free time. His Parisian life centred on the 9th arrondissement of Paris. Gauguin lived at 15, rue la Bruyère. Nearby were the cafes frequented by the Impressionists. Gauguin also visited galleries frequently and purchased work by emerging artists. He formed a friendship with Camille Pissarro and visited him on Sundays to paint in his garden. Pissarro introduced him to various other artists. In 1877 Gauguin "moved downmarket and across the river to the poorer, newer, urban sprawls" of Vaugirard. Here, on the third floor at 8 rue Carcel, he had the first home in which he had a studio.
Click here to read the VERY long bio of Gauguin on Wikipedia.
NOTE: Click on any image below for a bigger version (no new window will open).
Paul Gauguin painted mostly in Paris and overseas (Martinique and Tahiti). He did however paint in the following places in France (a link "⇠" to his works will appear below when published):
Dieppe in Normandy was a popular place for artists to come and apply their art. Here is a list, non exhaustive, of the artists that painted in Dieppe.
A link ("⇠") to the artist's works will appear when published (a "*" indicates that the artist did not work directly in Dieppe, instead worked in nearby villages):
NOTE: You can subscribe to our new articles by entering your email address in the box on the right column (or at the very bottom of this article) and clicking on the button "Subscribe".

You will need to check your incoming emails and validate your subscription. If you can't see an email from us, check your Spam folder. Without validating your email address, you will not get notifications from us. WE WILL NEVER GIVE YOUR EMAIL ADDRESSES TO ANYONE!
Related Posts
85

Maurice Brazil Prendergast (1858 – 1924) was an American Post-Impressionist artist who worked in oil, watercolor, and monotype. Here is the one painting of his we found which he made in Dieppe, Normandy.

85

Gustave Loiseau was a French Post-Impressionist painter, remembered above all for his landscapes and scenes of Paris streets. However he did paint a lot in Normandy. Here are many of his works he made in Dieppe, Normandy.

80

Othon Friesz, a Le Havre born artist and lifelong friend of Raoul Dufy, painted between Normandy and Paris. Here are his (few) works we found which he made in Dieppe, Normandy.