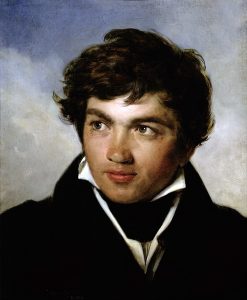 Achille Etna Michallon (1796–1822) was a French painter. Michallon was the son of the sculptor Claude Michallon and nephew of the sculptor Guillaume Francin.
He studied under Jacques-Louis David and Pierre-Henri de Valenciennes. In 1817, Michallon won the inaugural Prix de Rome for landscape painting. He travelled to Italy in 1818 and remained there for over two years. This trip had a profound influence on his work.
Before he had much time to develop what he had learned however, he died at the age of 25 of pneumonia, a tragedy which cut short the life of a talented and well respected artist who could have gone on to win lasting fame.
Though it is often disputed, it is thought that at one time, Corot was his pupil.
Click here to read his Michallon's bio on Wikipedia.
Apart from Paris, Michallon painted mostly in Italy, but he did make a few paintings in Normandy. Here are the places he painted in (a link "⇠" to his works will appear when published).
Related Posts
95

Alfred Montague (1832 - 1883) was a British painter born in London. Not much, if anything, is known about this British artist.

95

Claude-Joseph Vernet (1714 – 1789) was a French painter. His son, Antoine Charles Horace Vernet, was also a painter.

94

Florent Fidèle Constant Bourgeois (1767 – 1841) was a French landscape painter, engraver, and lithographer. He studied under Jacques-Louis David, but spent much of his time in Italy.

94

Jacques Guiaud (1810 - 1876) was a French painter and engraver; known for landscapes, cityscapes, historical scenes and assorted watercolors.