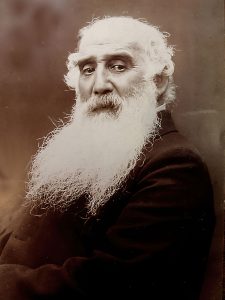 Movement(s): Impressionism, Neo Impressionism, Post Impressionism
Camille Pissarro (1830 – 1903) was a Danish-French Impressionist and Neo-Impressionist painter. He was born on the island of St. Thomas (when it was still in hands of Denmark). He is recognised as being important and an influencer in the impressionist movement.
In 1859 his first painting was accepted and exhibited. His other paintings during that period were influenced by Camille Corot, who tutored him. He and Corot both shared a love of rural scenes painted from nature. It was by Corot that Pissarro was inspired to paint outdoors, also called "plein air" painting. Pissarro found Corot, along with the work of Gustave Courbet, to be "statements of pictorial truth," writes Rewald. He discussed their work often. Jean-François Millet was another whose work he admired, especially his "sentimental renditions of rural life".
As the recognised "Dean of Impressionists", he became friends with the likes of Claude Monet, Paul Cezanne and several other who have become famous later on.
In 1903 Pissarro was seeing hard times and needed money. A businessman in Le Havre commissioned him to make 24 paintings of the harbour of Le Havre. Most of them were made out of his hotel room.
Pissarro had quite an active life as a painter, and was controversial. Click here to read Pissarro's full bio on Wikipedia.
Pissarro painted mostly in Normandy and a few other places in France (plus some places abroad), which will be featured eventually on this site. A link "⇠" to those cities will appear below.
Bourgogne-Franche-Comte (Burgundy)
Grand Est
Normandy

Bazincourt-sur-Epte
Dieppe (and surroundings) ⇠
Fecamp (surrounding only) ⇠
Gisors (and surroundings)
Hebecourt

Provence-Alpes-Cote d'Azur
Related Posts