This page forms part of a series of pages dedicated to the many artists who painted in Dieppe. A full list of all the artists with a link to their works can be found at the bottom of this page.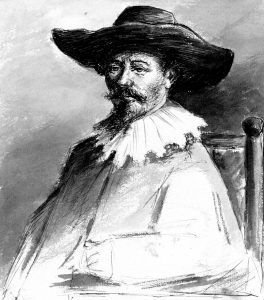 Movement(s): Baroque
Lambert Doomer (1624 – 1700) was a Dutch Golden Age landscape painter. Doomer was the third of nine children of Herman Doomer (1595–1650) and his wife Baertje Martens, who ran a successful business in ebony-veneer furniture. Lambert was trained as a furniture maker like his father, but seemed to enjoy drawing more than woodworking and he became an artist. It is not known who trained him, but since his father supplied frames for Rembrandt, he probably had access to a teacher within his father's network. Rembrandt painted portraits of his parents for their 25th wedding anniversary, which was unusual at the time, in 1638.
To finish his education, Lambert traveled to France with Willem Schellinks who was three years younger than he was, in 1646. They both made extensive drawings of this trip and Schellinks drawings are kept in the Fondation Custodia in Paris, the foundation started by Frits Lugt. Their destination was Nantes, where two of Doomer's brothers lived, but they argued and split up. They then embarked on a trip to England, and though both were on the same ship, they are not mentioned in each other's journals.
Doomer seems to have done well as a painter. He was able to buy at auction a large amount of Rembrandt drawings and sketchbooks after that artist's bankruptcy in 1657. It is from his meticulous copies of these drawings that others concluded that he was a Rembrandt pupil, but that is not certain.
At the end of his life he moved to Amsterdam in 1694, where he later died.
Click here to read the full bio of Doomer on Wikipedia.
NOTE: Click on the image below for a bigger version (no new window will open).
Doomer painted mostly in Nantes when he was in France, however, he did paint in the several cities in Normandy (a link "⇠" to his works will appear below when published):
Dieppe in Normandy was a popular place for artists to come and apply their art. Here is a list, non exhaustive, of the artists that painted in Dieppe.
A link ("⇠") to the artist's works will appear when published (a "*" indicates that the artist did not work directly in Dieppe, instead worked in nearby villages):
NOTE: You can subscribe to our new articles by entering your email address in the box on the right column (or at the very bottom of this article) and clicking on the button "Subscribe".

You will need to check your incoming emails and validate your subscription. If you can't see an email from us, check your Spam folder. Without validating your email address, you will not get notifications from us. WE WILL NEVER GIVE YOUR EMAIL ADDRESSES TO ANYONE!
Related Posts
88

Alfred Montague (1832 - 1883) was a British painter born in London. Not much, if anything, is known about this British artist. Here are his works for Dieppe, Normandy.

88

Johan Barthold Jongkind was a Dutch painter and printmaker. He painted marine landscapes in a free manner and is regarded as a forerunner of Impressionism. Here is the only painting of his we found which he made in Dieppe, Normandy.

88

Claude-Joseph Vernet (1714 – 1789) was a French painter. His son, Antoine Charles Horace Vernet, was also a painter. Here are his paintings he made in Dieppe, Normandy.

87

Theodore Alexander Weber (1838 - 1907) was born in Leipzig, Germany and died in Paris, France. He was a German painter who took the French nationality in 1878. Here are his works for Dieppe, Normandy.