This page forms part of a series of pages dedicated to the many artists who worked in Le Havre. A full list of all the artists with a link to their works can be found at the bottom of this page.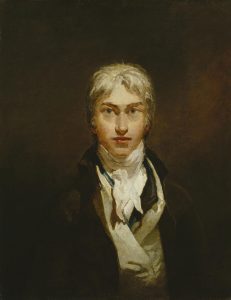 Joseph Mallord William Turner (1775 – 1851) known as William Turner, was an English artist of the Romantic movement. He was a painter, printmaker and a watercolourist. He is known for his expressive colourisations, imaginative landscapes and turbulent, often violent marine paintings.
As a child prodigy he went to art school in London at the age of 14. Although he lived all his live in London, he travelled extensively in Europe, particularly the Normandy area.
Intensely private, eccentric and reclusive, Turner was a controversial figure throughout his career. He did not marry, but fathered two daughters, Eveline (1801–1874) and Georgiana (1811–1843), by his housekeeper Sarah Danby. He became more pessimistic and morose as he got older, especially after the death of his father, after which his outlook deteriorated, his gallery fell into disrepair and neglect, and his art intensified. In 1841 Turner rowed a boat into the Thames so he could not be counted as present at any property.
He lived in squalor and poor health from 1845, and died in London in 1851 aged 76. Turner is buried in Saint Paul's Cathedral, London.
Click here to read Turner's full bio on Wikipedia.
NOTE: Click on any image below for a bigger version (no new window will open).
NOTE: A black box like this one, means that there is an explanation text about today's situation of the painting above it.
NOTE: Click on this photo icon
anywhere below a painting to see a photo of what the area looks like today.
NOTE: A blue box like this one, means there is an explanation or a note.
NOTE: The Cap de la Heve is the highest point North of Le Havre, but forming part of the suburb Sainte-Adresse. Today there is only one lighthouse remaining. Click here to read more about the lighthouse on our site.
NOTE: The "Fort de Sainte-Adresse" are now called the Jardin Suspendu (Hanging Gardens), and the whole fort has been turned into an enormous garden. Click here to read more about the Jardin Suspendu on our site.
NOTE: The Cathedral Notre-Dame still exists but was heavily bombed by the Allies during WWII. It has since then been reconstructed. Click here to read more about the Cathedral on our site.
NOTE: Named after King Francois the First, the founder of Le Havre, the tower no longer exists.
NOTE: Sainte-Adresse is the suburb/closest neighbouring city for Le Havre.
Harfleur
Harfleur (population: 8300) is a small city located close to Le Havre on the East. It's a suburb of Le Havre.
Lillebonne
The city of Lillebonne (population: 9,000) lies to the East of Le Havre. It is known for a rather big roman amphitheatre.
NOTE: Not much is left of the castle, which once belonged to William the Conqueror.
Montivilliers
Montivilliers (population: 16,000) is a small city located to the immediate North of Le Havre. It's the area where today you find the commercial shopping centres.
Quillebeuf-sur-Seine
Quillebeuf, now called Quillebeuf-sur-Seine, lies in another "departement" (=state) then the one Le Havre lies in, but it lies close to Le Havre. It is located to the East and is situated on the Seine river.
Tancarville
The town of Tancarville (population: 1,300) lies to the East of Le Havre along the Seine. It is home to one of the important bridges in the area, the "Pont de Tancarville" that connects the motorway from Paris to Le Havre.
TODAY: The castle pictured above still exists. It's an 11th century castle.
William Turner painted in the following other places in France (but mostly in Normandy), which will be featured eventually on this site. A link "⇠" to those cities will appear below when published.
Auvergne-Rhone-Alpes
Bourgogne-Franche-Comte (Burgundy)
Centre-Val de Loire
Grand Est
Hauts-de-France
Normandy
Pays de la Loire
Provence-Alpes-Cote d'Azur
Here are the painters/artists who painted in Le Havre (a "*" indicates that the artist did not worked directly in Le Havre itself, instead worked closeby, a link "⇠" to the artist's works will appear below when published):
NOTE: You can subscribe to our new articles by entering your email address in the box on the right column (or at the very bottom of this article) and clicking on the button "Subscribe".

You will need to check your incoming emails and validate your subscription. If you can't see an email from us, check your Spam folder. Without validating your email address, you will not get notifications from us. WE WILL NEVER GIVE YOUR EMAIL ADDRESSES TO ANYONE!
Related Posts