This page forms part of a series of pages dedicated to the many artists who worked in Le Havre. A full list of all the artists with a link to their works can be found at the bottom of this page.
NOTE: To our knowledge, Le Sidaner did not work in Le Havre itself, but instead worked in nearby Harfleur.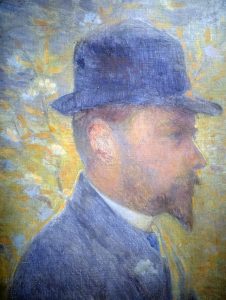 Movement(s): Post Impressionism
Henri Eugene Augustin Le Sidaner (1862 – 1939) who was a contemporary of the Post-impressionists, was an intimist painter known for his paintings of domestic interiors and quiet street scenes. His style contained elements of impressionism with the influences of Edouard Manet, Monet and of the Pointillists discernible in his work. Le Sidaner favoured a subdued use of colour, preferring nuanced greys and opals applied with uneven, dappled brushstrokes to create atmosphere and mysticism. A skilled nocturne painter he travelled widely throughout France and Europe before settling at Gerberoy in the Picardy countryside from where he painted for over thirty years.
Henri Le Sidaner was born at Port Louis in Mauritius, where his Breton parents Jean Marie and Amelie Henrietta (née Robberechts) were living. His father Jean Marie was a ship inspector for Lloyd's whose business took the family back to France in 1872. The remainder of his childhood was spent in Dunkerque where he attended the College et Lycee Notre Dame des Dunes and where he met and befriended Eugene Chigot who was to become a lifelong friend and supporter.
Le Sidaner's paintings and pastels were widely collected throughout his career. His seductive views of the gardens he created in the ruins of the medieval fortress at Gerberoy, with their recently vacated tables dappled in sunlight and overhung by roses, have cemented his reputation as a unique artist who does not fit easily into an art movement.
Click here to read more about Le Sidaner on Wikipedia.
NOTE: Click on any image below for a bigger version (no new window will open).
Harfleur
Harfleur (population: 8300) is a small city located close to Le Havre on the East. It's a suburb of Le Havre.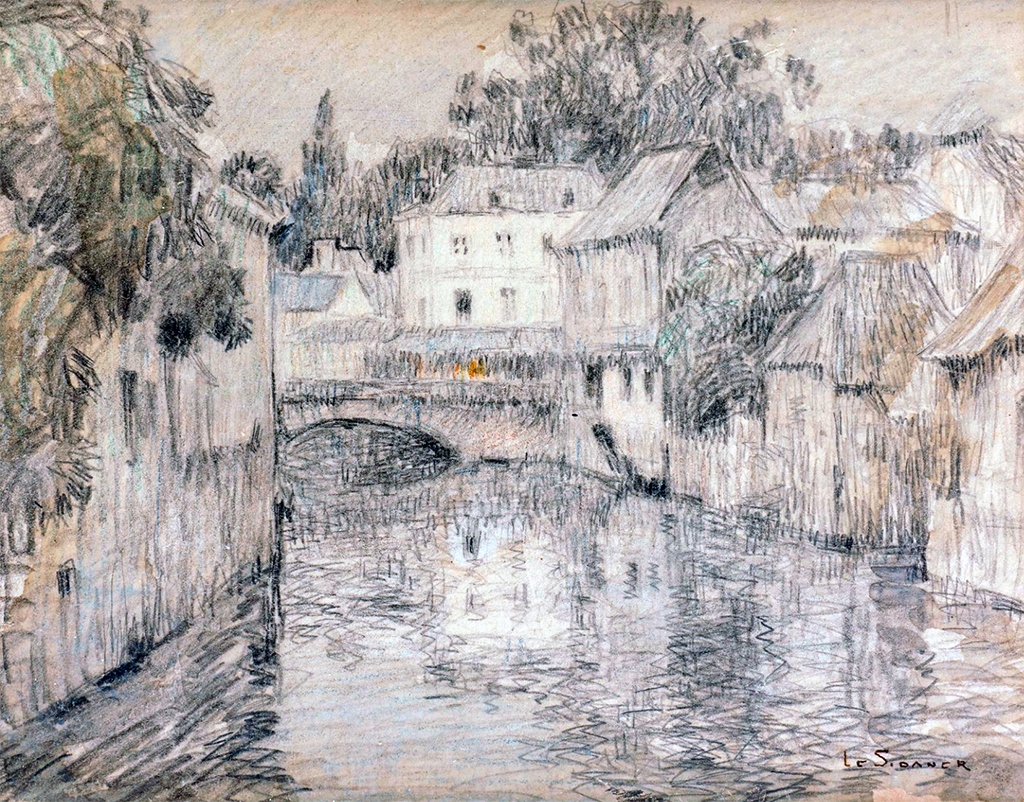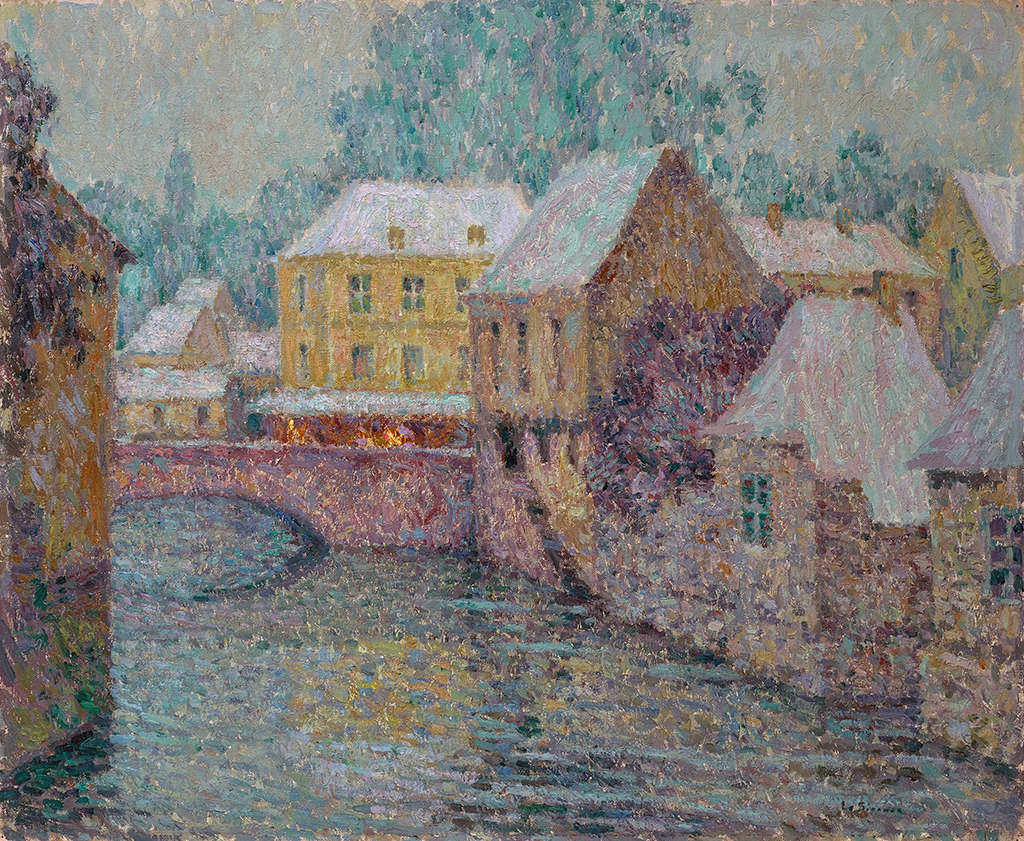 Henri Le Sidaner painted all over France, in almost every "departement". Here is a list of places we found that he applied his art (a link "⇠" will appear to his works for that city when published).
Auvergne-Rhone-Alpes
Brittany

Guingamp
Pont-Aven
Quimperle
Treguier

Centre-Val de Loire
Grand Est
Hauts-de-France

Beauvais
Berck
Etaples
Gerberoy

Normandy
Pays de la Loire
Provence-Alpes-Cote d'Azur.

Saint-Jean-Cap-Ferrat
Villefranche-sur-Mer
Here are the painters/artists who painted in Le Havre (a "*" indicates that the artist did not worked directly in Le Havre itself, instead worked closeby, a link "⇠" to the artist's works will appear below when published):
NOTE: You can subscribe to our new articles by entering your email address in the box on the right column (or at the very bottom of this article) and clicking on the button "Subscribe".

You will need to check your incoming emails and validate your subscription. If you can't see an email from us, check your Spam folder. Without validating your email address, you will not get notifications from us. WE WILL NEVER GIVE YOUR EMAIL ADDRESSES TO ANYONE!
Related Posts
98

Georges William Thornley (1857 – 1935) was a French painter and printmaker. He was the son of a Welsh immigrant Morgan Thornley. He travelled a lot in Normandy and Brittany. He was also know for making lithographs for his fellow artist friends like Claude Monet, Pissarro etc. We found only…

98

Gustave Loiseau was a French Post-Impressionist painter, remembered above all for his landscapes and scenes of Paris streets. He painted a lot in Normandy, but only one painting in Le Havre. Here it is.

93

Paul Lucien Maze (1887 – 1979) was an Anglo-French painter. He is often known as "The last of the Post Impressionists" and was one of the great artists of his generation. His mediums included oils, watercolours and pastels and his paintings include French maritime scenes, busy New York City scenes…