This page forms part of a series of pages dedicated to the many artists who worked in Le Havre. A full list of all the artists with a link to their works can be found at the bottom of this page.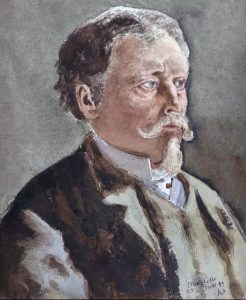 Movement(s): Orientalism
Etienne Eugene Ciceri (1813 – 1890) was a French painter, illustrator, engraver and theatrical designer. He came from an artistic family. His father was the scenographer, Pierre-Luc-Charles Ciceri. He was also the grandson of the painter Jean-Baptiste Isabey, and his mother's brother was the painter Eugene Isabey.
He received his first lessons from his father and his uncle and became influenced by the Barbizon School while still young. He decided to specialize in landscapes and was one of the first artists to work in Bourron-Marlotte, where he settled in 1849.
He was also a watercolorist and published albums of lithographs based on photographs; breaking with his Romantic predecessors to present scenes realistically. One of his most popular albums was derived from trips he made to the Alps and the Pyrenees: Les Pyrénées dessinees d'après nature et lithographiees and La Suisse et la Savoie, based on photographs by Frederic Martens [fr] taken from 1859 to 1865.
Later, he was one of the artists who participated in illustrating the travel writings of Baron Taylor and Charles Nodier, collected as Voyages pittoresques et romantiques dans l'ancienne France, featuring views of Brittany. A few of his works were done in North Africa, gaining him a reputation as an Orientalist.
Like his father, he also did theatrical set designs and some decorative work; notably at the Chateau de Montmort.
Click here to read Cicieri's full bio on Wikipedia.
NOTE: Click on the image below for a bigger version (no new window will open).
NOTE: To our knowledge, Ciceri did not work in Le Havre itself, but instead worked in nearby Montivilliers.
Montivilliers
Montivilliers (population: 16,000) is a small city located to the immediate North of Le Havre. It's the area where today you find the commercial shopping centres.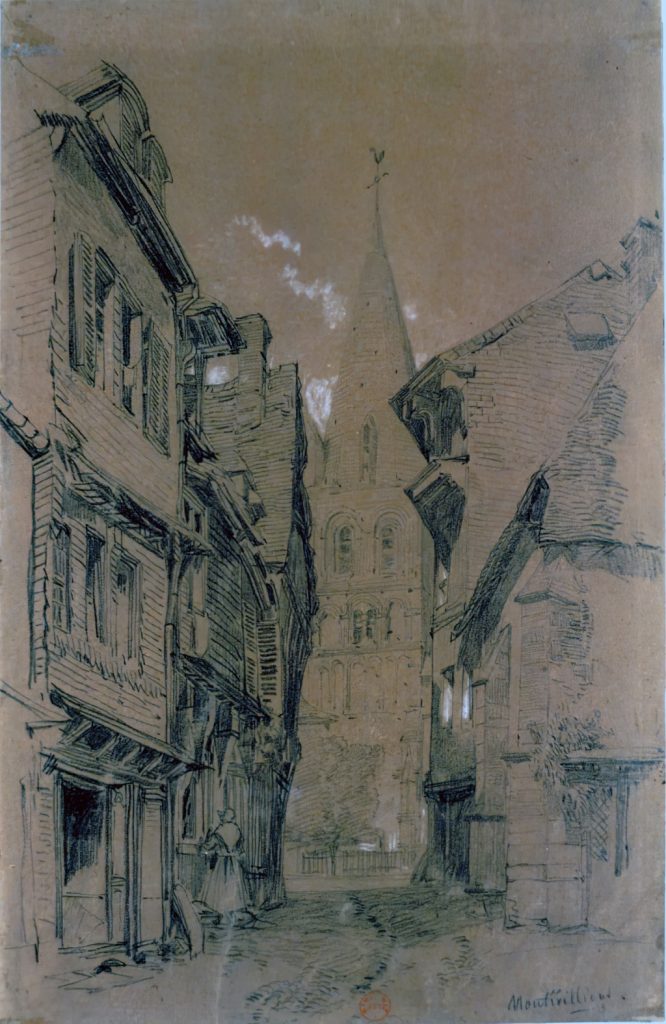 Eugene Ciceri applied his arts all over France. Here are most of the places he painted in. A "⇠" will appear next to the places he painted in when published.
Auvergne-Rhone-Alpes

Allier
Saint-Pierre-d'Albigny

Bourgogne-Franche-Comte (Burgundy)
Brittany

Brest
Carnac
Chateaulin
Dinan
Elven
La Roche-Maurice
Morlaix
Pointe Saint-Mathieu
Quimperlé
Sarzeau

Grand Est
Normandy
Nouvelle-Aquitaine
Occitanie
Pays de la Loire
Here are the painters/artists who painted in Le Havre (a "*" indicates that the artist did not worked directly in Le Havre itself, instead worked closeby, a link "⇠" to the artist's works will appear below when published):
NOTE: You can subscribe to our new articles by entering your email address in the box on the right column (or at the very bottom of this article) and clicking on the button "Subscribe".

You will need to check your incoming emails and validate your subscription. If you can't see an email from us, check your Spam folder. Without validating your email address, you will not get notifications from us. WE WILL NEVER GIVE YOUR EMAIL ADDRESSES TO ANYONE!
Related Posts
96

Adrien Dauzats was a French landscape, genre painter and painter of Oriental subject matter. He travelled extensively throughout the Middle East and illustrated a number of books for the travel writer, Baron Taylor. Despite travelling extensively in the Middle East, he also painted a lot on France. Here is a…

90

Jules Achille Noël, born Louis Assez Noël (1815-1881) was a French landscape and maritime painter who worked primarily in Brittany and Normandy. His style was compared to Eugène Isabey and he won the praise of Baudelaire. Here are his works dealing with the city of Le Havre.

90

Alexander Beggrov, a Russian artist/painter, who travelled all over the world for the Russian Navy. He only painted one painting in Le Havre.

90

Marie Anataole Gaston Roullet (1847 - 1925), is a French painter and illustrator, appointed official painter of the Colonies and the Navy in 1885. Roullet was a pupil of Jules Noel, whose daughter, Marie-Caroline, he married in 1874. Appointed painter to the Navy and the departments of the Colonies, Roullet…