This page forms part of a series of pages dedicated to the many artists who painted in Le Havre. A full list of all the artists with a link to their works can be found at the bottom of this page.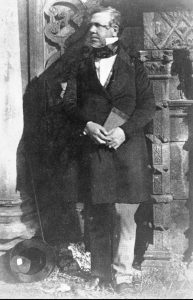 Hubert Robert (1733 – 1808) was a French painter in the school of Romanticism, noted especially for his landscape paintings and capricci, or semi-fictitious picturesque depictions of ruins in Italy and of France.
Hubert Robert was born in Paris in 1733. His father, Nicolas Robert, was in the service of François-Joseph de Choiseul, marquis de Stainville a leading diplomat from Lorraine. Young Robert finished his studies with the Jesuits at the College de Navarre in 1751 and entered the atelier of the sculptor Michel-Ange Slodtz who taught him design and perspective but encouraged him to turn to painting.
In 1754 he left for Rome in the train of Etienne-François de Choiseul, son of his father's employer, who had been named French ambassador and would become a Secretary of State for Foreign Affairs to Louis XV in 1758.
He spent fully eleven years in Rome, a remarkable length of time; after the young artist's official residence at the French Academy in Rome ran out, he supported himself by works he produced for visiting connoisseurs like the abbe de Saint-Non, who took Robert to Naples in April 1760 to visit the ruins of Pompeii. The marquis de Marigny, director of the Bâtiments du Roi kept abreast of his development in correspondence with Natoire, director of the French Academy, who urged the pensionnaires to sketch out-of-doors, from nature: Robert needed no urging; drawings from his sketchbooks document his travels: Villa d'Este, Caprarola.
His success on his return to Paris in 1765 was rapid: the following year he was received by the Academie royale de peinture et de sculpture, with a Roman capriccio, The Port of Rome, ornamented with different Monuments of Architecture, Ancient and Modern.
Robert was arrested in October 1793, during the French Revolution. During the ten months of his detention at Sainte-Pelagie and Saint-Lazare he made many drawings, painted at least 53 canvases, and painted numerous vignettes of prison life on plates. He was freed one week after the fall of Robespierre. Robert narrowly escaped the guillotine when through error another prisoner with a similar name was guillotined in his place.
Subsequently, he was placed on the committee of five in charge of the new national museum at the Palais du Louvre.
Robert died of a stroke on 15 April 1808.
Click here to read Roberty's full bio on Wikipedia.
NOTE: Click on the image below for a bigger version (no new window will open).
TODAY: The citadel no longer exists, not even in parts.
Hubert Robert painted mostly in Italy (Rome) and Paris, but did manage to paint in a few other places in France, here they are. A link (⇠) to his works will appear for each place when published:
Here are the painters/artists who painted in Le Havre (a "*" indicates that the artist did not worked directly in Le Havre itself, instead worked closeby, a link "⇠" to the artist's works will appear below when published):
NOTE: You can subscribe to our new articles by entering your email address in the box on the right column (or at the very bottom of this article) and clicking on the button "Subscribe".

You will need to check your incoming emails and validate your subscription. If you can't see an email from us, check your Spam folder. Without validating your email address, you will not get notifications from us. WE WILL NEVER GIVE YOUR EMAIL ADDRESSES TO ANYONE!
Related Posts