This page forms part of a series of pages dedicated to the many artists who painted in Le Havre. A full list of all the artists with a link to their works can be found at the bottom of this page.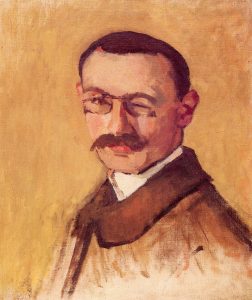 Movement(s): Fauvism
Albert Marquet (1875 – 1947), born in Bordeaux, was a French painter, associated with the Fauvist movement. He initially became one of the Fauve painters and a lifelong friend of Henri Matisse.
In 1890 he moved to Paris to attend the Ecole des Arts Decoratifs, where he met Henri Matisse. They were roommates for a time, and they influenced each other's work.
Dismayed by the intense coloration in these paintings, critics reacted by naming the artists the "Fauves", i.e. the wild beasts. Although Marquet painted with the fauves for years, he used less bright and violent colours than the others, and emphasized less intense tones made by mixing complementaries, thus always as colors and never as grays.
Marquet subsequently painted in a more naturalistic style, primarily landscapes, but also several portraits and, between 1910 and 1914, several female nude paintings.
Marquet was particularly revered by the American painters Leland Bell and his wife Louisa Matthiasdottir. He was also revered by Bell's contemporaries Al Kresch and Gabriel Laderman. Since both Bell and Laderman were teachers in several American art schools, they have had an influence on younger American figurative artists and their appreciation of Marquet.
Click here to read Marquet's full bio on Wikipedia.
NOTE: Click on any image below for a bigger version (no new window will open).
NOTE: A black box like this one, means that there is an explanation text about today's situation of the painting above it.
NOTE: Click on this photo icon
anywhere below a painting to see a photo of what the area looks like today.
NOTE: A blue box like this one, means there is an explanation or a note.
NOTE: As you would expect, the national holiday on the 14th of July (also known as Bastille Day), is heavily celebrated, culminating on a massive fireworks display at the beach. Other artists like Raoul Dufy painted the same scene.
NOTE: Today, the dock area has been transformed into a shopping centre, cinema, conference center and sports/theatre arena.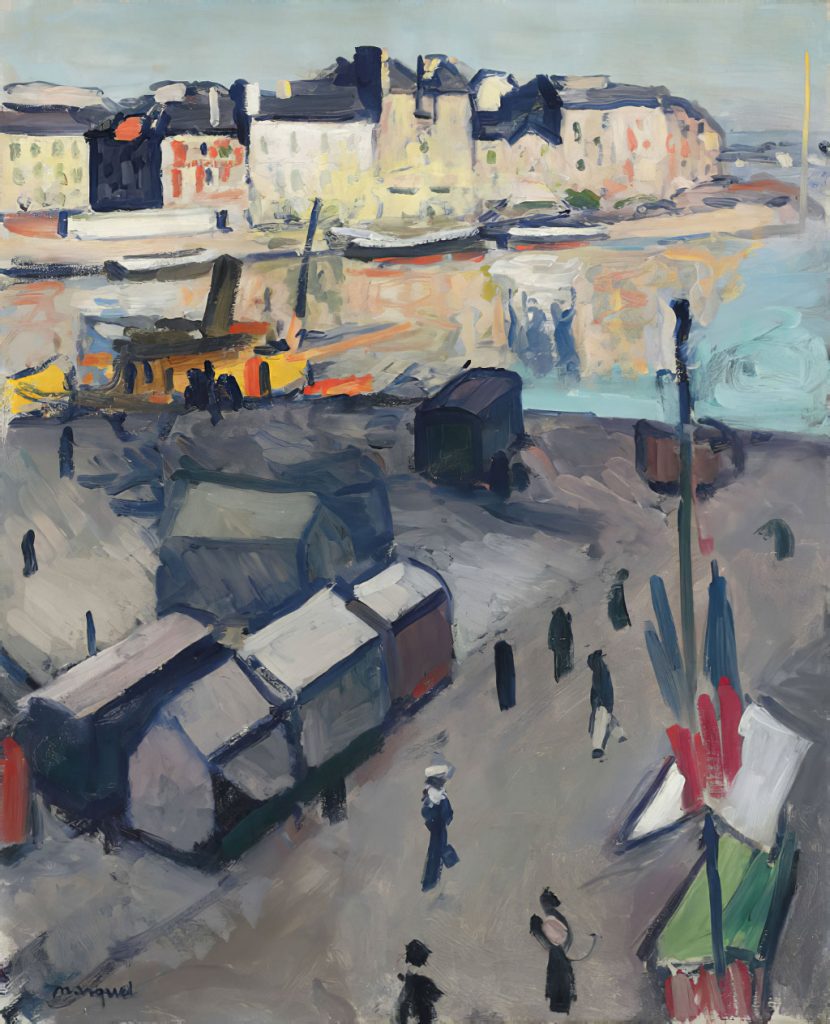 Sainte-Adresse
The city of Sainte-Adresse (population: 7,400) is an immediate suburb of Le Havre and lies to the North/West alongside the coast. It shares the same seaside promenade with Le Havre.
NOTE: The jetty is in Le Havre, overlooking Sainte-Adresse. The jetty is in fact the Northern Dike, part of the harbour entrance.
Marquet painted several other places in Normandy, which will be featured eventually on this site. A link to those cities will appear here.
NOTE: The pier still exists and is used widely during the summer.
Albert Marquet also painted in other cities in France. More of his paintings will follow, and when published links "⇠" will appear below.
Brittany
Hauts de France
Normandy
Nouvelle-Aquitaine

La Rochelle
Pons
Pyla-sur-Mer

Occitanie
Pays de la Loire
Provence-Alpes-Cote d'Azur

Cassis
Porquerolles
Saint-Tropez
Toulon
Here are the painters/artists who painted in Le Havre (a "*" indicates that the artist did not worked directly in Le Havre itself, instead worked closeby, a link "⇠" to the artist's works will appear below when published):
NOTE: You can subscribe to our new articles by entering your email address in the box on the right column (or at the very bottom of this article) and clicking on the button "Subscribe".

You will need to check your incoming emails and validate your subscription. If you can't see an email from us, check your Spam folder. Without validating your email address, you will not get notifications from us. WE WILL NEVER GIVE YOUR EMAIL ADDRESSES TO ANYONE!
Related Posts