This page forms part of a series of pages dedicated to the many artists who worked in Le Havre. A full list of all the artists with a link to their works can be found at the bottom of this page.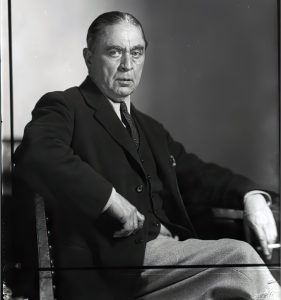 Movement(s): –
William Lee-Hankey (1869–1952) was a British painter and book illustrator. He specialised in landscapes, character studies and portraits of pastoral life, particularly in studies of mothers with young children.
He was born in Chester and worked as a designer after leaving school. He studied art in the evenings at the Chester School of Art (now the Department of Art and Design at University of Chester), then at the Royal College of Art. Later in Paris he became influenced by the work of Jules Bastien-Lepage, who also favoured rustic scenes depicted in a realistic but sentimental style.
He stayed in France in the early 1900s, painting many of his works in Brittany and Normandy, where he depicted a peasant lifestyle which was already disappearing in England. From 1904 until well after World War I he maintained a studio at the Etaples art colony.
In 1896, Hankey married fellow artist Mabel Emily Hobson (thereafter commonly known as Mabel Lee-Hankey or Mabel Emily Hankey). Their marriage lasted 21 years. Lee-Hankey then married Edith Mary Garner.
Click here to read Lee-Hankey's full bio on Wikipedia.
William Hankey painted in several places in France. Here are the places he painted in (links "⇠" to his works will appear below when published):
Bourgogne-Franche-Comte (Burgundy)
Brittany
Hauts-de-France

Abbeville
Boulogne
Etaples
samer

Normandy
Nouvelle-Aquitaine
Provence-Alpes-Cote d'Azur

Avignon
Cannes
Frejus
Grasse
Menton
Saint-Tropez
Saint-Raphael
Here are the painters/artists who painted in Le Havre (a "*" indicates that the artist did not worked directly in Le Havre itself, instead worked closeby, a link "⇠" to the artist's works will appear below when published):
NOTE: You can subscribe to our new articles by entering your email address in the box on the right column (or at the very bottom of this article) and clicking on the button "Subscribe".

You will need to check your incoming emails and validate your subscription. If you can't see an email from us, check your Spam folder. Without validating your email address, you will not get notifications from us. WE WILL NEVER GIVE YOUR EMAIL ADDRESSES TO ANYONE!
Related Posts
97

William Callow (1812–1908) was an English landscape painter, engraver and water colourist. He was apprenticed to the artist Copley Fielding, where he learnt the technique of plein air sketching. He went on to study under Theodore and Thales Fielding, where he learnt to colour prints and make aquatints, and was…

97

Frank Boggs was an American (and later French) painter (born in the USA, died in France). He studied art in Paris, and travelled between France (Normandy), The Netherlands, Italy and Belgium. He naturelized to French citizenship. He is buried next to his artist son in Paris. Here are some of…

97

Edward William Cooke was an English landscape and marine painter, and gardener. Cooke was born in London, the son of well-known line engraver George Cooke; his uncle, William Bernard Cooke, was also a line engraver of note, and Edward was raised in the company of artists. He spent many years…

97

Gaston Bruelle (1849 - 1884) was a French painter of mostly marine paintings. Bruelle was a student of Jules Noel and exhibited in the "salon de la Societe des Artistes Francais" from 1869 to 1881. He also contributed to the weekly paper "Le Yacht" in 1993 with 8 paintings illustrating…