This page forms part of a series of pages dedicated to the many artists who painted in Le Havre. A full list of all the artists with a link to their works can be found at the bottom of this page.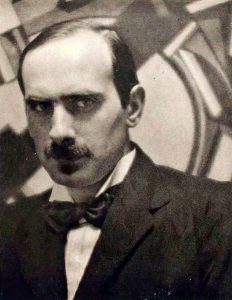 Edward Alexander Wadsworth (1889 – 1949) was an English artist, most famous for his close association with Vorticism. He painted, often in tempera, coastal views, abstracts, portraits and still-life.
He also engraved wood and copper.
In the First World War he was involved in transferring camouflage designs onto ships for the Royal Navy, and after the war he continued to paint nautical themes.
Click here to read his full bio on Wikipedia.
We found one of his paintings dealing with Le Havre
NOTE: Click on the image below for a bigger version (no new window will open).
Wadsworth painted several other places in France, which will be featured eventually on this site. A link "⇠" to those cities will appear below.
Hauts-de-France
Normandy
Nouvelle-Aquitaine
Provence-Alpes-Cote d'Azur
Here are the painters/artists who painted in Le Havre (a "*" indicates that the artist did not worked directly in Le Havre itself, instead worked closeby, a link "⇠" to the artist's works will appear below when published):
NOTE: You can subscribe to our new articles by entering your email address in the box on the right column (or at the very bottom of this article) and clicking on the button "Subscribe".

You will need to check your incoming emails and validate your subscription. If you can't see an email from us, check your Spam folder. Without validating your email address, you will not get notifications from us. WE WILL NEVER GIVE YOUR EMAIL ADDRESSES TO ANYONE!
Related Posts