This page forms part of a series of pages dedicated to the many artists who painted in Le Havre. A full list of all the artists with a link to their works can be found at the bottom of this page.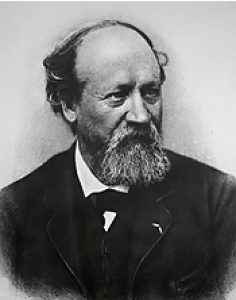 Movement(s): Impressionism
Eugene Louis Boudin (1824 – 1898) was one of the first French landscape painters to paint outdoors. Boudin was a marine painter, and expert in the rendering of all that goes upon the sea and along its shores. His pastels, summary and economic, garnered the splendid eulogy of Baudelaire; and Corot called him the "King of the skies".
Born at Honfleur, Boudin was the son of a harbor pilot, and at age 10 the young boy worked on a steamboat that ran between Le Havre and Honfleur. In 1835 the family moved to Le Havre, where Boudin's father opened a store for stationery and picture frames. Here the young Eugene worked, later opening his own small shop. Boudin's father had thus abandoned seafaring, and his son gave it up too, having no real vocation for it, though he preserved to his last days much of a sailor's character: frankness, accessibility, and open-heartedness.
In his shop, in which pictures were framed, Boudin came into contact with artists working in the area and exhibited in the shop the paintings of Constant Troyon and Jean-François Millet, who, along with Jean-Baptiste Isabey and Thomas Couture whom he met during this time, encouraged young Boudin to follow an artistic career.
At the age of 22 he abandoned the world of commerce, started painting full-time, and travelled to Paris the following year and then through Flanders. In 1850 he earned a scholarship that enabled him to move to Paris, where he enrolled as a student in the studio of Eugene Isabey and worked as a copyist at the Louvre.
To supplement his income he often returned to paint in Normandy and, from 1855, made regular trips to Brittany. On 14 January 1863 he married the 28-year-old Breton woman Marie-Anne Guedes in Le Havre and set up home in Paris.
Dutch 17th-century masters profoundly influenced him, and on meeting the Dutch painter Johan Jongkind, who had already made his mark in French artistic circles, Boudin was advised by his new friend to paint outdoors (en plein air).
In 1857/58 Boudin befriended the young Claude Monet, then only 18, and persuaded him to give up his teenage caricature drawings and to become a landscape painter, helping to instil in him a love of bright hues and the play of light on water later evident in Monet's Impressionist paintings. The two remained lifelong friends and Monet later paid tribute to Boudin's early influence. Boudin joined Monet and his young friends in the first Impressionist exhibition in 1873, but never considered himself a radical or innovator.
Late in his life, after the death of his wife in 1889, Boudin spent every winter in the south of France as a refuge from his own ill-health, and from 1892 to 1895 made regular trips to Venice. In 1898, recognizing that his life was almost spent, he returned to his home at Deauville, to die on 8 August within sight of the English Channel and under the Channel skies he had painted so often.
He was buried according to his wishes in the Saint-Vincent Cemetery in Montmartre, Paris.
Click here to read Boudin's full bio on Wikipedia.
Below is but a small sample of his works, since he painted many of the ships coming into the port.
NOTE: Click on any painting below for a bigger version (no new window will open).
NOTE: A black box like this one, means that there is an explanation text about today's situation of the painting above it.
NOTE: Click on this photo icon
anywhere below a painting to see a photo of what the area looks like today.
NOTE: A blue box like this one, means there is an explanation or a note.

NOTE: The Francois 1re tower no longer exists.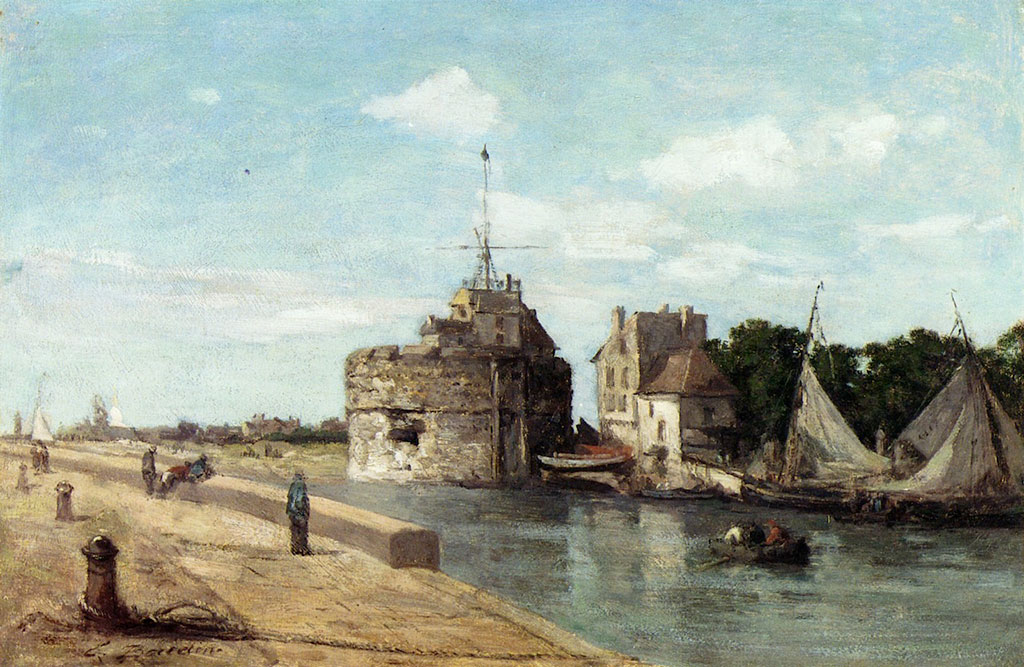 NOTE: Today the entry/exit of the port has not much changed, apart that there are no longer any towers. The painting was made from the inside of the harbour.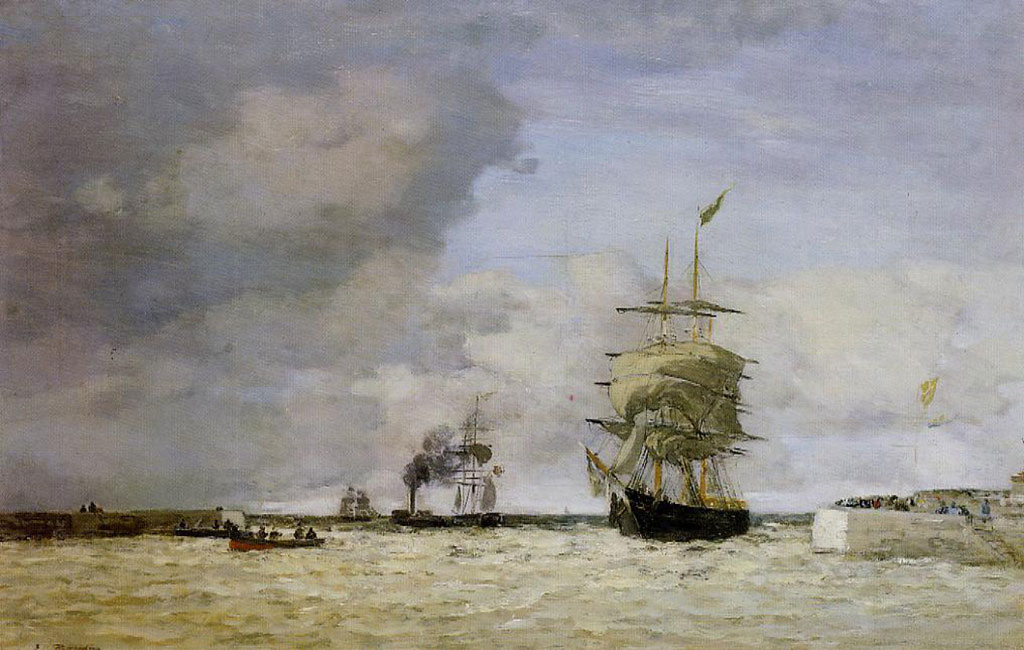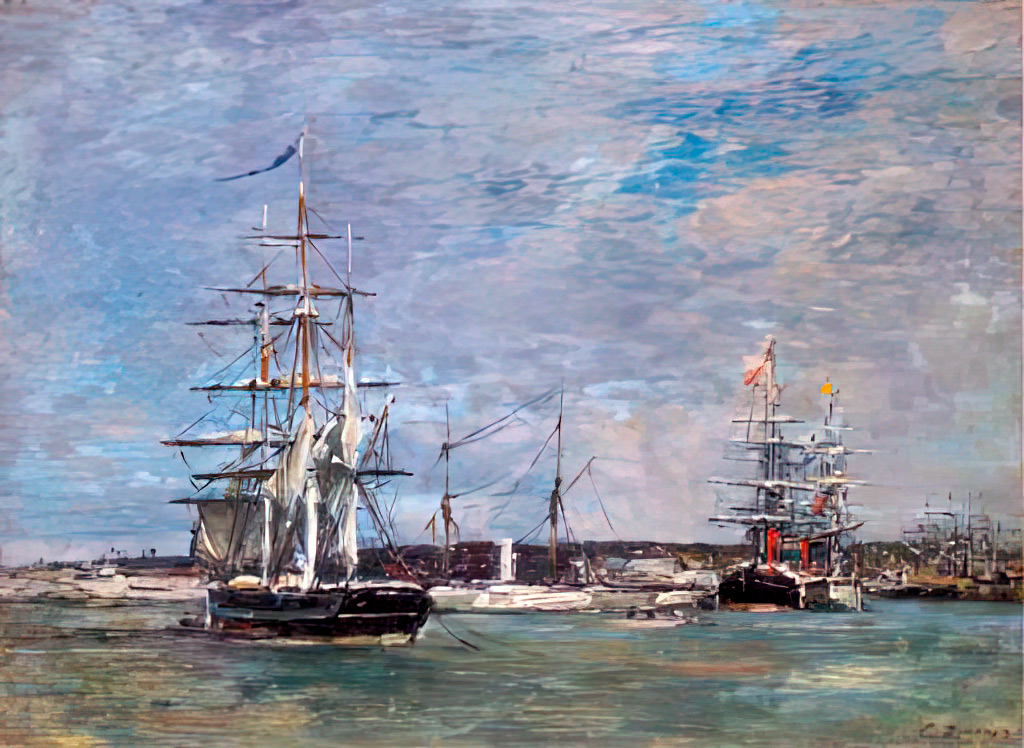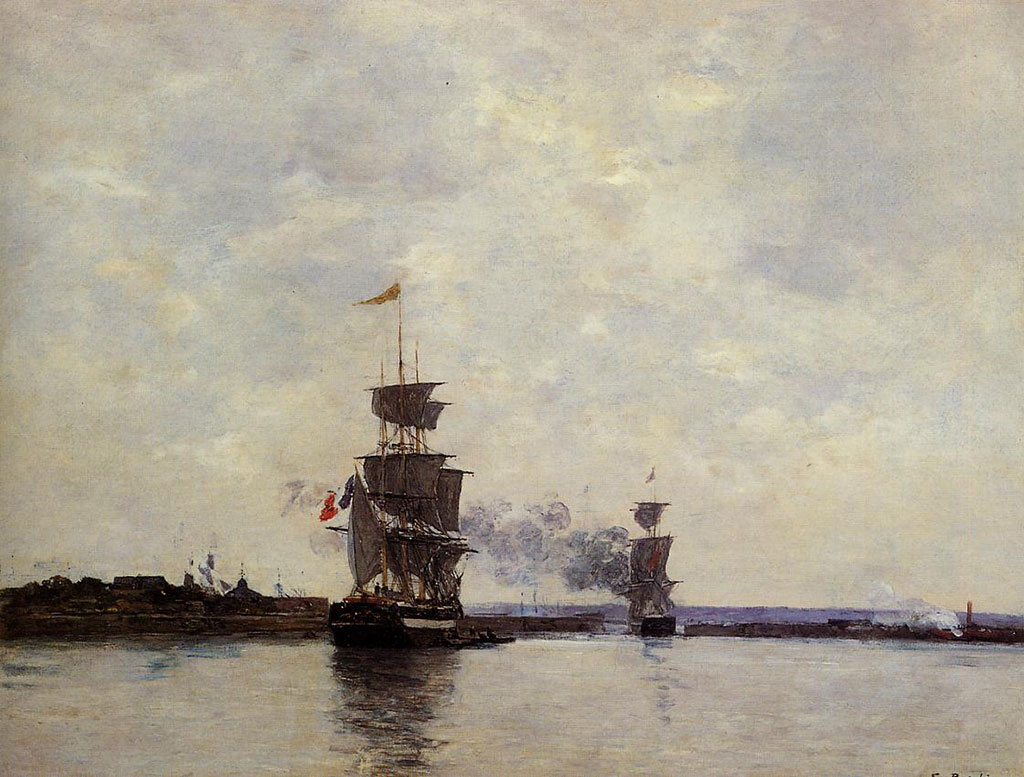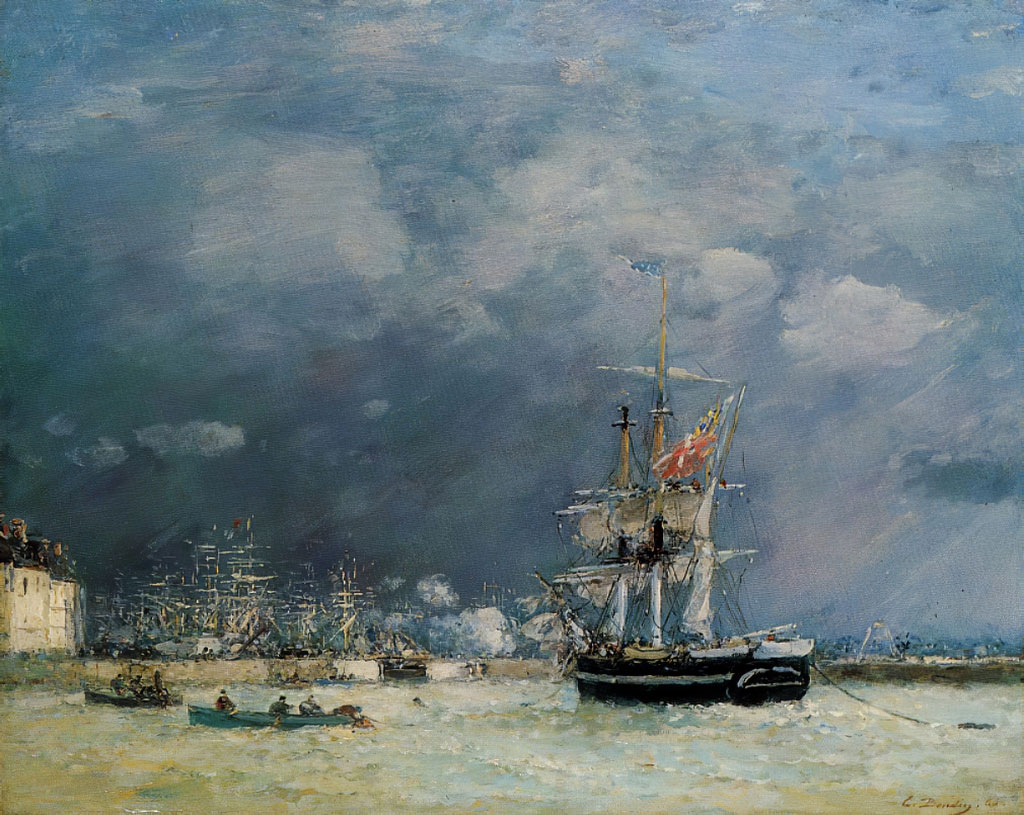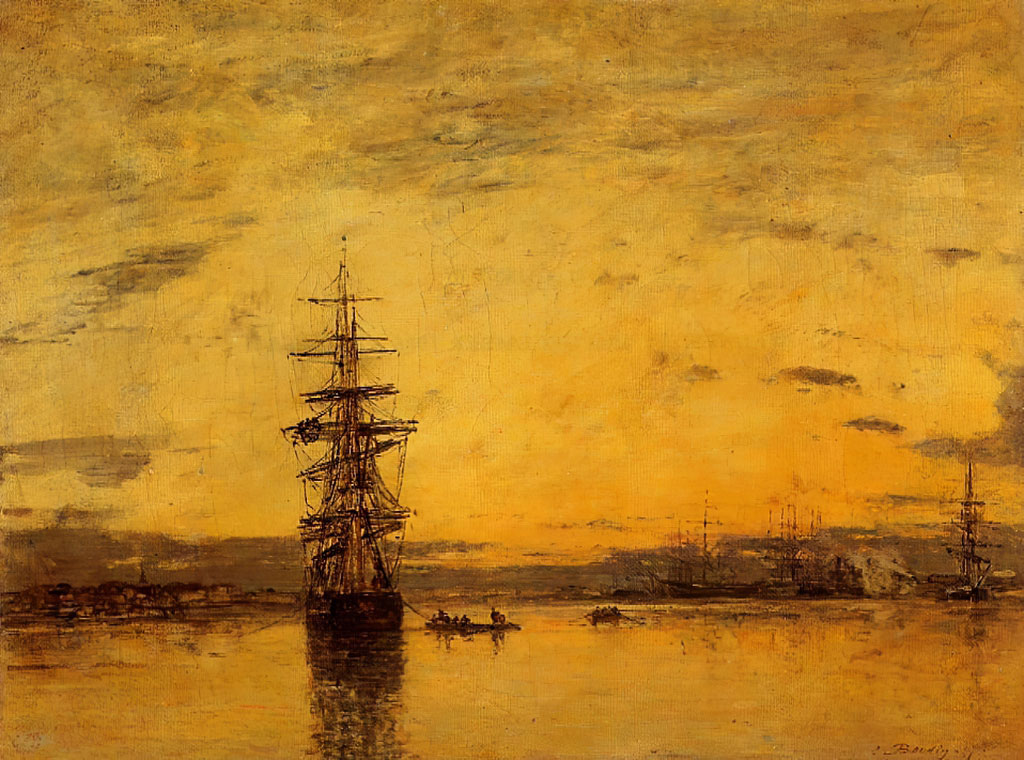 NOTE: Today, the "Bassin de l'Eure" still exists. It is used mostly by river cruise ships, and it has the naval/maritime school.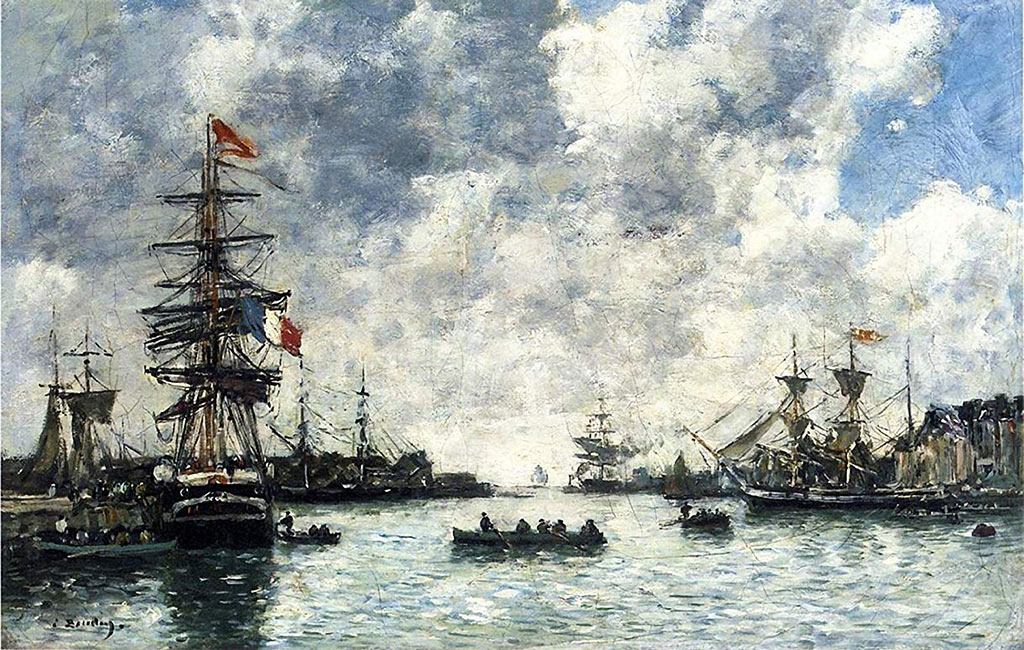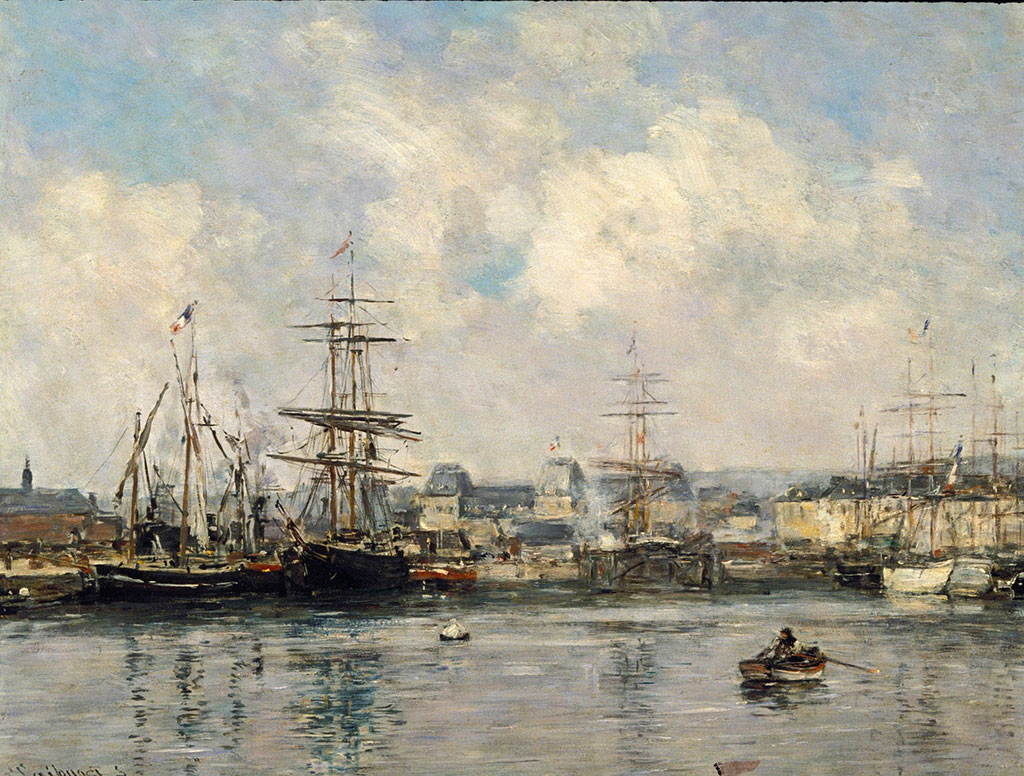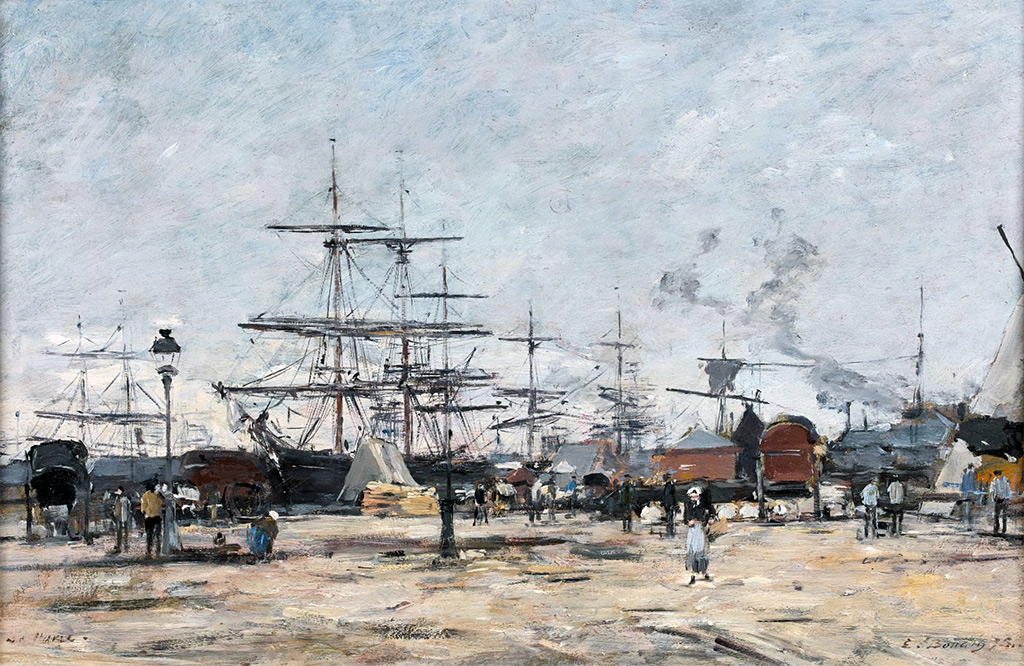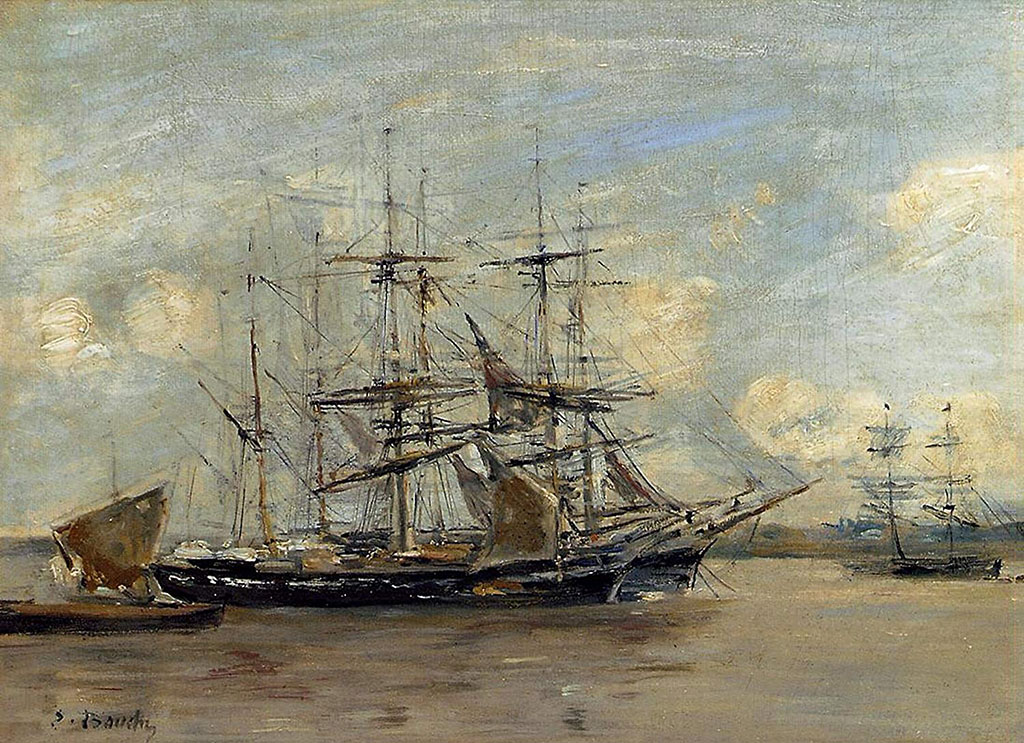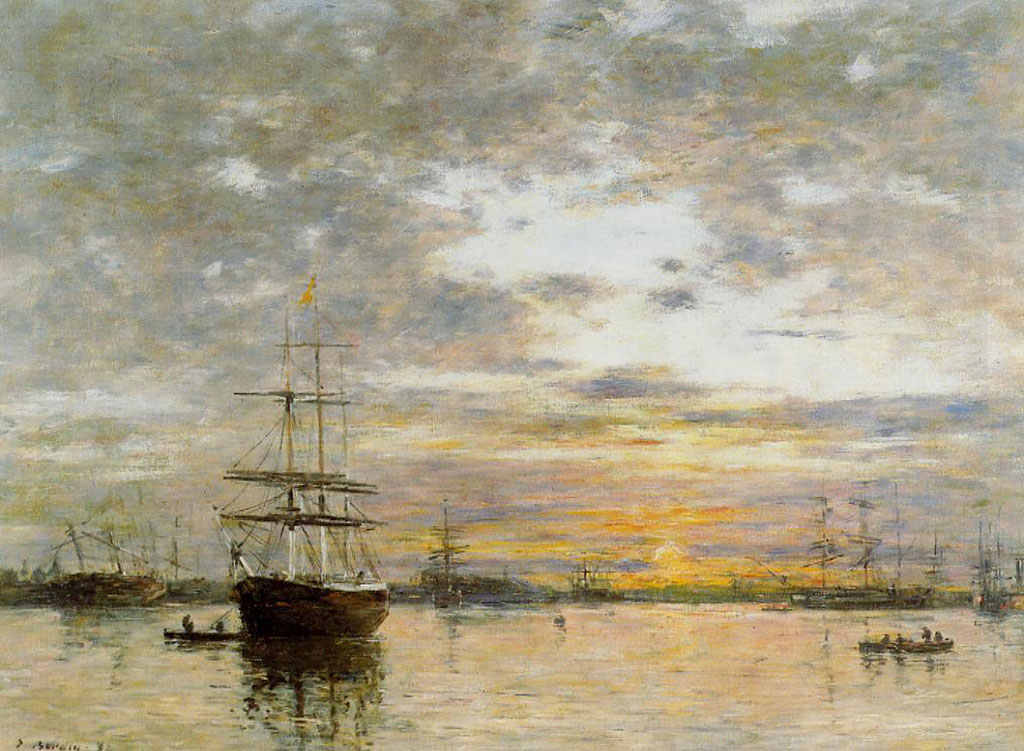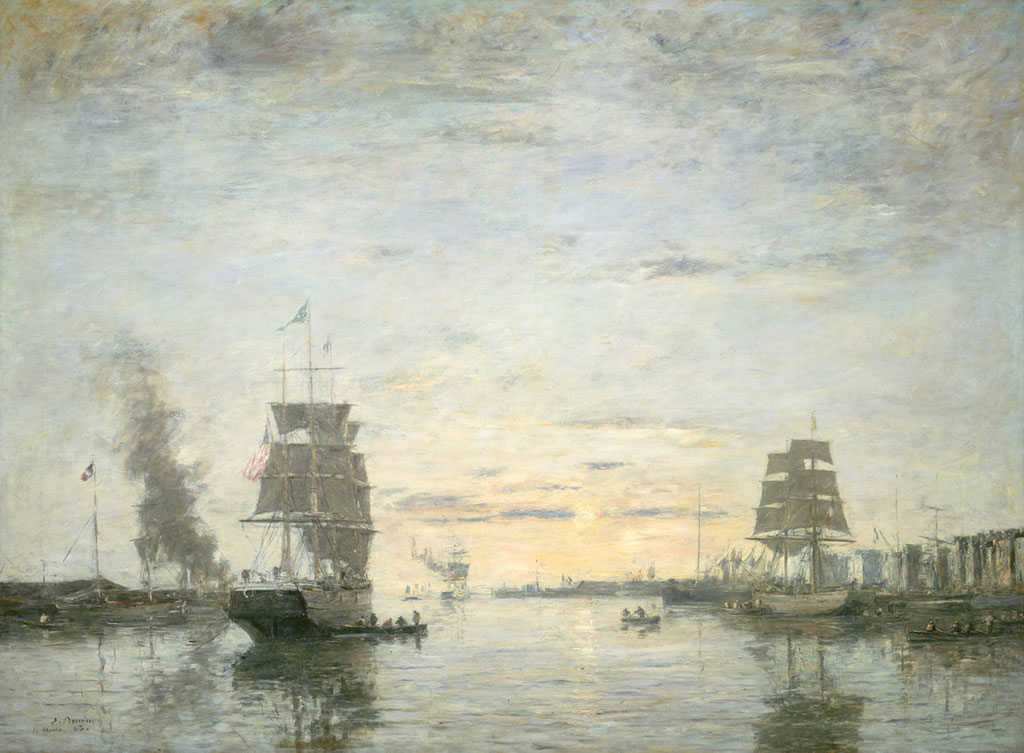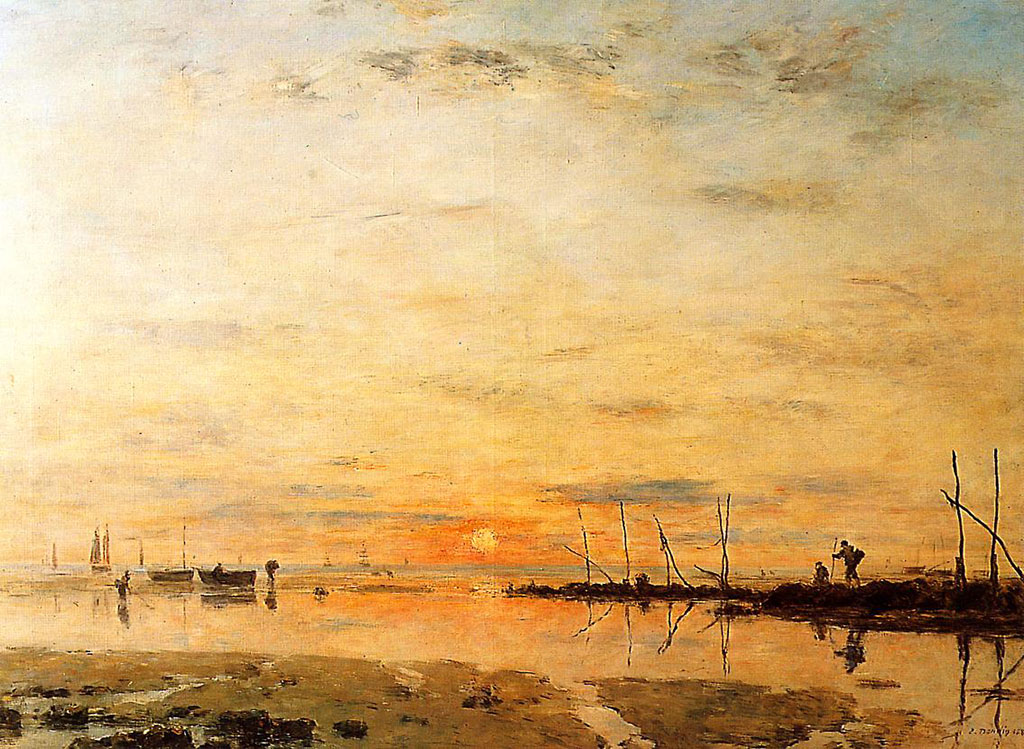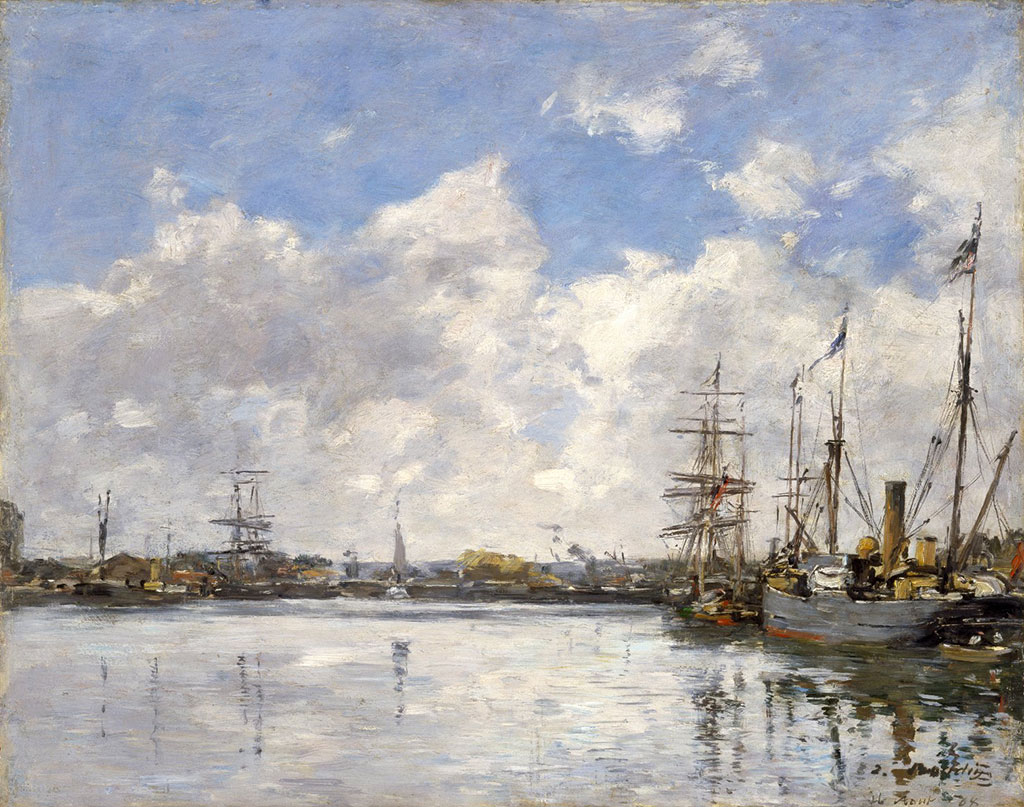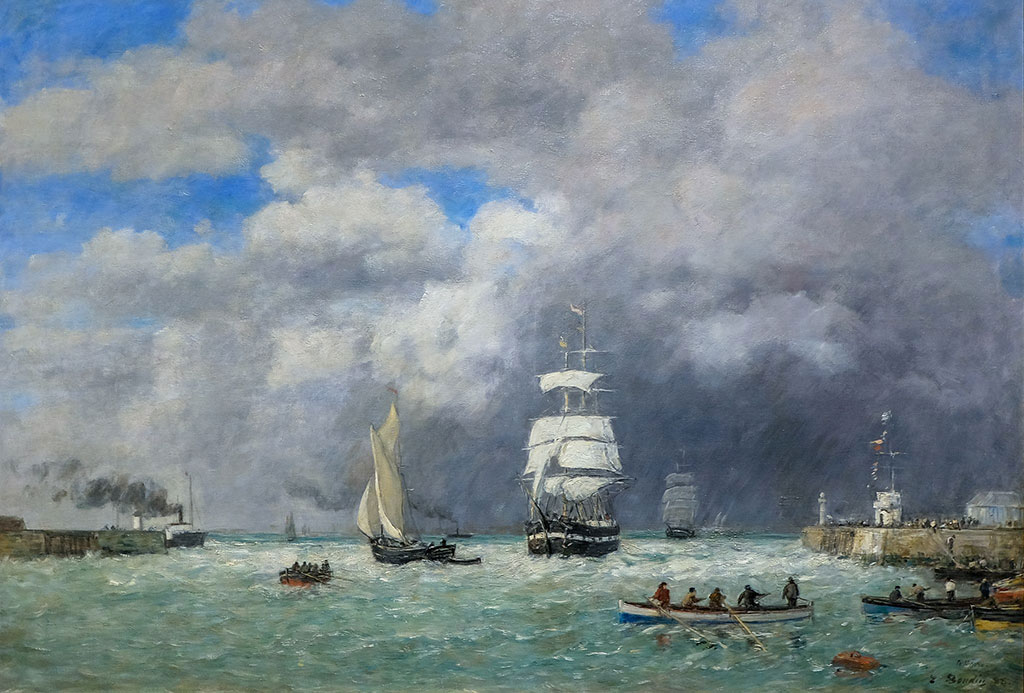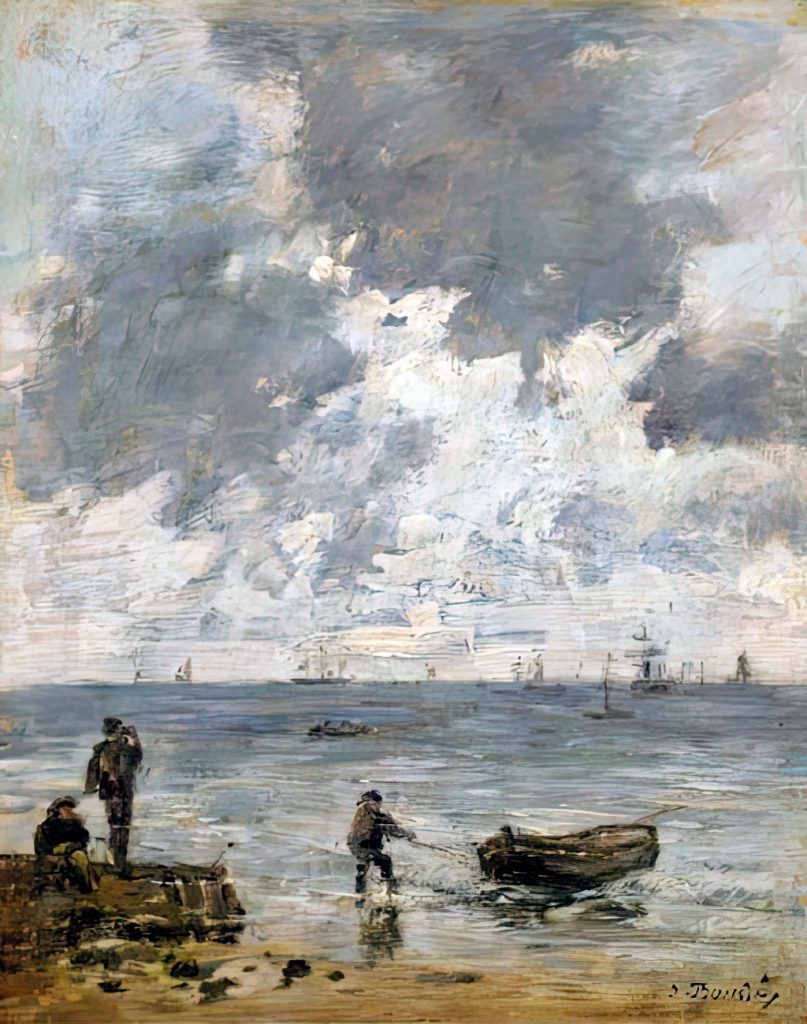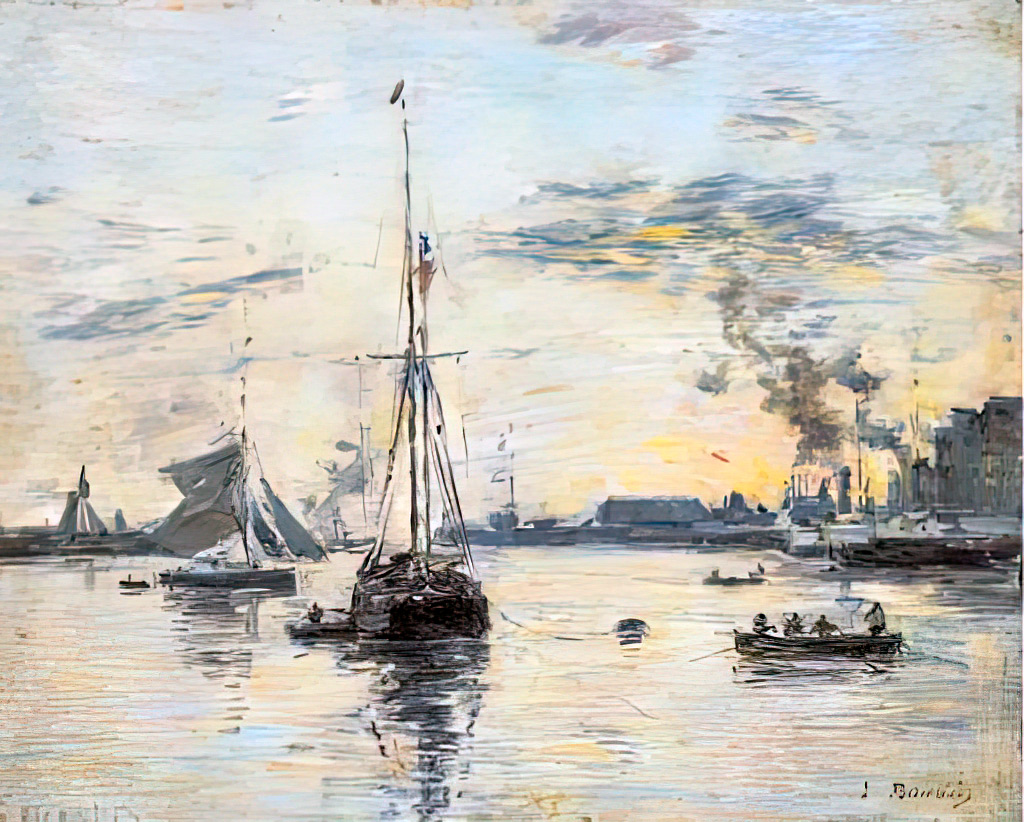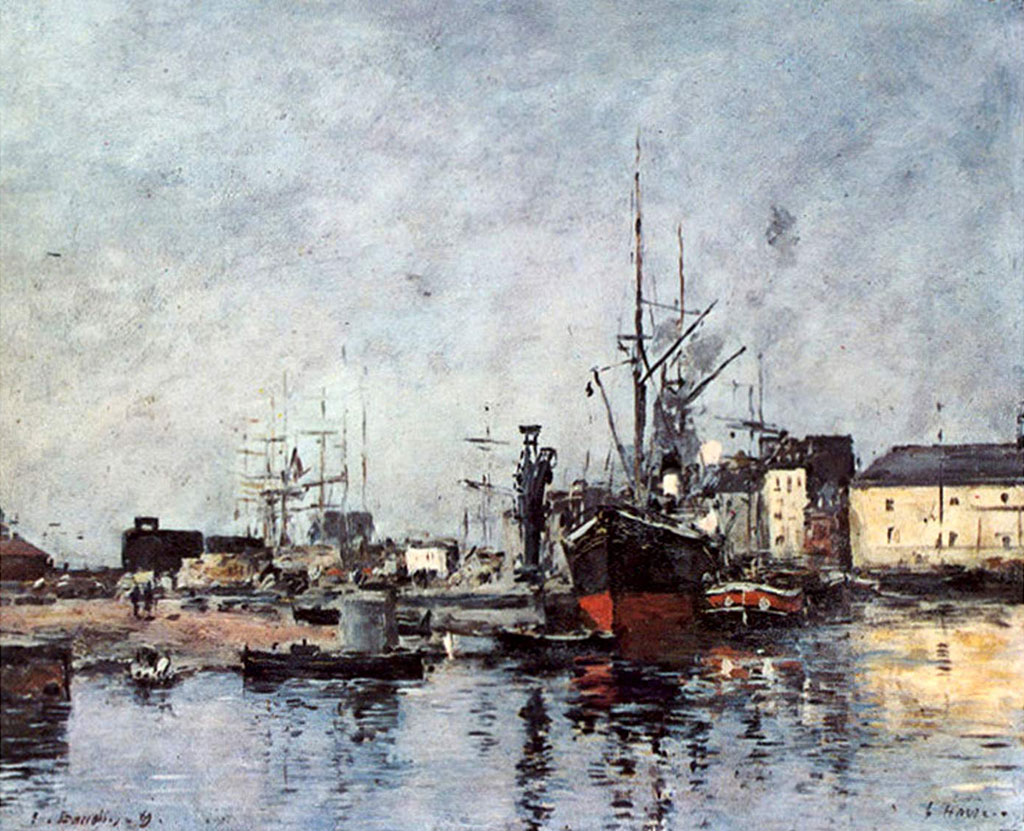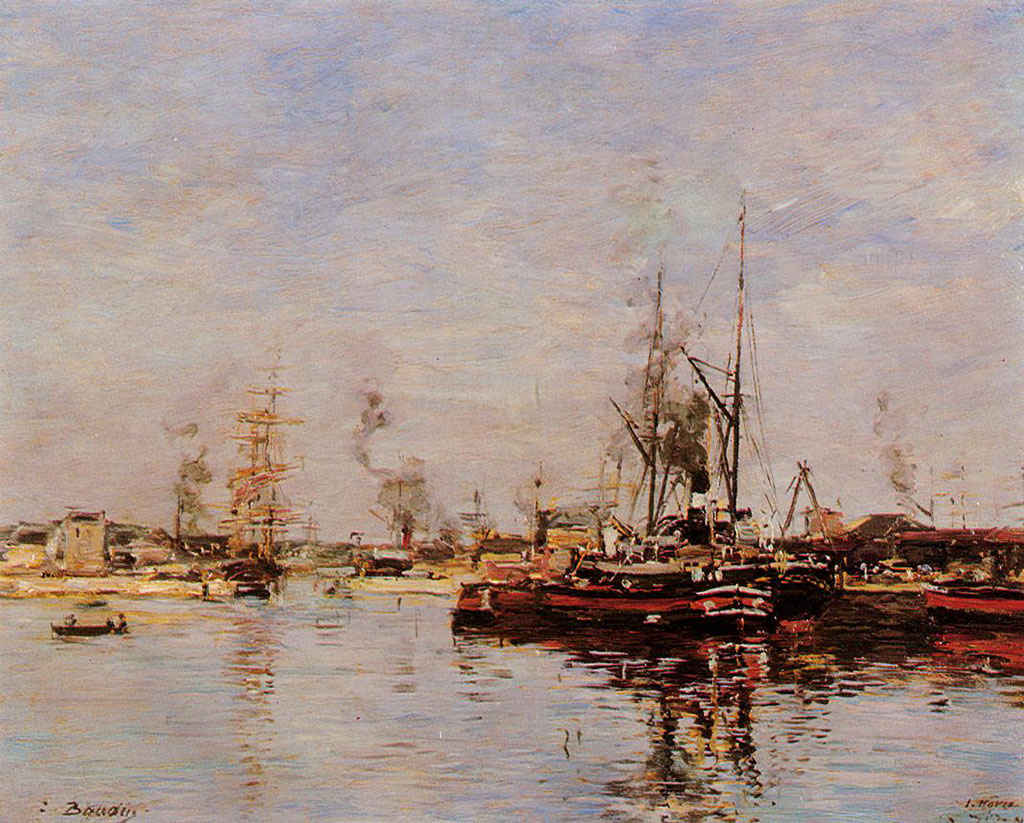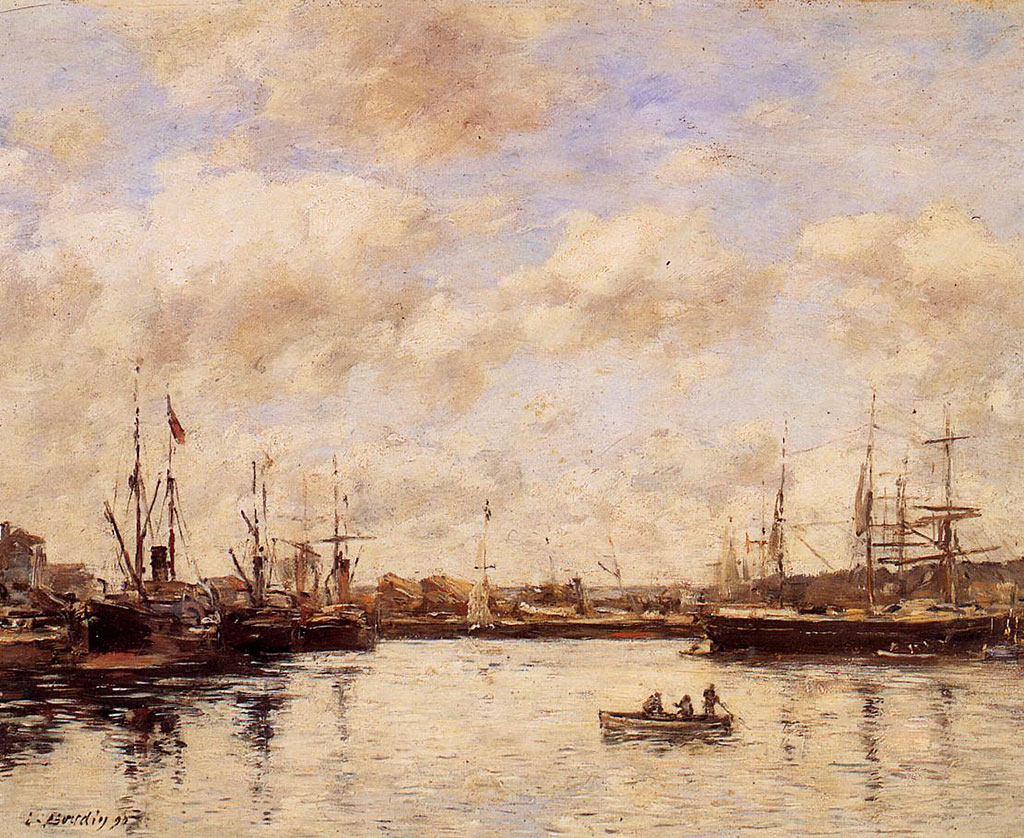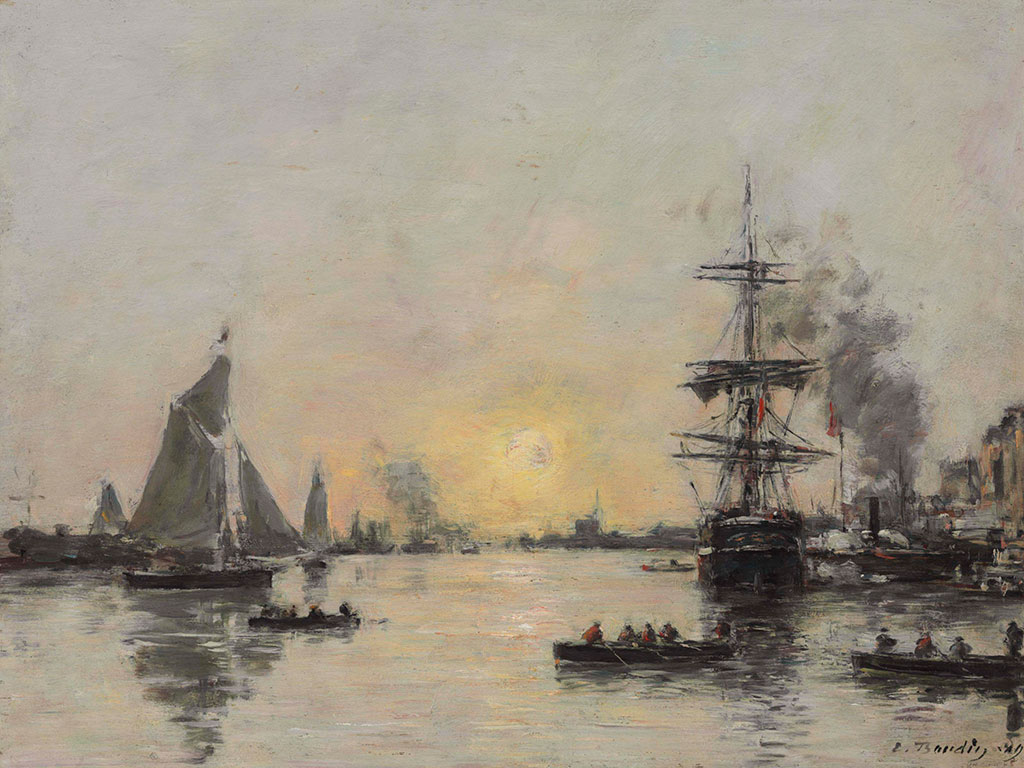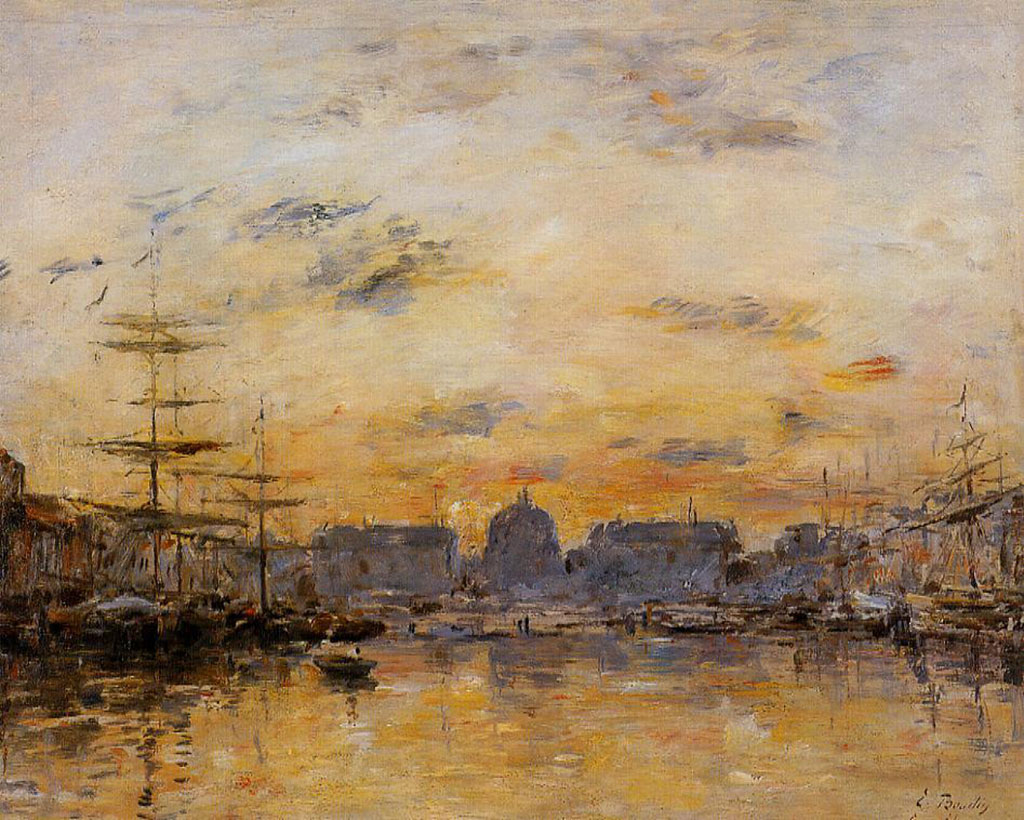 NOTE: The "Bassin du Commerce" still exists today, but it no longer allows ships to come in. Instead it's used for sailing school for beginners since there are no waves. At the end of the basin you will now find the famous Oscar Niemeyer "Volcan" building.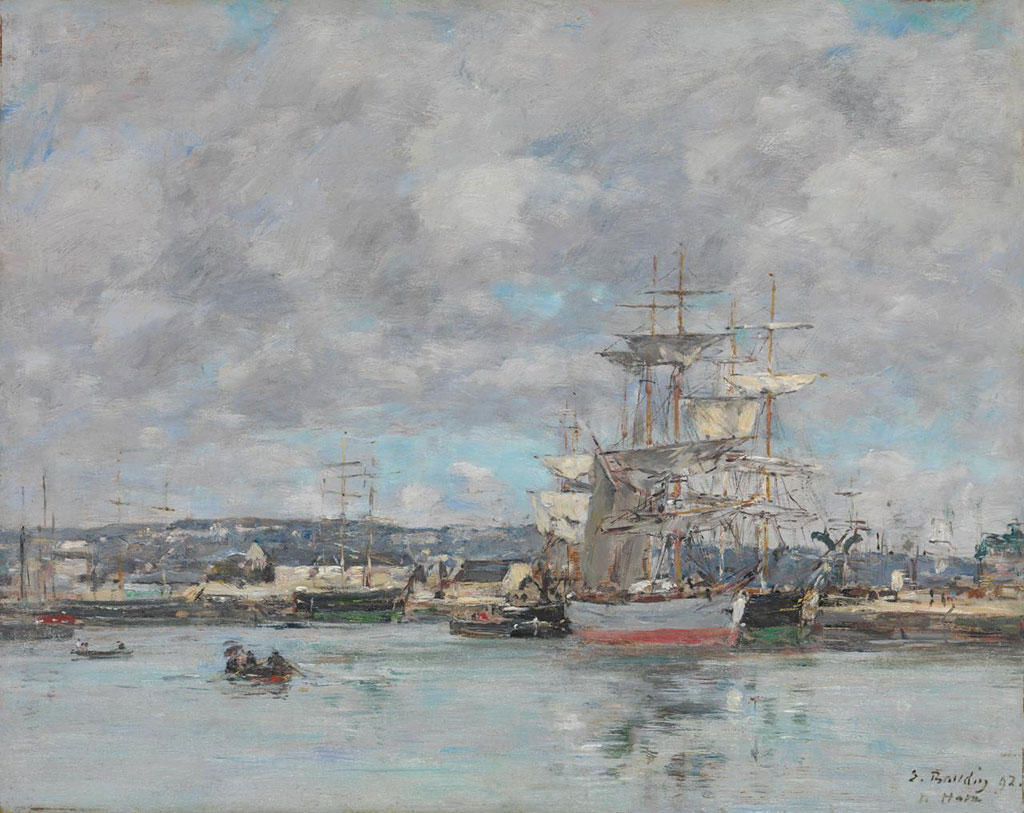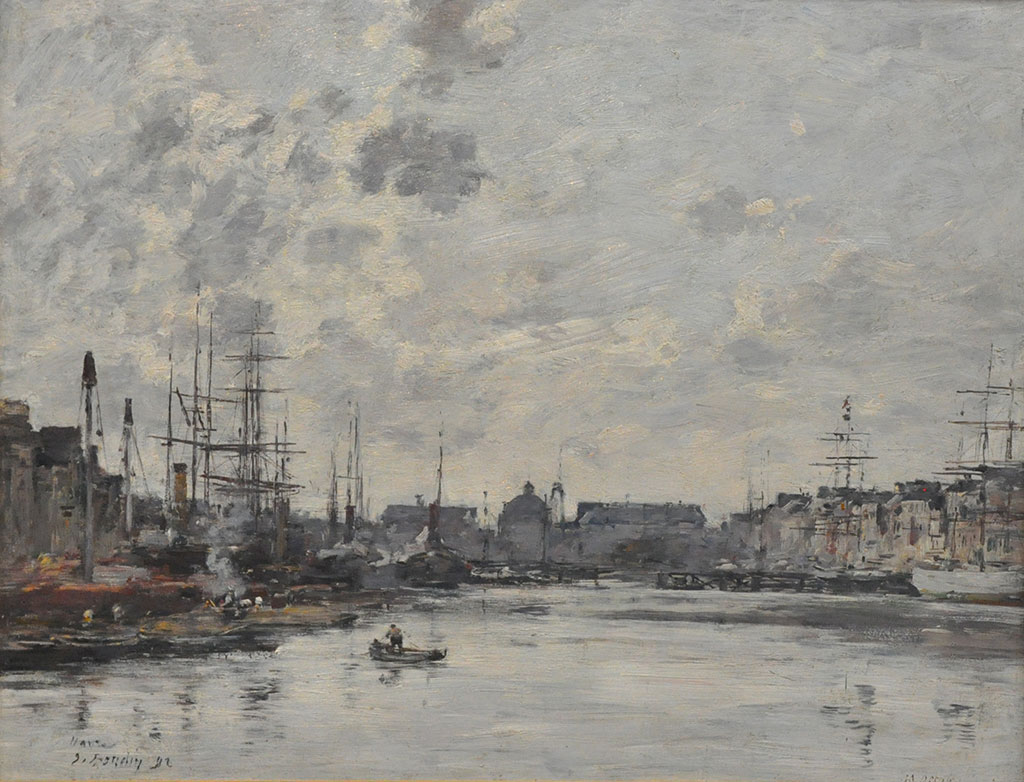 NOTE: The "Trade Basin" and "Commerce Basin" are the same. See the note above.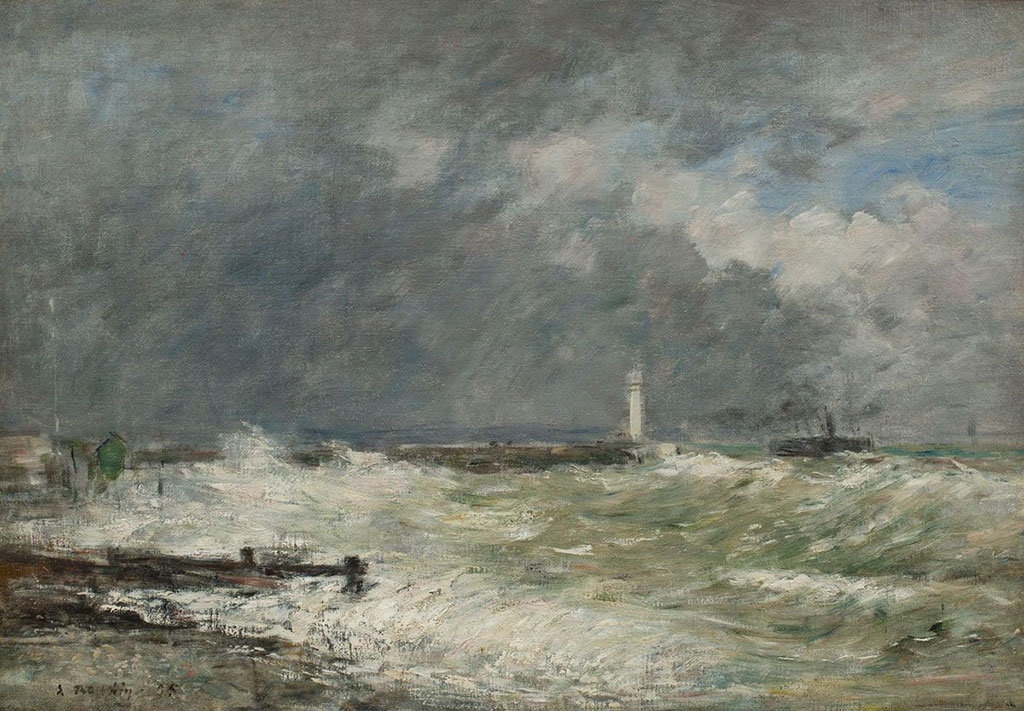 NOTE: The current lighthouse, in the same spot, replaced the one destroyed by the Germans at the end of WWII.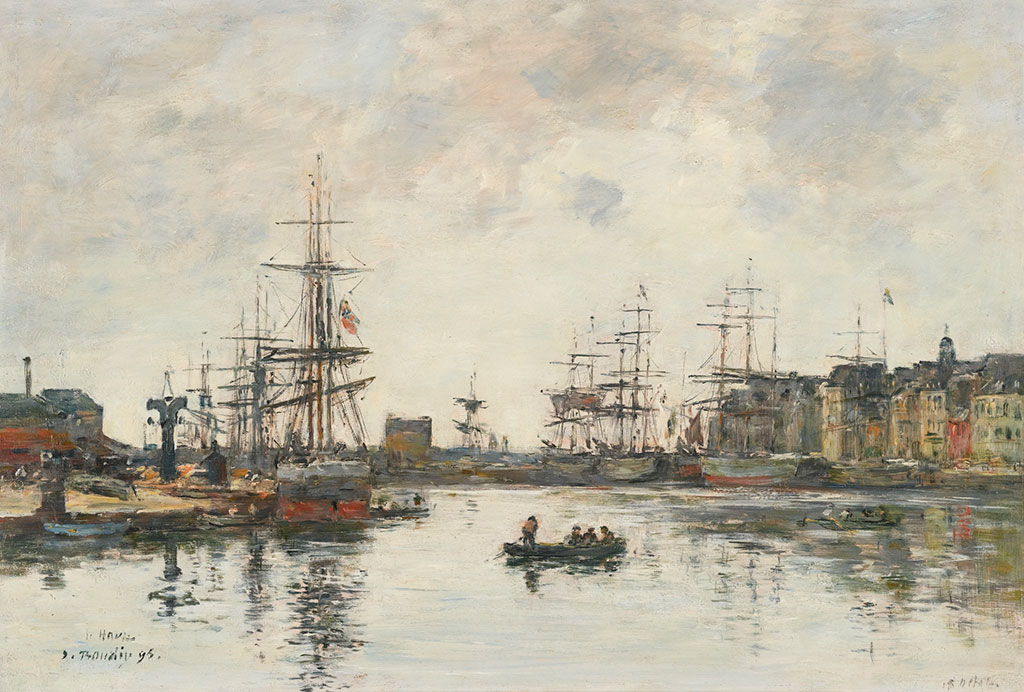 NOTE: The "Bassin De La Barre" still exists but is no longer used by ships but for rowing training/competition.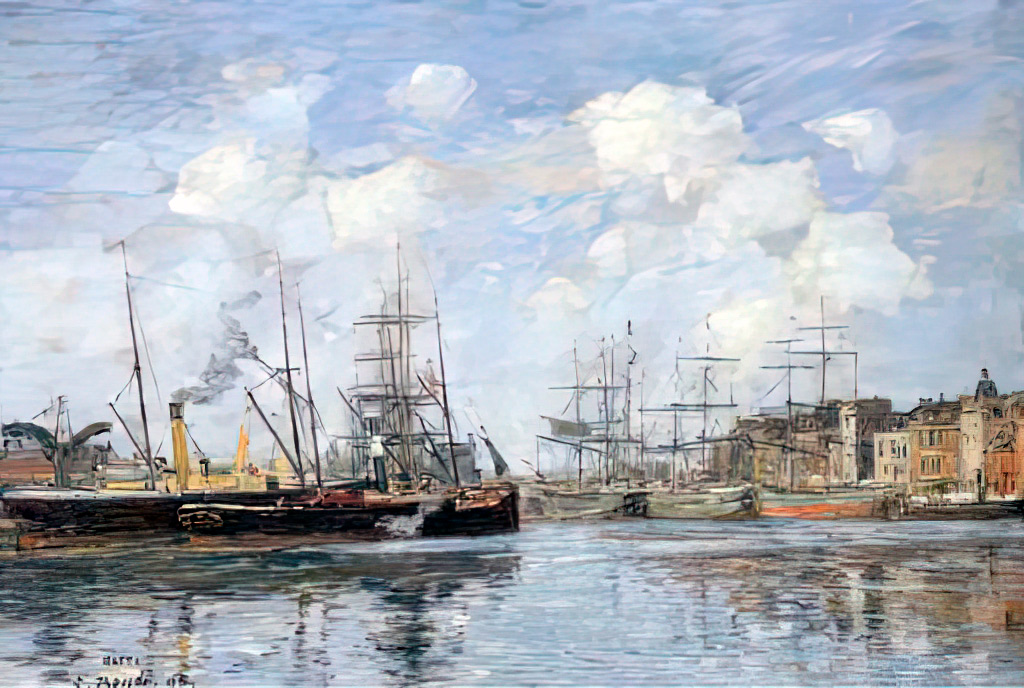 Sainte-Adresse
The city of Sainte-Adresse (population: 7,400) is an immediate suburb of Le Havre and lies to the North/West alongside the coast. It shares the same seaside promenade with Le Havre.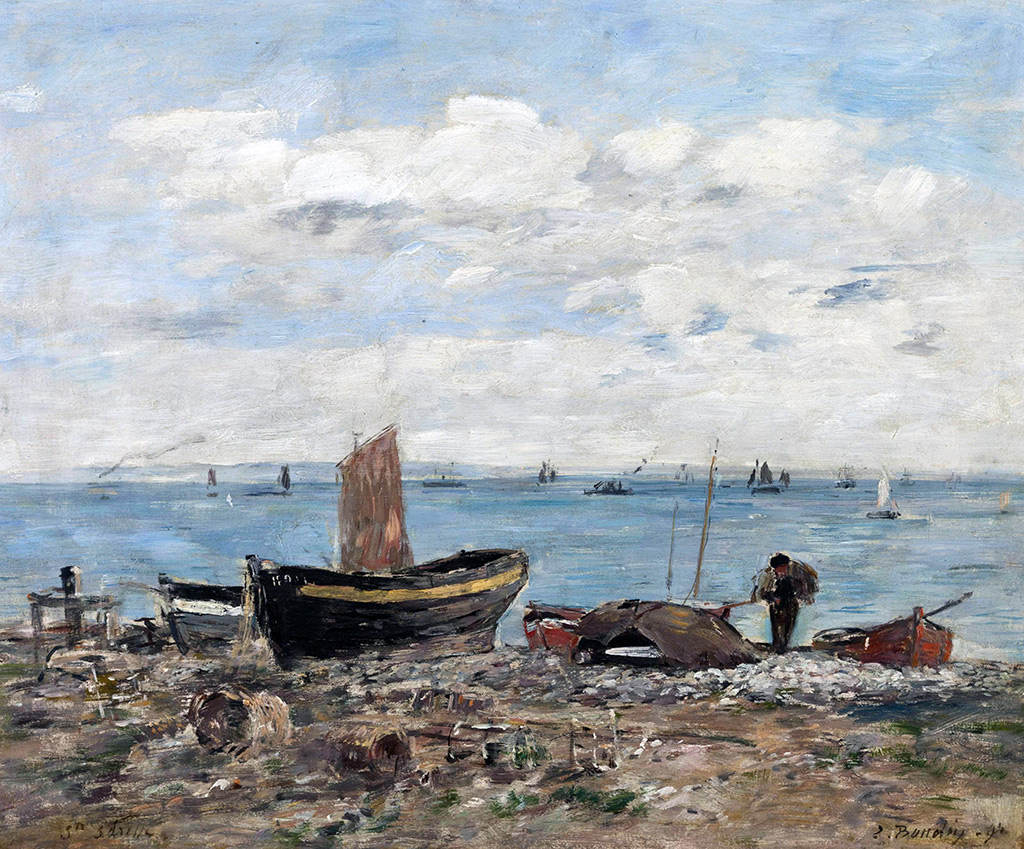 Boudin painted in several places in Normandy ( a link "⇠" to his works will appear below for each city when published):
Brittany

Brest
Daoulas
Hanvec
Hopital-Camfrout
Le Faou
Plougastel
Saint-Quay-Portrieux

Hauts-de-France

Abbeville
Berck
Boulogne-sur-Mer
Dunkerque
Etaples
Saint-Valery-sur-Somme

Normandy
Nouvelle-Aquitaine
Provence-Alpes-Cote d'Azur

Antibes
Villefranche-sur-Mer
Here are the painters/artists who painted in Le Havre (a "*" indicates that the artist did not worked directly in Le Havre itself, instead worked closeby, a link "⇠" to the artist's works will appear below when published):
NOTE: You can subscribe to our new articles by entering your email address in the box on the right column (or at the very bottom of this article) and clicking on the button "Subscribe".

You will need to check your incoming emails and validate your subscription. If you can't see an email from us, check your Spam folder. Without validating your email address, you will not get notifications from us. WE WILL NEVER GIVE YOUR EMAIL ADDRESSES TO ANYONE!
Related Posts