This page forms part of a series of pages dedicated to the many artists who worked in Le Havre. A full list of all the artists with a link to their works can be found at the bottom of this page.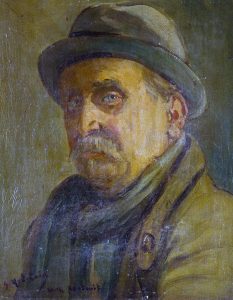 Movement(s): Post Impressionism
Gustave Madelain (1867 – 1944) was French painter with his own interpretation of French post Impressionism.
As a painter he earned himself a reputation as having an individual "flair"- using bold colors and a flamboyant style.
Madelain showed a number of canvases at Le Havre and at Rouen; though it was naturally in Paris that he had his greatest success.
Not much else is known about this artist.
Despite being known for having painted in Le Havre, we found only one of his paintings dealing with this city.
NOTE: A black box like this one, means that there is an explanation text about today's situation of the painting above it.
NOTE: Click on this photo icon
anywhere below a painting to see a photo of what the area looks like today.
NOTE: A blue box like this one, means there is an explanation or a note.
TODAY: The Bassin du Commerce still exists but there is no access via the water (it's used to teach kids sailing). Place Gambetta no longer exists and is now the monument to the war dead and the Volcan.
Madelain painted mostly in Paris but did paint in several places in France ( a link "⇠" to his works of art will appear below when published):
Bourgogne-Franche-Comte (Burgundy)
Brittany
Grand Est
Normandy
Occitanie
Pays de la Loire
Here are the painters/artists who painted in Le Havre (a "*" indicates that the artist did not worked directly in Le Havre itself, instead worked closeby, a link "⇠" to the artist's works will appear below when published):
NOTE: You can subscribe to our new articles by entering your email address in the box on the right column (or at the very bottom of this article) and clicking on the button "Subscribe".

You will need to check your incoming emails and validate your subscription. If you can't see an email from us, check your Spam folder. Without validating your email address, you will not get notifications from us. WE WILL NEVER GIVE YOUR EMAIL ADDRESSES TO ANYONE!
Related Posts