This page forms part of a series of pages dedicated to the many artists who painted in Le Havre. A full list of all the artists with a link to their works can be found at the bottom of this page.
Louis-Philippe Crépin (1772- 1851) was a French marine painter. Together with Theodore Gudin, he was appointed as one of France's first two "Peintres de la Marine" (Official Navy painters) in 1830.
He studied marine painting with Joseph Vernet and landscapes with Hubert Robert. Before that, he had been a sailor with four years of experience as a helmsman and "gabier" (a seaman in charge of the sails). He had his first exhibit at the Paris in 1796 with "La sortie du port de Brest". He would hold showings there intermittently until 1835.
His best known painting is "Combat de la frégate française La Bayonnaise contre la frégate anglaise l'Embuscade 14 décembre 1798", which was commissioned by Napoleon for display at the Tuileries. It was shown at the Salon in 1801. Until 1834, it was hung in the former residence of the Empress at the Château de Saint-Cloud, then was transferred to Versailles by King Louis Philippe I.
Since 1935, it has been at the Musée national de la Marine. He also was one of the fourteen artists who contributed to Episodes maritimes, along with Garneray, Gudin, Isabey, Biard and others, who have largely been forgotten.
Click here to read his full bio on Wikipedia.
We found one of his works of Le Havre.
NOTE: Click on the image below for a bigger version (no new window will open).
NOTE: A black box like this one, means that there is an explanation text about today's situation of the painting above it.
NOTE: Click on this photo icon
anywhere below a painting to see a photo of what the area looks like today.
NOTE: A blue box like this one, means there is an explanation or a note.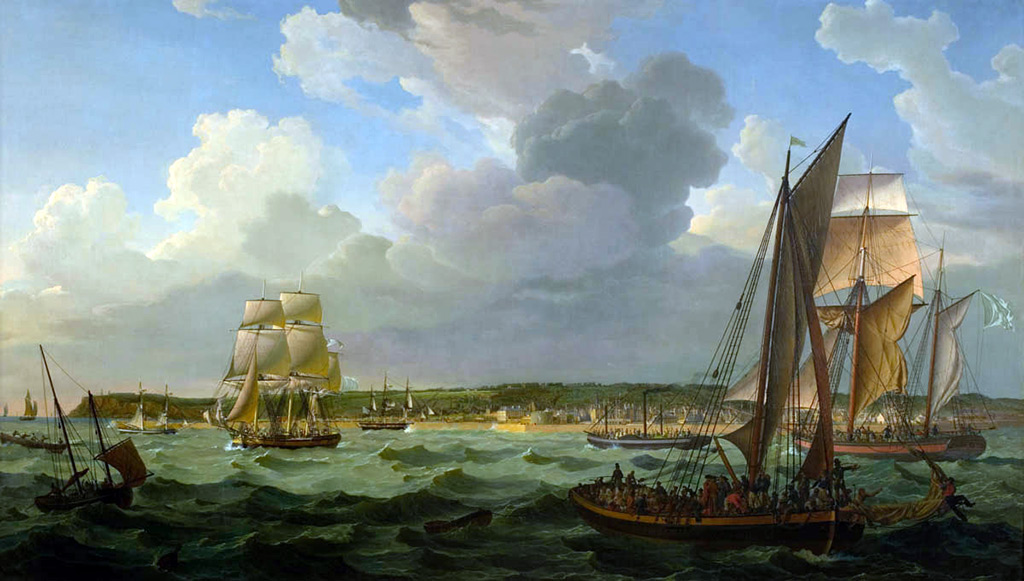 TODAY: The coastline has changed dramatically over the last 2 centuries, with lots of buildings.
Crepin painted in several spots in Normandy, which will be featured eventually on this site. A link "⇠" to those cities will appear below when published.
Here are the painters/artists who painted in Le Havre (a "*" indicates that the artist did not worked directly in Le Havre itself, instead worked closeby, a link "⇠" to the artist's works will appear below when published):
NOTE: You can subscribe to our new articles by entering your email address in the box on the right column (or at the very bottom of this article) and clicking on the button "Subscribe".

You will need to check your incoming emails and validate your subscription. If you can't see an email from us, check your Spam folder. Without validating your email address, you will not get notifications from us. WE WILL NEVER GIVE YOUR EMAIL ADDRESSES TO ANYONE!
Related Posts