This page forms part of a series of pages dedicated to the many artists who painted in Le Havre. A full list of all the artists with a link to their works can be found at the bottom of this page.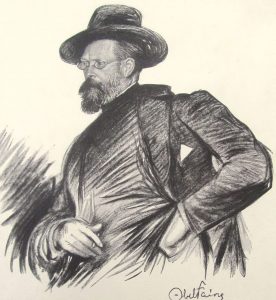 Movement(s): –
Frank Boggs (1855 – 1926) was an American (and later French) painter (he was born in the USA, but he died in France).
He studied art in Paris, and travelled between France (mostly Normandy), The Netherlands, Italy and Belgium.
He naturelized to French citizenship.
He is buried at the Paris-based Pere-Lachaise cemetery next to his artist son (Frank-Will Boggs).
Click here to read Boggs' full bio (in French only) on Wikipedia.
We apologize for the quality of several of the photos below since the original image was very small and we had to resize it.
NOTE: A black box like this one, means that there is an explanation text about today's situation of the painting above it.
NOTE: Click on this photo icon
anywhere below a painting to see a photo of what the area looks like today.
NOTE: A blue box like this one, means there is an explanation or a note.
NOTE: Click on the image below for a bigger version (no new window will open).
TODAY: Le Havre, founded 500 years ago, is now France's 2nd largest commercial harbour, and the biggest container ship harbour. It is also the world's 50th biggest harbour.
Harfleur
Harfleur (population: 8300) is a small city located close to Le Havre on the East. It's a suburb of Le Havre.
Sainte-Adresse
The city of Sainte-Adresse (population: 7,400) is an immediate suburb of Le Havre and lies to the North/West alongside the coast. It shares the same seaside promenade with Le Havre.
TODAY: The Sainte-Adresse beach is seamlessly connected to the le Havre one, and is seen as one.
Here are the places in France that Boggs painted in (a link "⇠" to his works in these cities will appear below when that city is online):
Centre-Val de Loire

Azay-le-Rideau
Chartres
Dreux

Hauts-de-France
Normandy
Provence-Alpes-Cote d'Azur
Here are the painters/artists who painted in Le Havre (a "*" indicates that the artist did not worked directly in Le Havre itself, instead worked closeby, a link "⇠" to the artist's works will appear below when published):
Related Posts