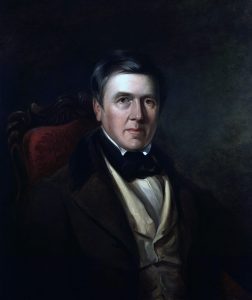 Movement(s): –
David Cox Sr (1783 – 1859) was an English landscape painter, one of the most important members of the Birmingham School of landscape artists and an early precursor of Impressionism. He is considered one of the greatest English landscape painters, and a major figure of the Golden age of English watercolour.
His father was a blacksmith and whitesmith about whom little is known, except that he supplied components such as bayonets and barrels to the Birmingham gun trade.
Cox's mother was the daughter of a farmer and miller from Small Heath to the east of Birmingham.
Early biographers record that "she had had a better education than his father, and was a woman of superior intelligence and force of character."
Although most popularly known for his works in watercolour, he also painted over 300 works in oil towards the end of his career, now considered "one of the greatest, but least recognised, achievements of any British painter.
He made his first trip to the Continent, to Belgium and the Netherlands in 1826 and subsequently moved to London the following year.
His son, known as David Cox the Younger (1809-1885), was also a successful artist.
Click here to read Cox Sr.'s full bio on Wikipedia.
David Cox Sr painted in several places in France. Here are the places he painted in (links "⇠" to his works will appear below when published):
Related Posts
93

Alfred Montague (1832 - 1883) was a British painter born in London. Not much, if anything, is known about this British artist.

92

Florent Fidèle Constant Bourgeois (1767 – 1841) was a French landscape painter, engraver, and lithographer. He studied under Jacques-Louis David, but spent much of his time in Italy.