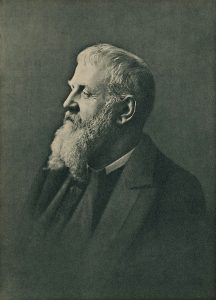 Fritz Thaulow (1847 – 1906) was a Norwegian painter from the Impressionist movement. He came from a wealthy family and was able to go to art school at an early age. First in Denmark, then Germany.
He moved to France in 1892 where he stayed until his death. He spent time painting in Normandy where he became friends with Australian artist Charles Condor.
He lived in and worked in Dieppe for a while.
Click here to read Thaulow's full bio on Wikipedia.
Thaulow painted a lot in Dieppe and other places in France, which will all be featured eventually on this site. A link "⇠" will appear below.
Brittany
Hauts de France

Abbeville
Montreuil-sur-Mer

Normandy
Nouvelle-Aquitaine
Related Posts
10000

Frits Thaulow was a Norwegian Impressionist painter, best known for his naturalistic depictions of landscape. We found two paintings of his in Le Havre.

97

Rene de Saint-Delis, 1876 - 1958, was a French painter influenced by the Impressionist movement. He was born in the North of France (Pas-de-Calais) and died in Etretat, Normandy.

97

Pierre-Auguste Renoir (1841 – 1919) was a French artist who was a leading painter in the development of the Impressionist style. As a celebrator of beauty and especially feminine sensuality, it has been said that "Renoir is the final representative of a tradition which runs directly from Rubens to Watteau."