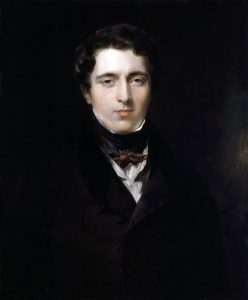 Movement(s): Romanticism
Richard Parkes Bonington (1802 – 1828) was an English Romantic landscape painter, who moved to France at the age of 14 and can also be considered as a French artist, and an intermediary bringing aspects of English style to France.
Richard Parkes Bonington was born in the town of Arnold, four miles from Nottingham. His father also known as Richard was successively a gaoler, a drawing master and lace-maker, and his mother a teacher. Bonington learned watercolour painting from his father and exhibited paintings at the Liverpool Academy at the age of eleven.
In 1817, Bonington's family moved to Calais, France, where his father had set up a lace factory. At this time, Bonington started taking lessons from the painter François Louis Thomas Francia, who, having recently returned from England, where he had been deeply influenced by the work of Thomas Girtin, taught him the English watercolour technique.
In 1818, the Bonington family moved to Paris to open a lace shop. There he met and became friends with Eugene Delacroix. He worked for a time producing copies of Dutch and Flemish landscapes in the Louvre. In 1820, he started attending the Ecole des Beaux-Arts in Paris, where he studied under Antoine-Jean, Baron Gros.
In 1825 he met Delacroix on a visit with Alexandre-Marie Colin to London, and they sketched together there, and shared a studio for some months in Paris on their return; Delacroix influenced him in turning to historical painting.
He also developed a technique mixing watercolour with gouache and gum, achieving an effect close to oil painting. In 1826 he visited northern Italy, staying in Venice for a month, and London again in 1827–8.
In late 1828 his tuberculosis worsened and his parents sent him back to London for treatment. Bonington died of tuberculosis on 23 September 1828 at 29 Tottenham Street in London, aged 25.
He was buried in the graveyard of St James's Chapel Pentonville and in 1837 his remains were translated to Kensal Green Cemetery to be re-interred with his parents.
Bonington had a number of close followers, such as Roqueplan and Isabey in France, and Thomas Shotter Boys, James Holland, William Callow and John Scarlett Davis in England. In addition, there were many copies and forgeries of his work made in the period immediately after his death.
Click here to read Bonington's full bio on Wikipedia.
Bonington painted mostly in many cities in France (a link "⇠" to his works in those cities will appear below when published):
Auvergne-Rhone-Alpes
Hauts-de-France

Boulogne
Calais
Dunkerque

Normandy

Le Havre (and surroundings): ⇠
Mont St Michel
Related Posts